Draft League's 2023 managers set to take the helm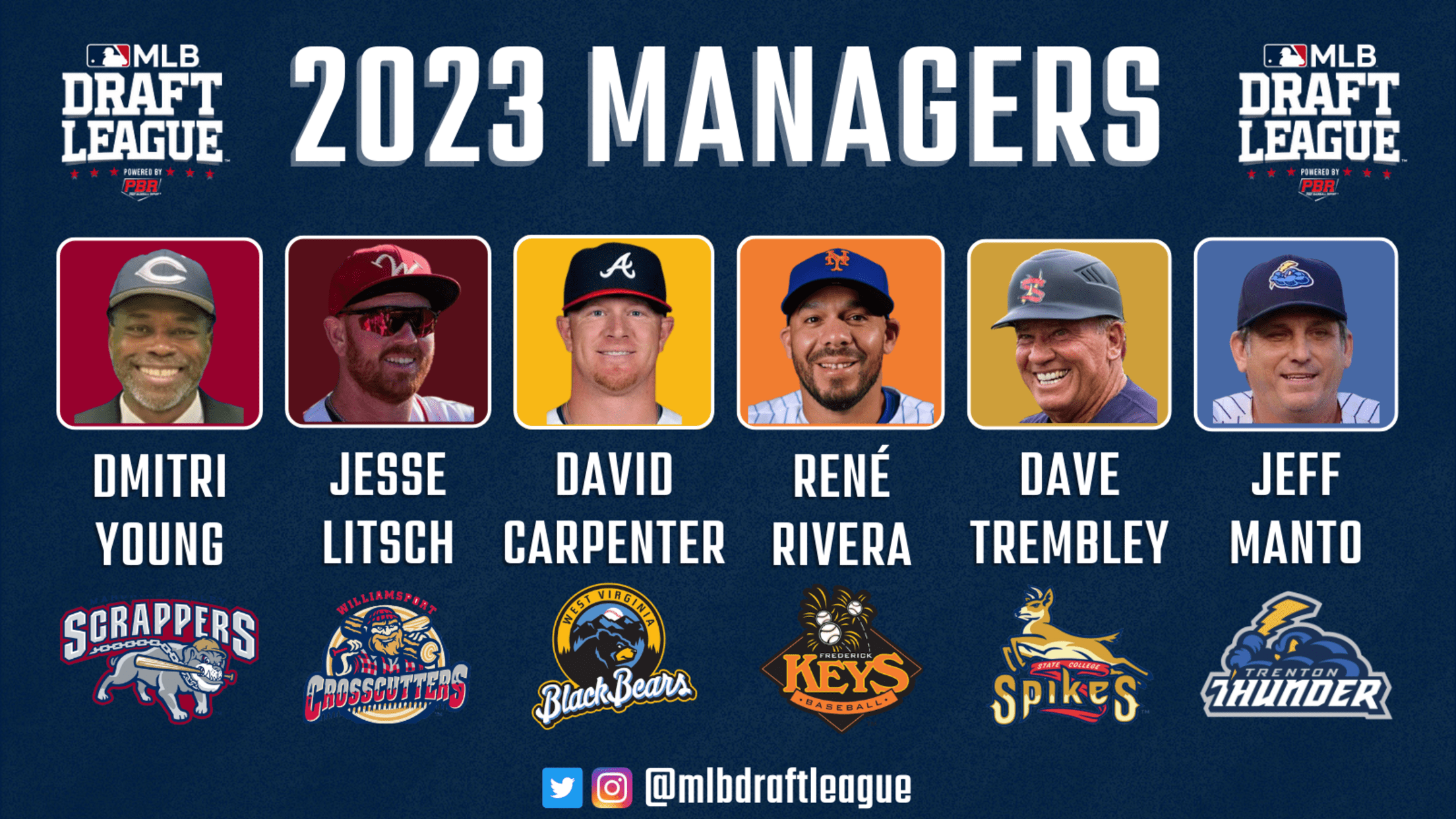 NEW YORK -- There will be plenty of Major League experience gracing MLB Draft League dugouts this summer, with five former MLB players and one former big league manager poised to helm the Draft League's six teams. The six managers will bring more than 50 years of combined MLB experience
NEW YORK -- There will be plenty of Major League experience gracing MLB Draft League dugouts this summer, with five former MLB players and one former big league manager poised to helm the Draft League's six teams. The six managers will bring more than 50 years of combined MLB experience to the Draft League in 2023.
This year's first-time Draft League managers group features three former players with more than 30 years of combined MLB experience. Former first-round pick and two-time All-Star Dmitri Young (Mahoning Valley) along with former reliever David Carpenter (West Virginia) and recently retired catcher René Rivera (Frederick) headline the 2023 newcomers.
Jeff Manto, the MLB Draft League's longest-serving manager, returns for a third season as Trenton's skipper, while Jesse Litsch (Williamsport) and Dave Trembley (State College) are back for their second year.
"We have assembled a group of managers steeped in baseball experience at the highest level of the game," MLB Draft League President Sean Campbell said.
"The knowledge they gained from more than a half-decade of collective experience in Major League Baseball will create a tremendous developmental opportunity for Draft League players in 2023 and beyond."
Here's a breakdown of the MLB Draft League's six managers for the 2023 season:
Frederick Keys - René Rivera
Rivera, 39, becomes the 25th manager in Frederick Keys' history. He takes over for Joe Oliver, who guided the club to a 34-40 record in his lone season as manager in 2022. Rivera becomes the third manager of the Keys Major League Baseball (MLB) Draft League era.
A second-round selection by the Seattle Mariners in the 2001 MLB June Amateur Draft out of Papa Juan High School in Bayamon, Puerto Rico, Rivera made his MLB debut for the Mariners on September 22, 2004, against the Anaheim Angels, not long after his 21st birthday. He spent 13 years in the Major Leagues (2004-06, 2011, 2013-21) as a catcher with multiple teams. During his career, Rivera played for the Seattle Mariners (2004-06), Minnesota Twins (2011), San Diego Padres (2013-14), Tampa Bay Rays (2015), New York Mets (2016-17, 2019-20), Chicago Cubs (2017), Los Angeles Angels (2018), Atlanta Braves (2018), Cleveland Guardians (2021) and Washington Nationals (2021). He recently announced his retirement from MLB.
The 2023 season will be Rivera's first as a manager and marks the beginning of his coaching career. He has remained connected to the game since his last playing season in 2021, working for various sports networks while enjoying time with his family. More>>>
Former MLB Catcher, Rene Rivera, Named Manager of the Frederick Keys for the 2023 season!https://t.co/tVZWpLq5Om@mlbdraftleague #shakeyourkeys pic.twitter.com/snVQhfAtPn

— Frederick Keys (@FrederickKeys) February 21, 2023
Mahoning Valley - Dmitri Young
Former Major Leaguer player and two-time MLB All-Star Dmitri Young will manage the Mahoning Valley Scrappers during the 2023 season. He takes over for the Scrappers' 2022 manager, Homer Bush. Young is the older brother of Delmon Young, who played 10 Major League seasons after the Twins took him with the No. 1 pick in the 2003 Draft.
After being selected fourth overall in the 1991 MLB Draft by the St. Louis Cardinals, Young recorded a .292 batting average with 648 runs scored and 501 extra-base hits, including 301 doubles, 29 triples and 171 home runs in 1,364 games between the Cardinals (1996-97), Cincinnati Reds (1998-01), Detroit Tigers (2002-06), and Washington Nationals (2007-08). During his 13 seasons in Major League Baseball, Young split time as a first baseman (439 games), third baseman (54 games), outfielder (506 games) and designated hitter (316 games).
Young, 49, garnered All-Star honors with Detroit (2003) and Washington (2007). He finished with at least a .300 batting average on five occasions, including each of his four seasons with the Reds, for whom he produced a .304/.353/.488 line with 67 home runs and 296 RBI in 565 games. In 2007, Young was named NL Comeback Player of the Year after hitting .320 with 13 homers and 74 RBI for the Nationals in his penultimate Major League campaign. More>>>
Our manager for the 2023 season will be former 1st round draft pick ('91) for the Cardinals and two time All Star, Dmitri Young. Welcome to the Valley!

News ➡️ https://t.co/hmi4B2JRO0 pic.twitter.com/0Cri4XzyPc

— Mahoning Valley Scrappers (@mvscrappers) February 2, 2023
Trenton Thunder - Jeff Manto
Manto returns to Trenton for his third season after leading the Thunder to the inaugural Draft League Championship in 2021 with a 30-18-8 record. The nine-year Major League veteran and Bristol, Penn., native became the 20th Baseball Hall of Fame member when he was inducted Aug. 12, 2022. He is the fourth manager in Thunder history to receive the honor.
Manto, 58, was the Minor League hitting coordinator for the Baltimore Orioles from 2014 to 2019. Before Baltimore, Manto spent six seasons with the Chicago White Sox, serving as the organization's Minor League hitting coordinator for four years before being promoted to the big league club as the hitting coach for the 2012-13 seasons. Manto began coaching with the Phillies in 2001 and managed the Lakewood BlueClaws in 2002. After spending 2003-06 as the Pittsburgh Pirates Minor League hitting coordinator, Manto was promoted by the organization to Major League hitting coach for three seasons.
Manto's playing career began in 1985 after being drafted out of Temple University by the California Angels in the 14th round. He later made his Major League debut in 1990 with the Cleveland Guardians. He also played for the Phillies, Orioles, Red Sox, Mariners, Tigers, Yankees and Rockies. Manto shares two MLB records during his playing career for hitting five home runs in three days and four home runs in four consecutive at-bats. More>>>
📰NEWS!
Jeff Manto Returns for Third Season as Thunder Manager
🎥Interview: https://t.co/tmdilAbrKa pic.twitter.com/8fArZNoUQ4

— Trenton Thunder⚡ (@TrentonThunder) February 15, 2023
State College - Dave Trembley
State College will have a familiar face in the dugout in 2023 as Dave Trembley, who managed the Baltimore Orioles to 187 wins from 2007-10 and brings more than 35 years of experience coaching at nearly every level of baseball with him, will manage the Spikes for the second consecutive season. Trembley guided a Spikes team of Draft-eligible prospects from around the country to a 20-18 record in the first half of the 2022 season, good for second place in the MLB Draft League, then led a roster of professional players to a 21-19 record in the second half.
Before joining the Spikes, Trembley was the manager for the Bristol State Liners of the Appalachian League in 2021 after handling the dual roles as the Atlanta Braves Director of Player Development and Minor League Field Coordinator (2014-18). That was preceded by a year as bench coach (2013) and a year as third-base coach for the Astros (2012).
Trembley, 71, compiled more than 1,500 wins as a manager in the Minor Leagues while earning the Baseball America Minor League Manager of the Year Award in 1987 and USA Today/Baseball Weekly Class-A Manager of the Year honors in 1995 and 1999. After joining the Orioles in 2003, he rose through the organization to a big league role in 2007, taking over as interim manager partway through the season before becoming full-time manager from 2008-10. More>>>
We ❤️having Dave Trembley back as our manager for the 2023 season!

The former Orioles skipper returns for a 2nd season in Happy Valley this summer to develop the future of baseball with the @mlbdraftleague - get the full details here:https://t.co/135AXMXr1Z pic.twitter.com/iOKnOprdd3

— State College Spikes (@SCSpikes) February 14, 2023
Williamsport Crosscutters - Jesse Litsch
Returning for a second season as Crosscutters manager, Litsch is the 15th manager in club history and becomes the sixth to lead the club for two or more seasons. In 2022, Litsch led the Cutters to an overall record of 44-31 that included a second half championship and a berth in the first-ever MLB Draft League Championship Game. The 44 wins were tied for the third-most in club history.
Litsch, 37, was drafted in the 24th round of the 2004 June Draft by the Toronto Blue Jays and pitched five Major League seasons with Toronto (2007-11). He appeared in 88 Major League games, compiling a 27-27 record with a 4.16 ERA. In the 2008 season, Litsch was 13-9 with a 3.58 ERA and tied for the American League lead in shutouts (2).
Litsch has served as a pitching coach for the Philippines national team in the World Baseball Classic qualifier (2016), the Atlantic League's Bridgeport Bluefish (2016) and the Atlanta Braves organization (2017-18). His coaching experience also includes a stint at the MLB Development Center in China (2015). More >>>
Welcome Back, Skip! @JesseLitsch https://t.co/4QaTsbWPLO pic.twitter.com/v0LGqpUBCB

— Williamsport Crosscutters (@crosscutters) February 9, 2023
West Virginia - David Carpenter
West Virginia University alum and former Major League pitcher David Carpenter joins the organization as the sixth manager in Black Bears history. The Fairmont native takes the helm from fellow WVU graduate Jedd Gyorko, who led the Black Bears to two winning seasons and captured the MLB Draft League Championship title in 2022. Gyorko finished his two years as the Black Bears' manager with a 78-49-6 overall record.
Carpenter, 37, spent 14 years playing professionally after being drafted by the St. Louis Cardinals in the 12th round of the 2006 MLB Draft. The former WVU catcher transitioned to pitcher after two seasons with the Cardinals, eventually pitching in over 200 games between 2011-19. He made his big league debut in 2011 for the Houston Astros and finished his rookie year with a 2.93 ERA.
Carpenter took the mound for the Astros (2011-12), Toronto Blue Jays (2012), Atlanta Braves (2013-14), New York Yankees (2015), Washington Nationals (2015) and Texas Rangers (2019) during his MLB career, compiling a 3.69 ERA with 218 strikeouts in 214.2 innings. He pitched in a career-high 65 games for Atlanta in 2014 and made all 222 career appearances as a reliever. Since 2021, he has been the pitching coach for Fairmont State University, an NCAA Division-II team located in his hometown of Fairmont, W.Va. More>>>
🚨 BREAKING NEWS 🚨
Former MLB pitcher and @WVUBaseball player David Carpenter has been named the West Virginia Black Bears manager for the 2023 season!

Welcome to the family @DCarpenter29! https://t.co/BMkJU5ICu3

— WV Black Bears (@WVBlackBears) February 7, 2023
For more information about the MLB Draft League, visit mlbdraftleague.com or follow @mlbdraftleague & @draftleaguedata on Twitter, and @mlbdraftleague on Instagram.