Host Family Q&A Informational Event: February 27th at 6pm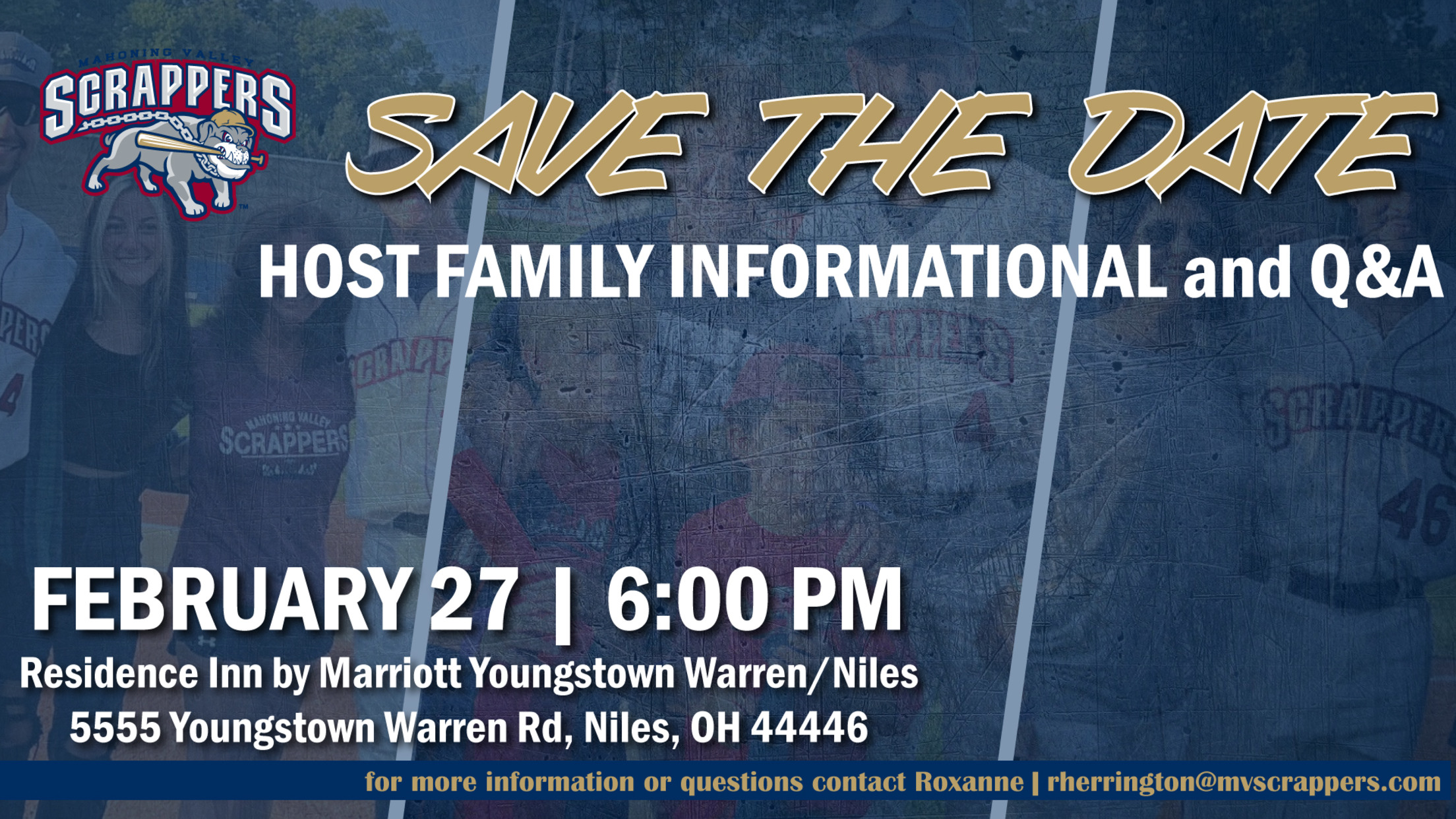 The Mahoning Valley Scrappers are looking for families that are interested in hosting a player during the 2023 Scrappers season. Host families receive an opportunity that allows them to become a part of the Scrappers team, gain a new member of the family and for many, create memories that extend
2023 Bobblehead Series Giveaways Announced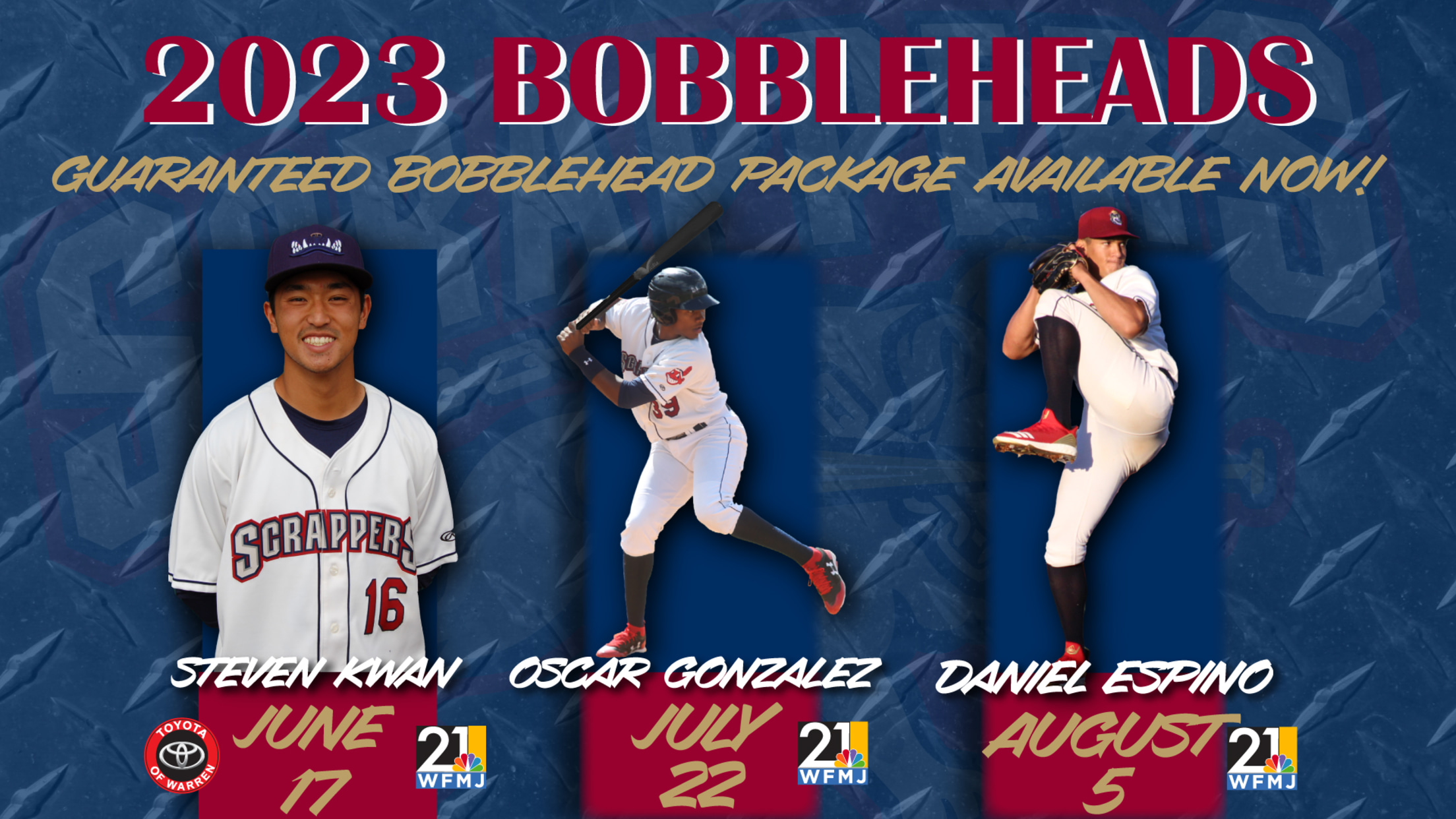 The Mahoning Valley Scrappers are pleased to announce three bobblehead giveaway dates for the 2023 season. The bobbleheads include former Scrappers Steven Kwan (2018), Oscar Gonzalez (2017) and Guardians' Top Prospect Daniel Espino (2019). Join us on game dates Saturday, June 17 (Kwan presented by Toyota of Warren), Saturday, July
Scrappers Seek Host Families for 2023 Season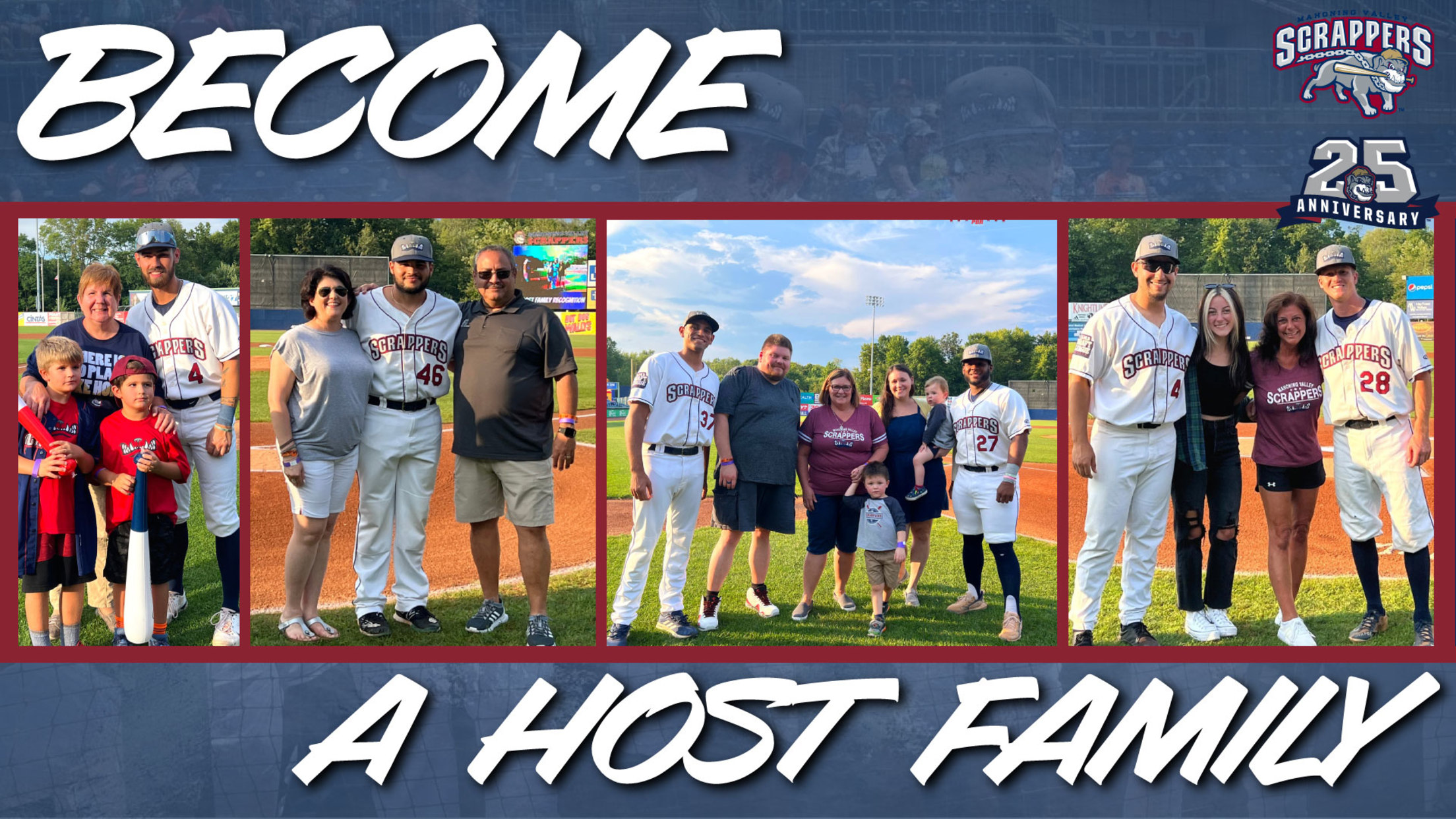 The Mahoning Valley Scrappers are looking for families that are interested in hosting a player during the 2023 Scrappers season. Host families receive an opportunity that allows them to become a part of the Scrappers team, gain a new member of the family and for many, create memories that extend
Scrappers & MLB Draft League Release 2023 Schedule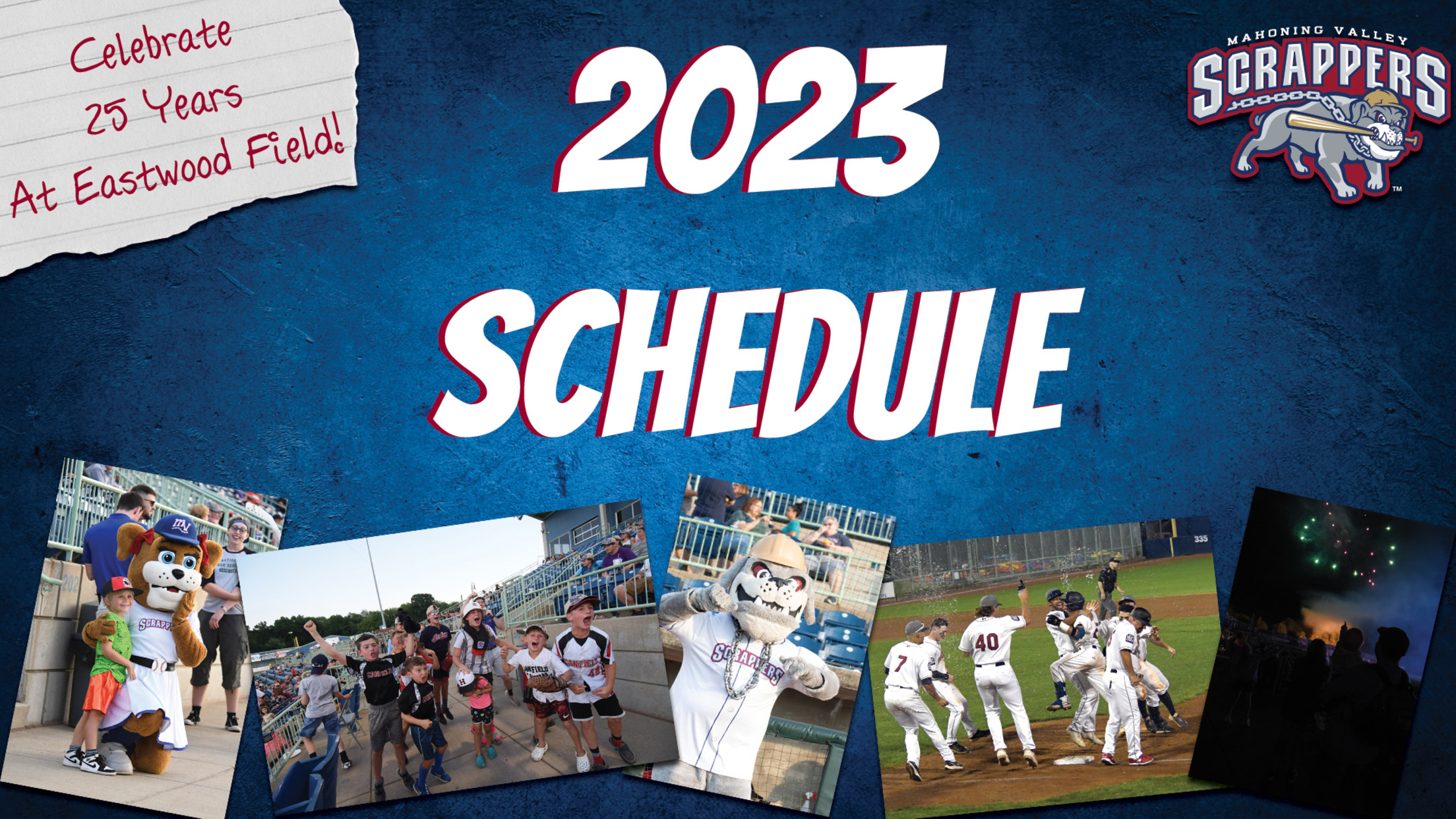 NILES, OH - The Mahoning Valley Scrappers, in conjunction with Major League Baseball and Prep Baseball Report announced today the schedule for the 2023 season. The 2023 season will feature eighty games, with forty Scrappers home games at Eastwood Field. The Mahoning Valley Scrappers are set to open the 2023
Twenty-Fourth Annual "Trick or Treat" at Eastwood Field on Wednesday, October 26th presented by T-Mobile, media partners 21 WFMJ and WBCB and radio partner Mix 98.9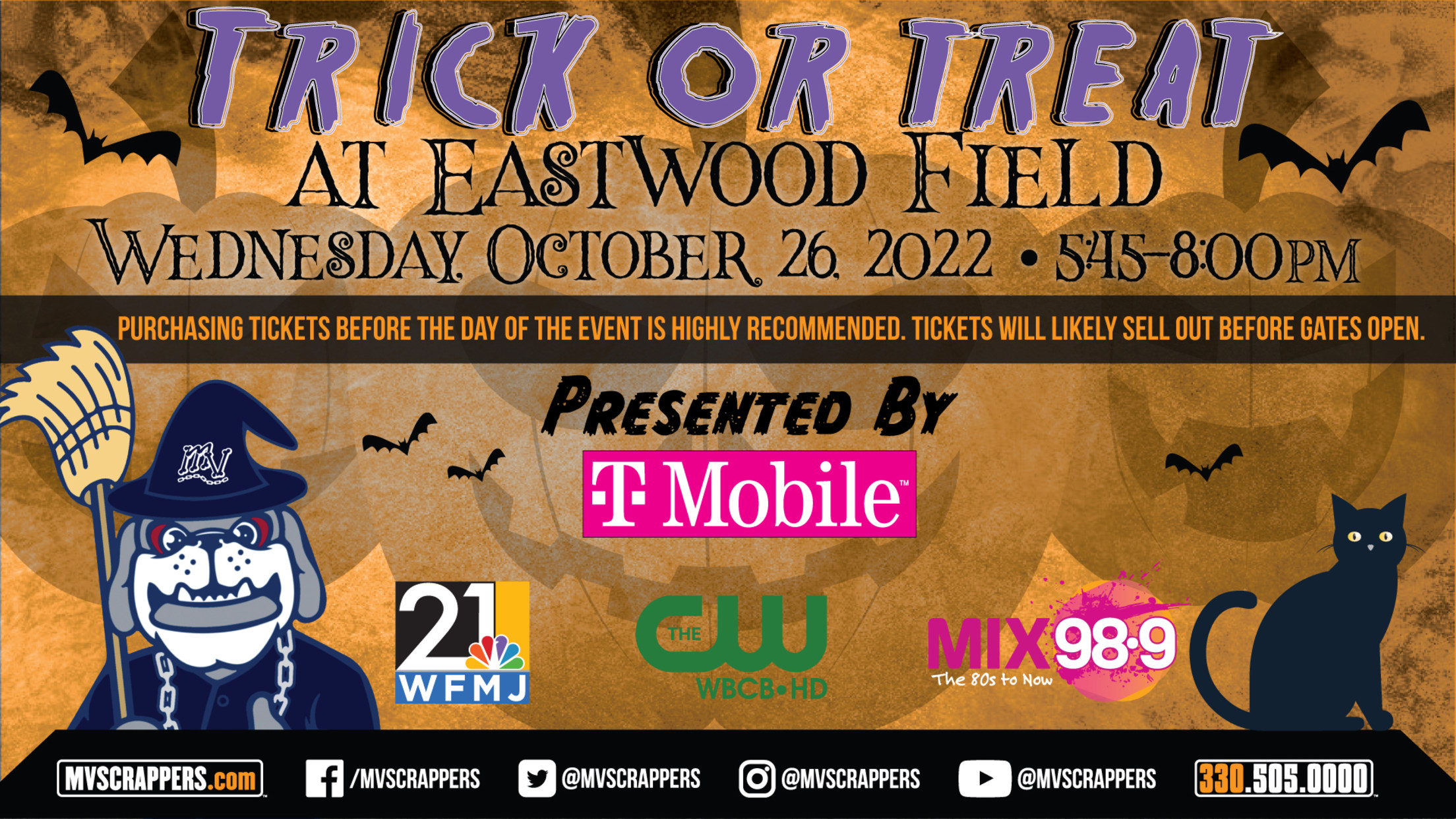 Niles, Ohio – The Scrappers are excited to announce the twenty-fourth annual "Trick or Treat" at Eastwood Field. The event will take place Wednesday, October 26th from 6:00pm to 8:00pm. "Trick or Treat" at Eastwood Field is a fun and safe way to celebrate Halloween for children age 12 and
2022 HOMESTAND #9 SEPTEMBER 2-4 Vs. West Virginia Black Bears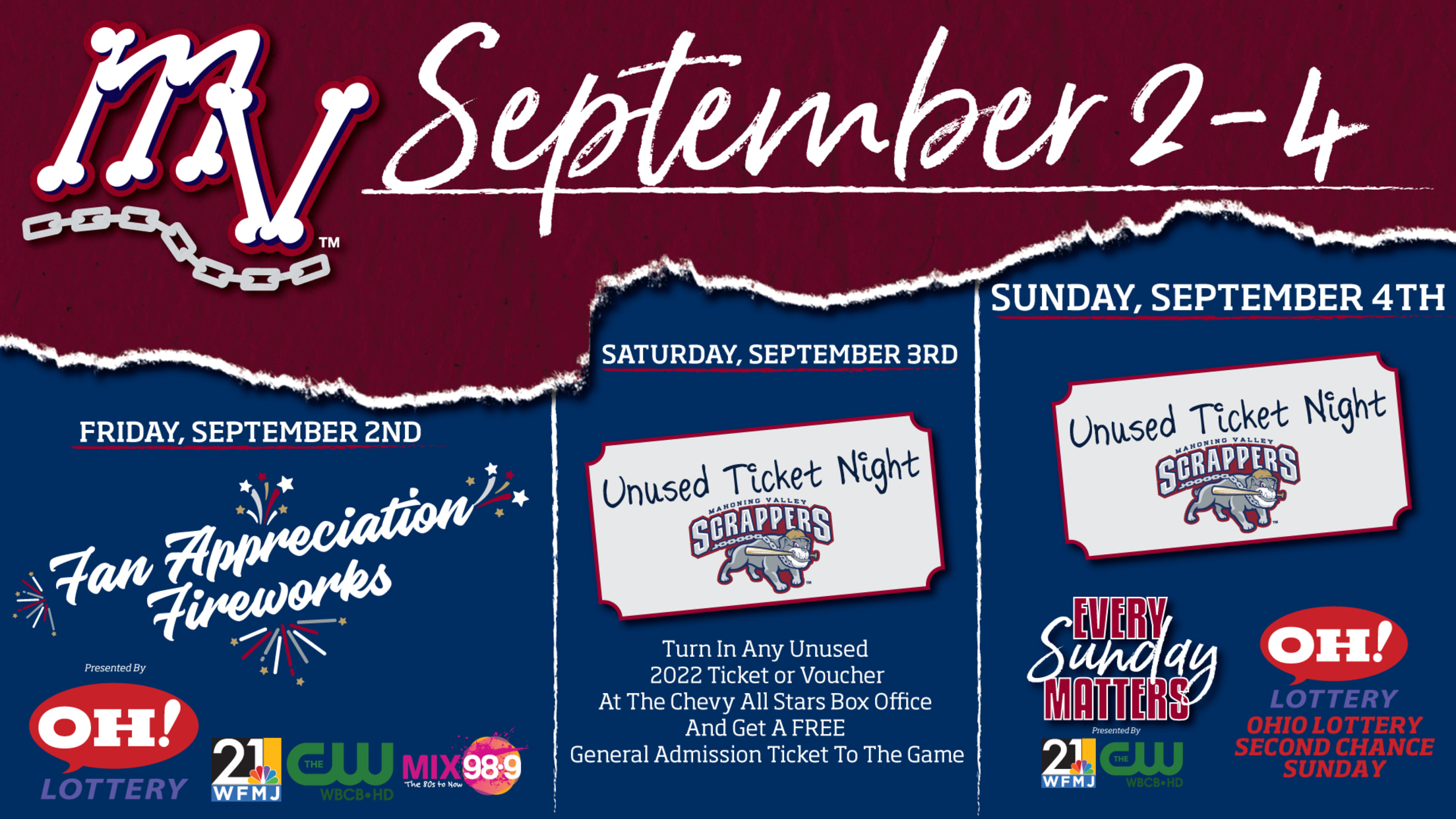 Friday, September 2 vs. West Virginia Black Bears @ 7:05pm It's the last fireworks show of the seasn! Stick around after the game for a fantastic Fan Appreciation fireworks show presented by Ohio Lottery, 21 WFMJ, WBCB and Mix 98.9. Saturday, September 3 vs. West Virginia Black Bears @ 7:05pm
2022 HOMESTAND #8 AUGUST 23-25 Vs. State College Spikes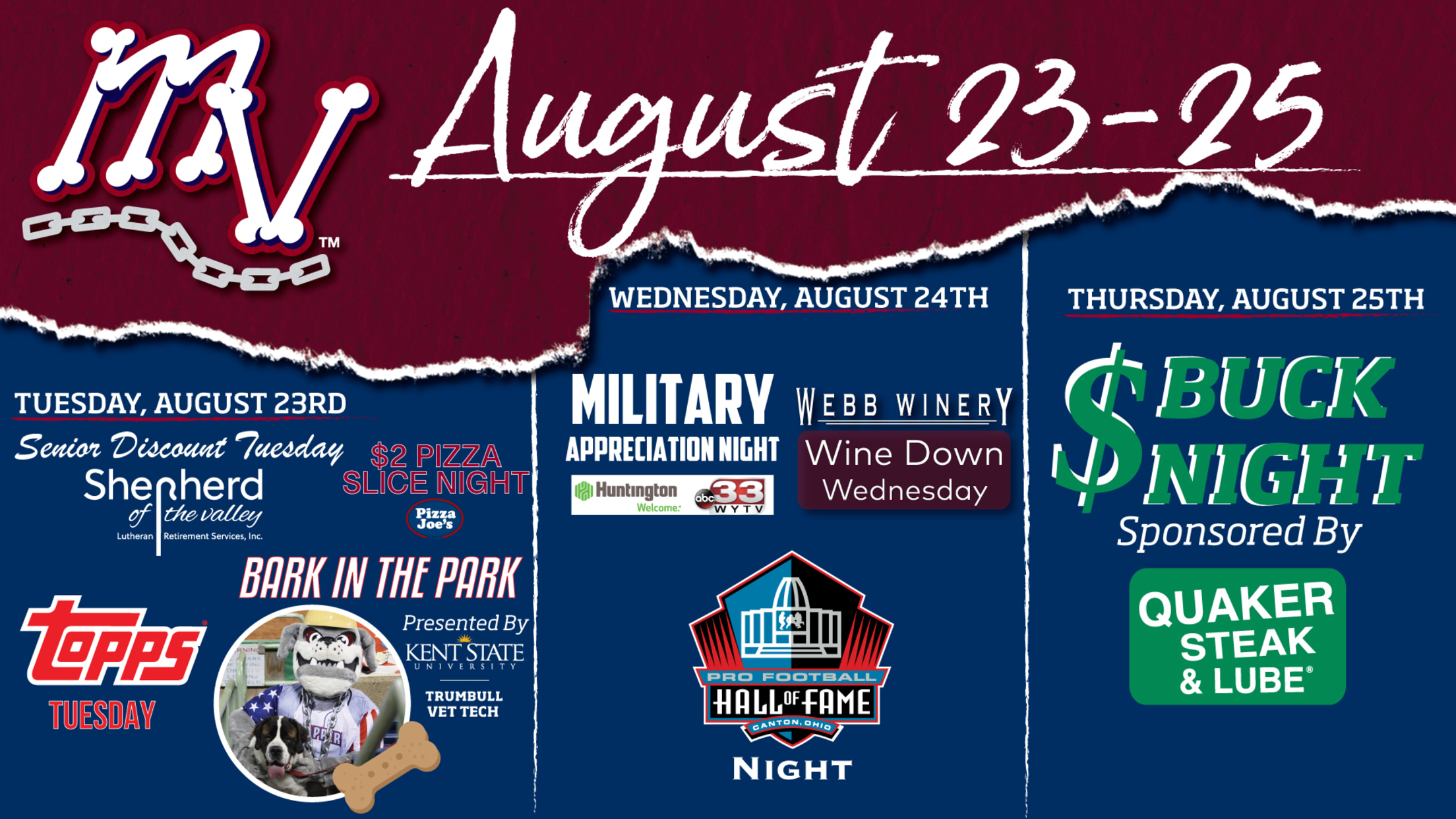 Tuesday, August 23 vs. State College Spikes @ 7:05pm It's TOPPS TUESDAY! The first 1,000 fans through the gates every Tuesday home game receive a Topps card pack. It's also Senior Discount Tuesday presented by Shepherd of the Valley. All our fans 55 or older will receive $5 Upper Box
Baseball Clinics with Homer Bush & Players Aug 18 & 25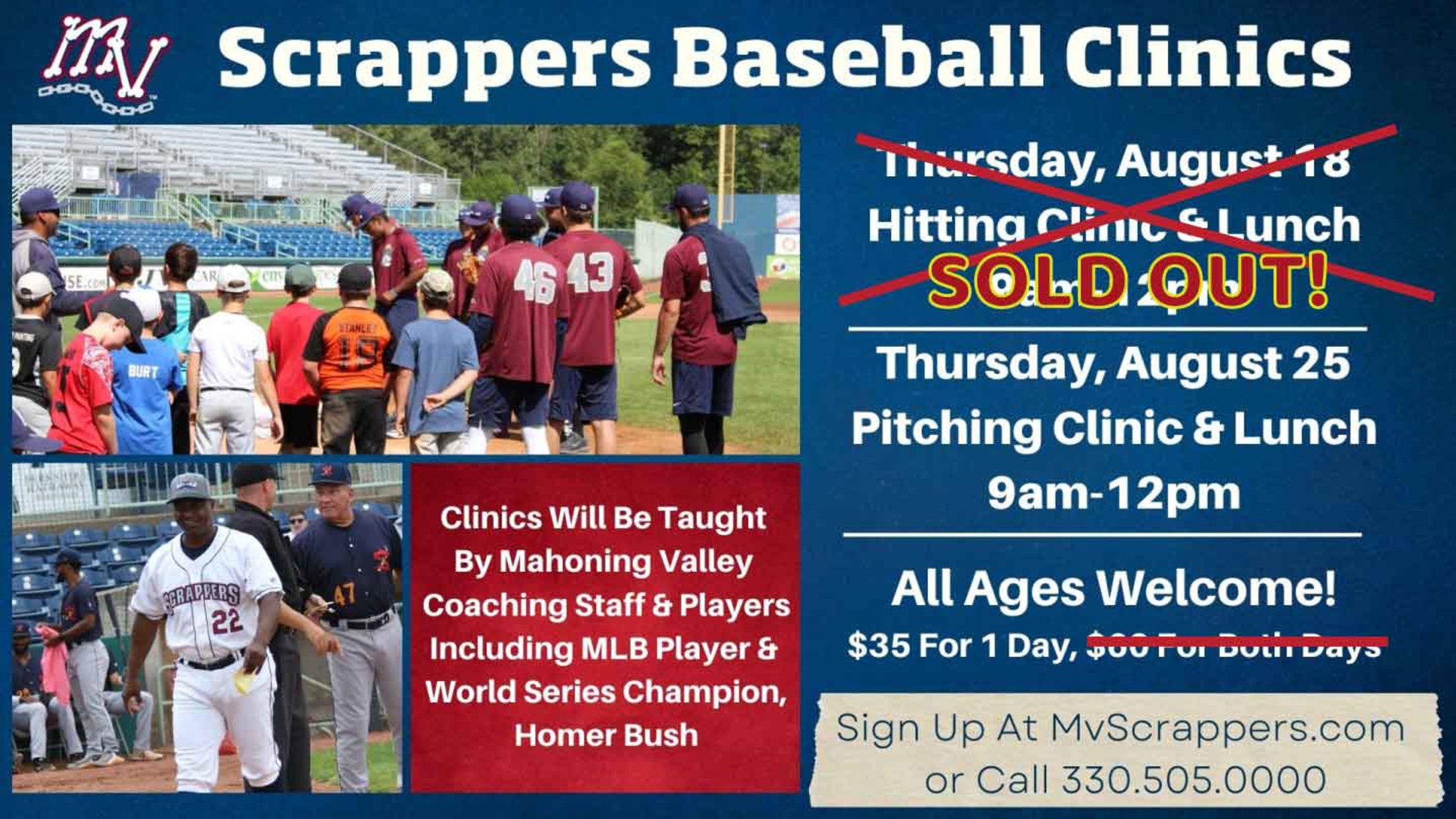 The Scrappers Announce two Baseball Clinics at Eastwood Field with MLB Player and World Series Champion, Scrappers Manager Homer Bush. All ages are welcome! Participants will be grouped by age. \\ SOLD OUT! HITTING CLINIC - AUGUST 18th from 9am to noon - Hitting Clinic run by Mahoning Valley Scrappers
2022 HOMESTAND #7 AUGUST 16-18 Vs. State College Spikes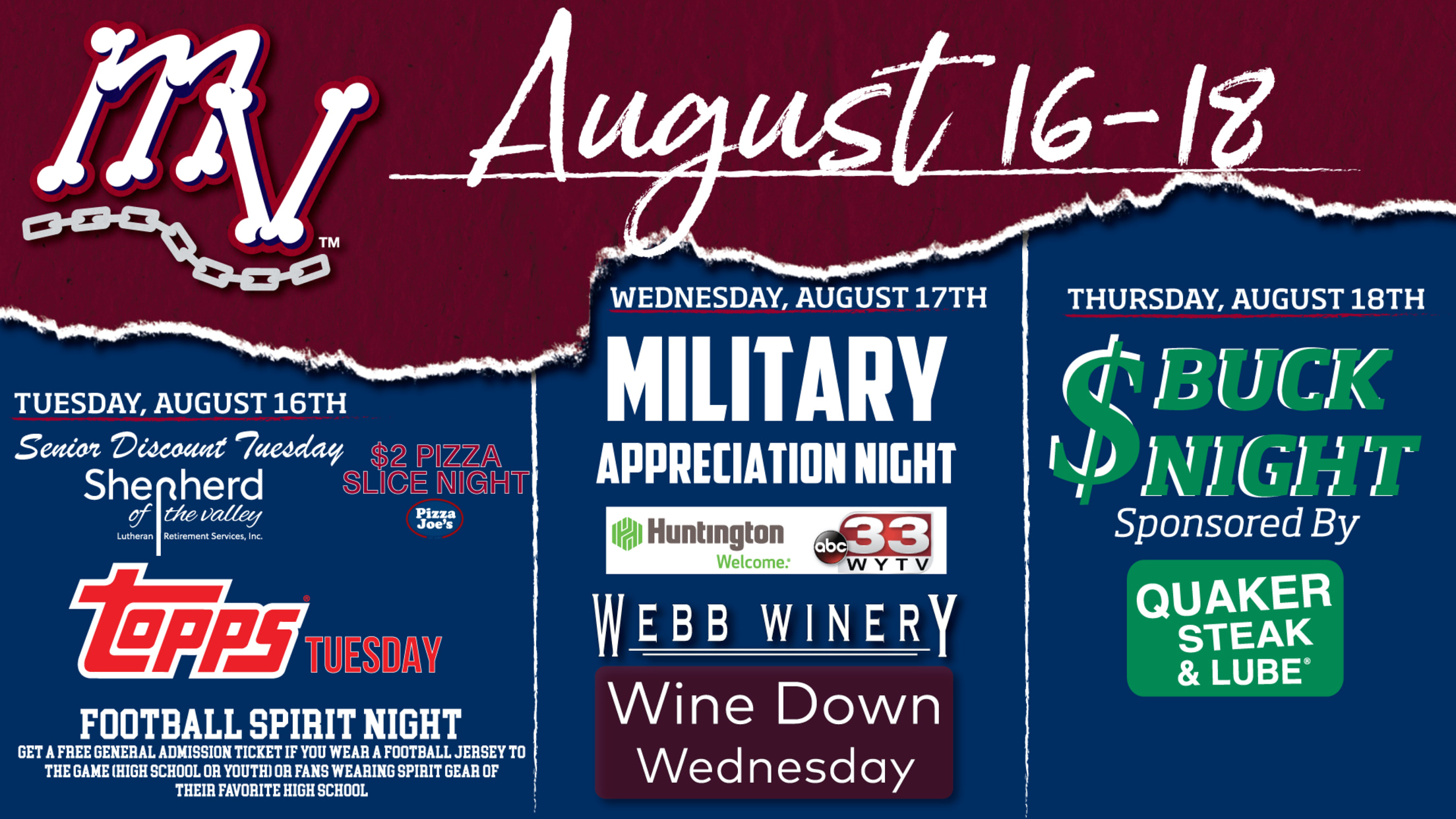 Tuesday, August 16 vs. State College Spikes @ 7:05pm It's TOPPS TUESDAY! The first 1,000 fans through the gates every Tuesday home game receive a Topps card pack. It's also Senior Discount Tuesday presented by Shepherd of the Valley. All our fans 55 or older will receive $5 Upper Box
2022 HOMESTAND #6 AUGUST 2-7 Vs. West Virginia Black Bears and State College Spikes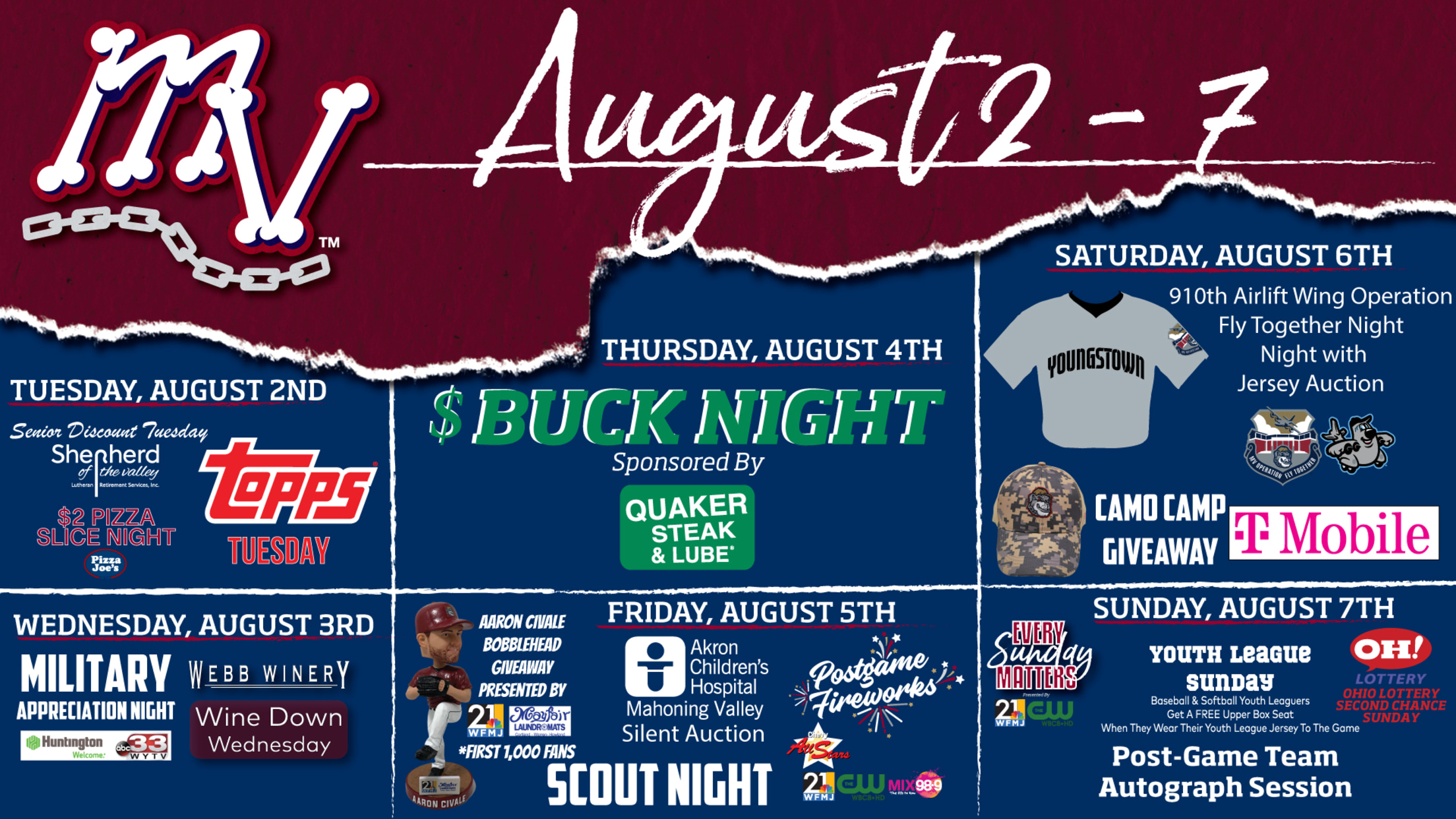 Tuesday, August 2 vs. West Virginia Black Bears @ 7:05pm It's TOPPS TUESDAY! The first 1,000 fans through the gates every Tuesday home game receive a Topps card pack. It's also Senior Discount Tuesday presented by Shepherd of the Valley. All our fans 55 or older will receive $5 Upper
WRESTLING UNDER THE STARS AT EASTWOOD FIELD RESCHEDULED TO FRIDAY, SEPTEMBER 9, 2022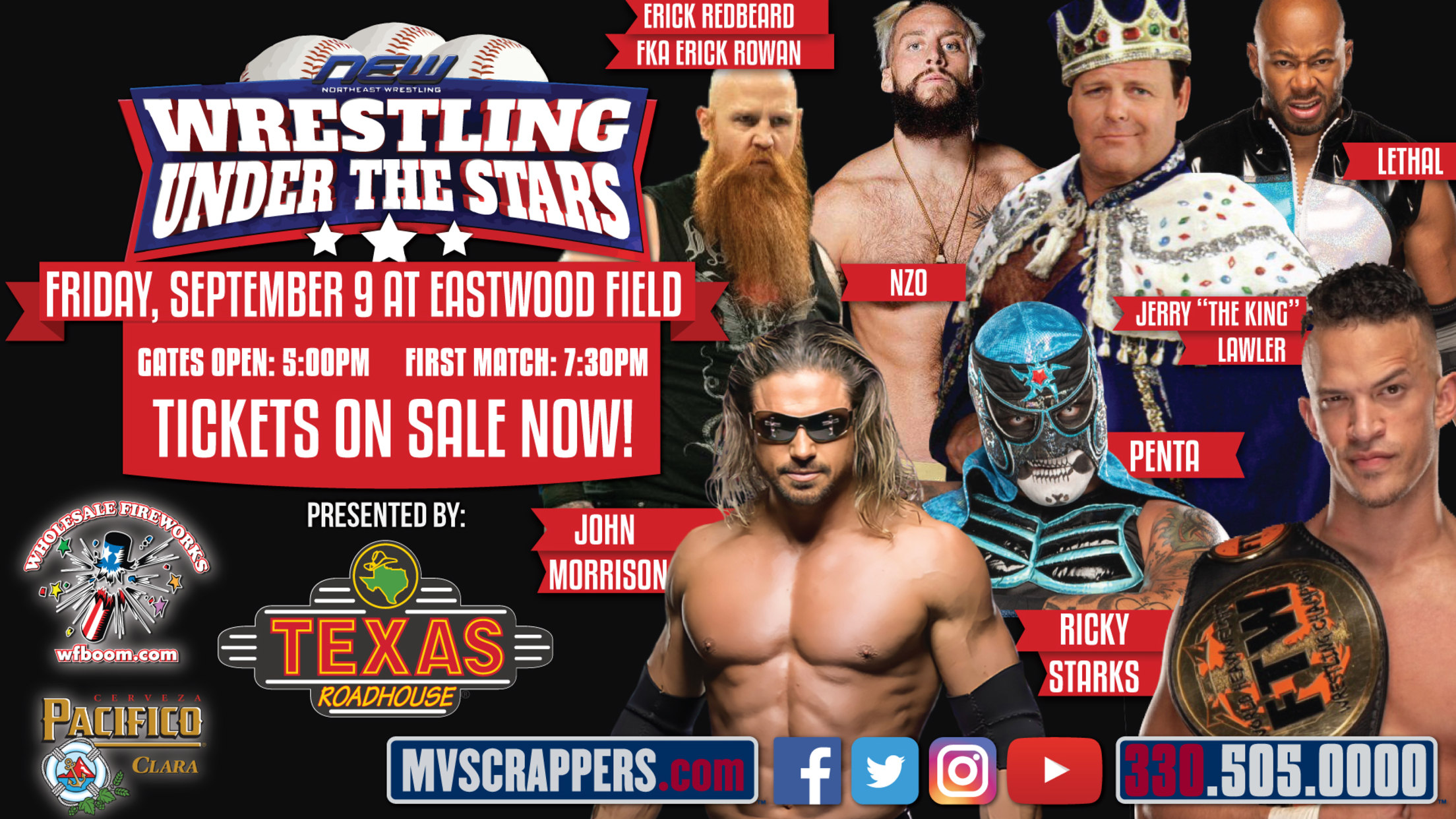 NILES, OH - Due to unavailability of talent at the original event date, the Mahoning Valley Scrappers and Northeast Wrestling announce that Wrestling Under the Stars live at Eastwood Field has been rescheduled to Friday, September 9, 2022 at 7:30pm and will feature Malakai Black, Penta, Ricky Starks, John Morrison,
2022 HOMESTAND #5 JULY 22-27 Vs. State College Spikes and Frederick Keys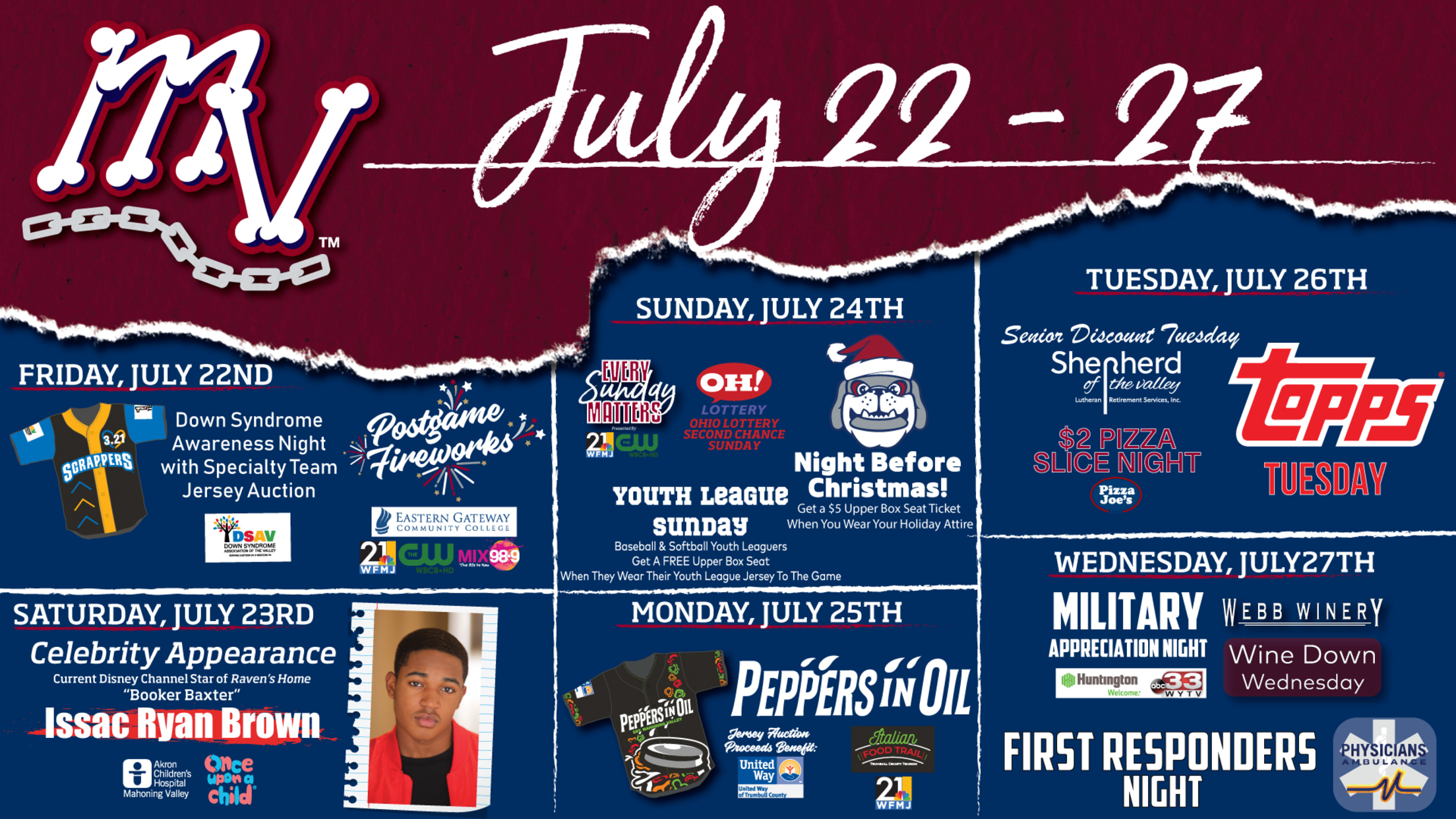 Friday, July 22 vs. State College Spikes @ 7:05pm It's Down Syndrome Awareness Night with specialty team jersey auction with proceeds to DSAV. Jerseys will be auctioned off in person and at livesourceapp.com. Stick around after the game for a fantastic fireworks show presented by Eastern Gateway Community College, 21
MLB Announces Community Ally Program For MLB Draft League MLB Clubs to Designate MLB Draft League Teams as "Official Community Allies"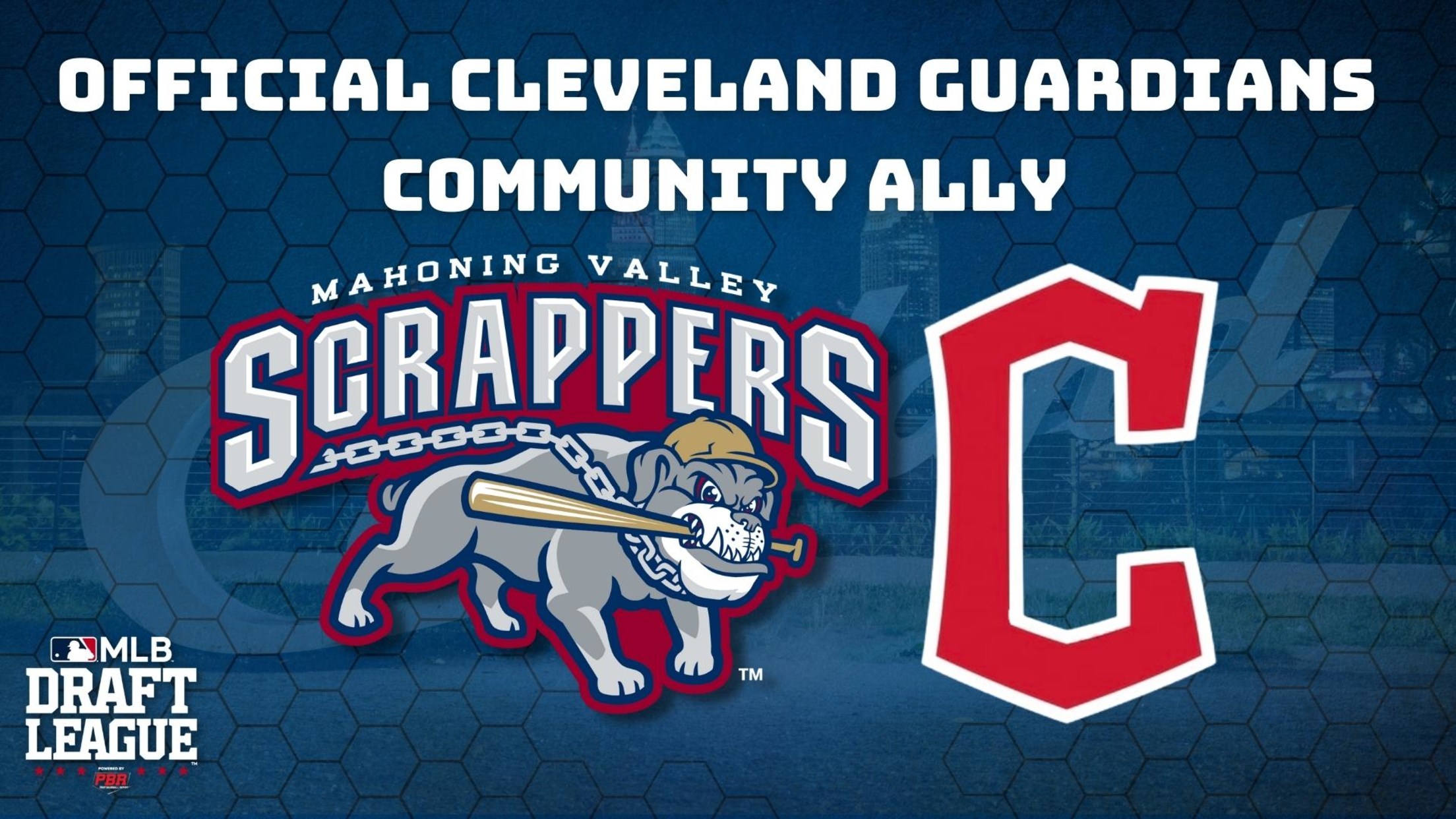 Major League Baseball today announced the "Community Ally Program," which allows MLB Clubs to give an MLB Draft League team the designation of "Official Community Ally" of that MLB Club. Through this program, MLB Clubs and MLB Draft League teams may collaborate on community-based initiatives, including cross promotion on MLB
Scrappers & 910th Airlift Wing Partner for Operation Fly Together Campaign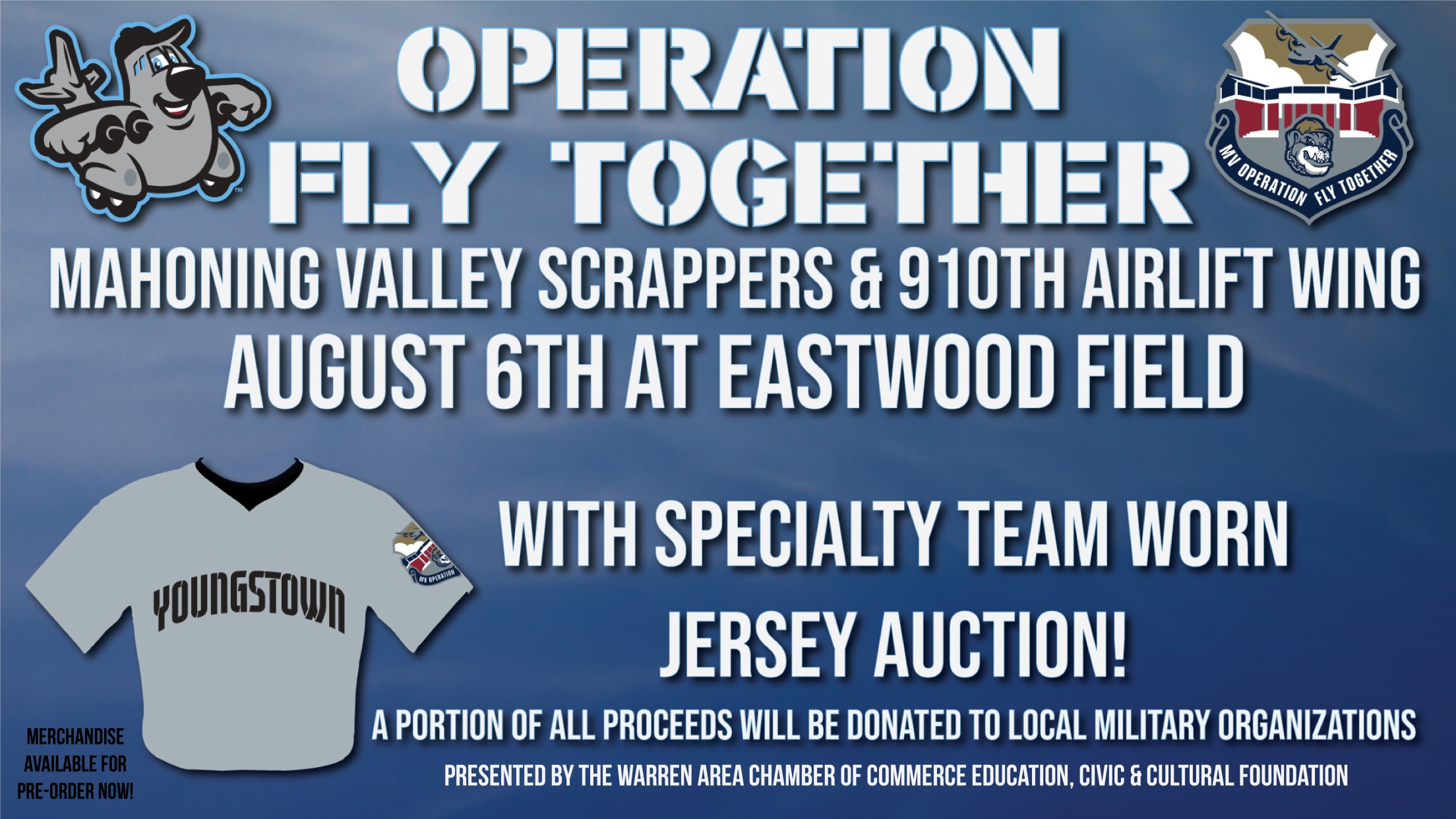 NILES, OH –The Mahoning Valley Scrappers (est. 1999) and Youngstown Air Reserve Station (est. 1955), home to the 910th Airlift Wing, have been pillars in the Mahoning Valley in Northeast Ohio for decades. Together, we've participated in ceremonies, flag salutes, fly overs, and more. With significant growth by both parties,
2022 HOMESTAND #4 JULY 4-6, JULY 8-10 Vs. State College Spikes and West Virginia Black Bears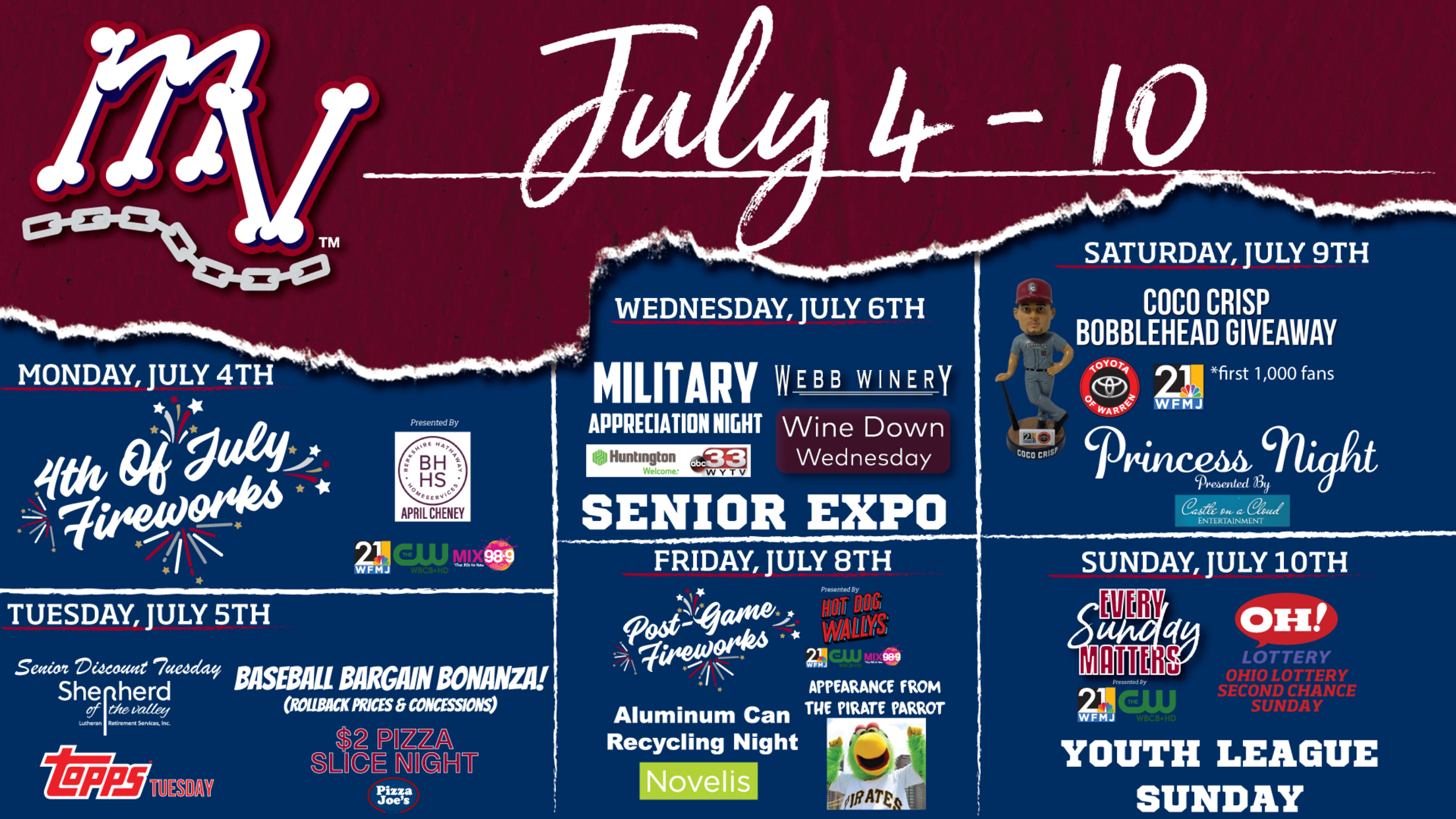 Monday, July 4 vs. State College Spikes @ 7:05 pm It's our Independence Day Celebration with a huge 4th of July Fireworks show presented by April Cheney, Realtor, Berkshire Hathaway, 21 WFMJ, WBCB and Mix 98.9. Have your 4th of July picnic right here at the ballpark. Individual picnic packages
Scrappers Announce Bargain Baseball Bonanza Promotion on July 5th! - Rollback Prices for Tickets & Concessions to Offset Inflation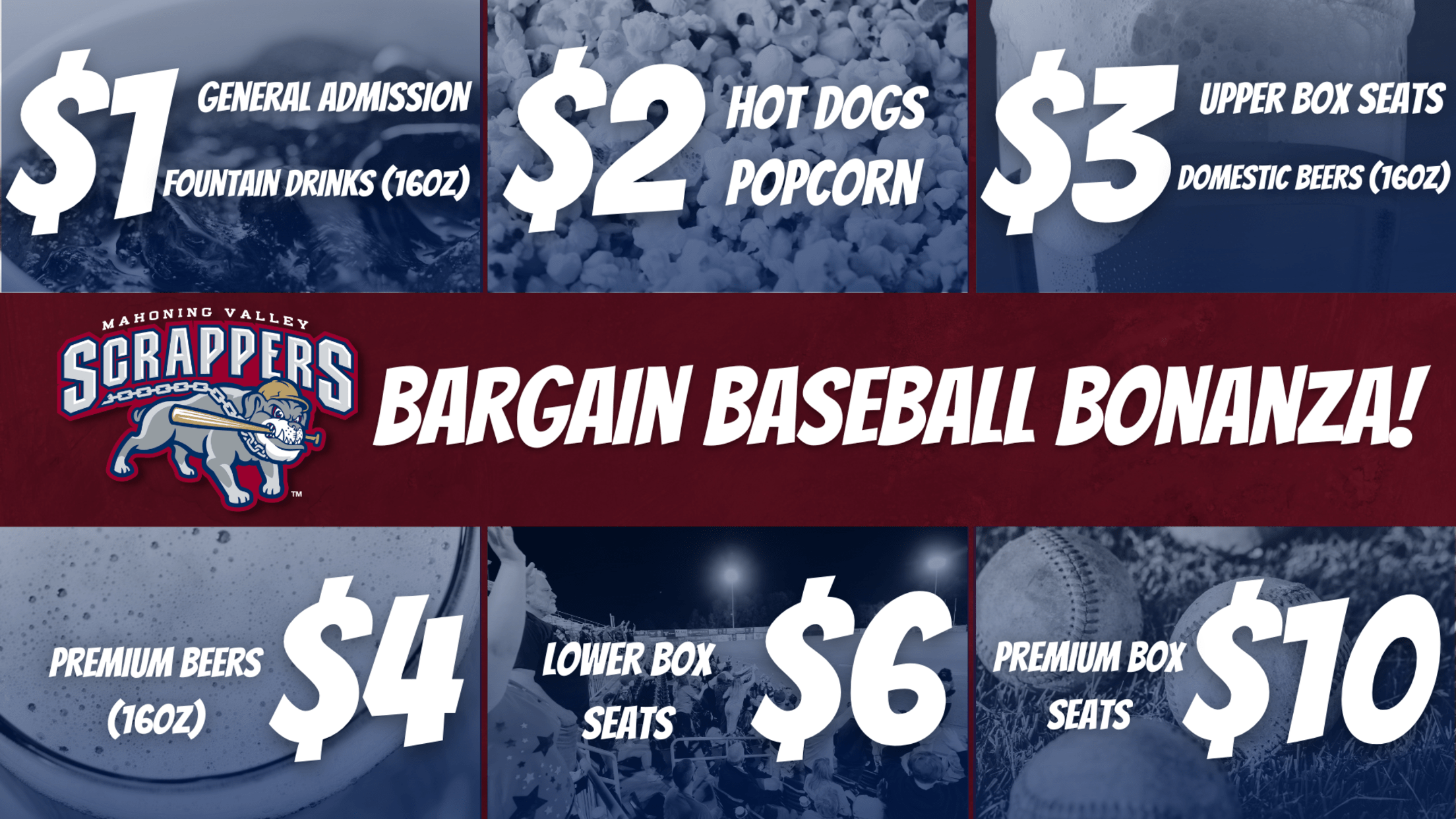 NILES, OH –The Mahoning Valley Scrappers announce a Bargain Baseball Bonanza for the July 5th game. To offset inflation, the Scrappers are offering rollback pricing with tickets and concessions. The following slashed pricing offers are extended for the July 5th game: $1 - General Admission Tickets, Fountain Drinks (16 oz)
New Historical Baseball Display to be Unveiled at Eastwood Field on July 25
NILES, OH –Niles, OH - The Mahoning Valley Scrappers will debut a new display at Eastwood Field which will feature historic baseball figures with ties to the region. The unveiling will take place before a game on Monday, July 25, 2022, a date which will coincide with the National Baseball
Scrappers Sean Tillmon Named MLB Draft League Hitter of the Week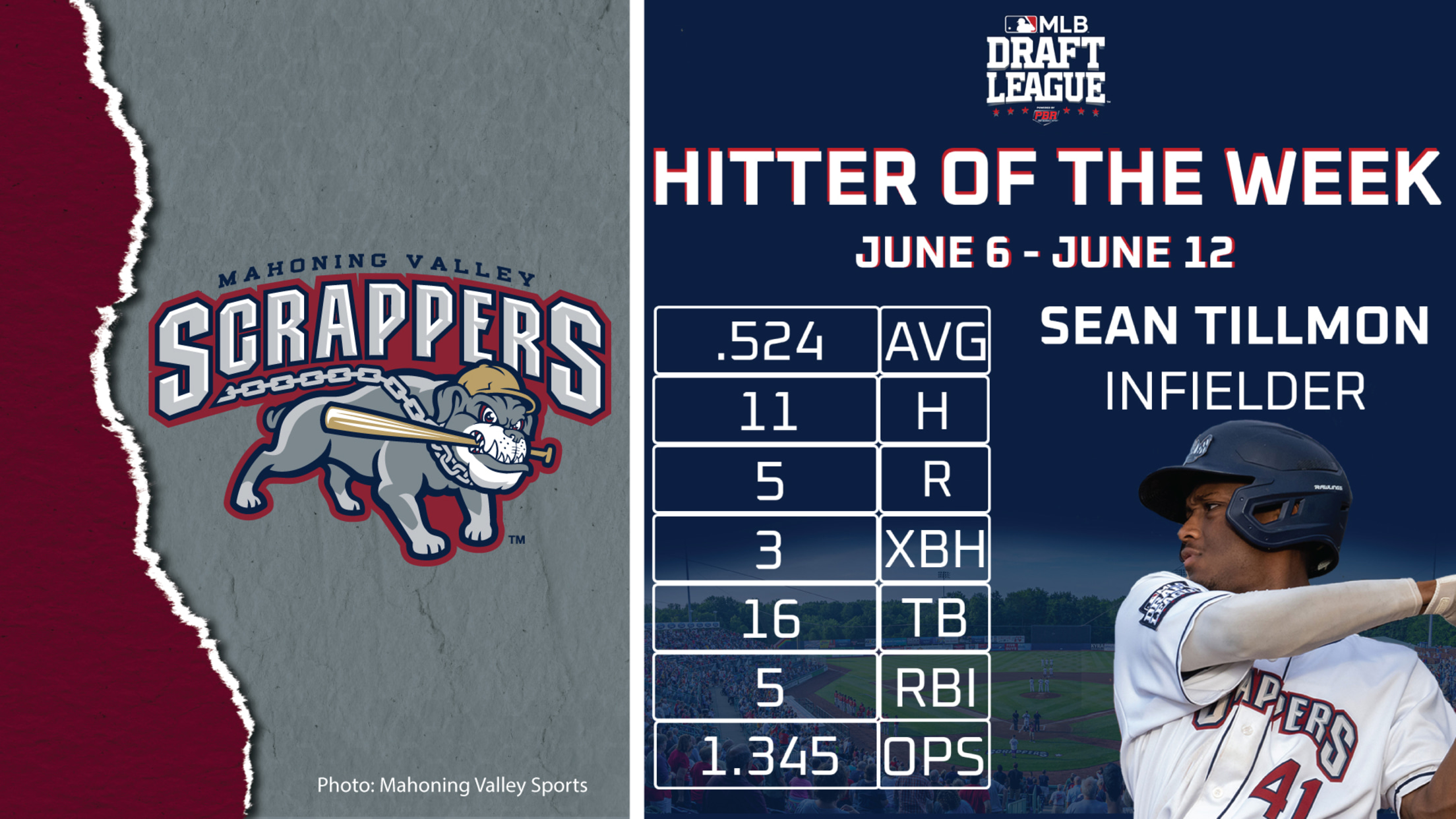 NEW YORK -- The MLB Draft League announced that Mahoning Valley's Sean Tillmon and Trenton's KC Hunt were named Hitter and Pitcher of the Week, respectively, for the period of June 6-12. Tillmon, 21, batted .524 (11-for-21) with one home run, two doubles and five RBI in five games for
Scrappers Are Back at Eastwood Field June 20-25 with Jam-Packed Promos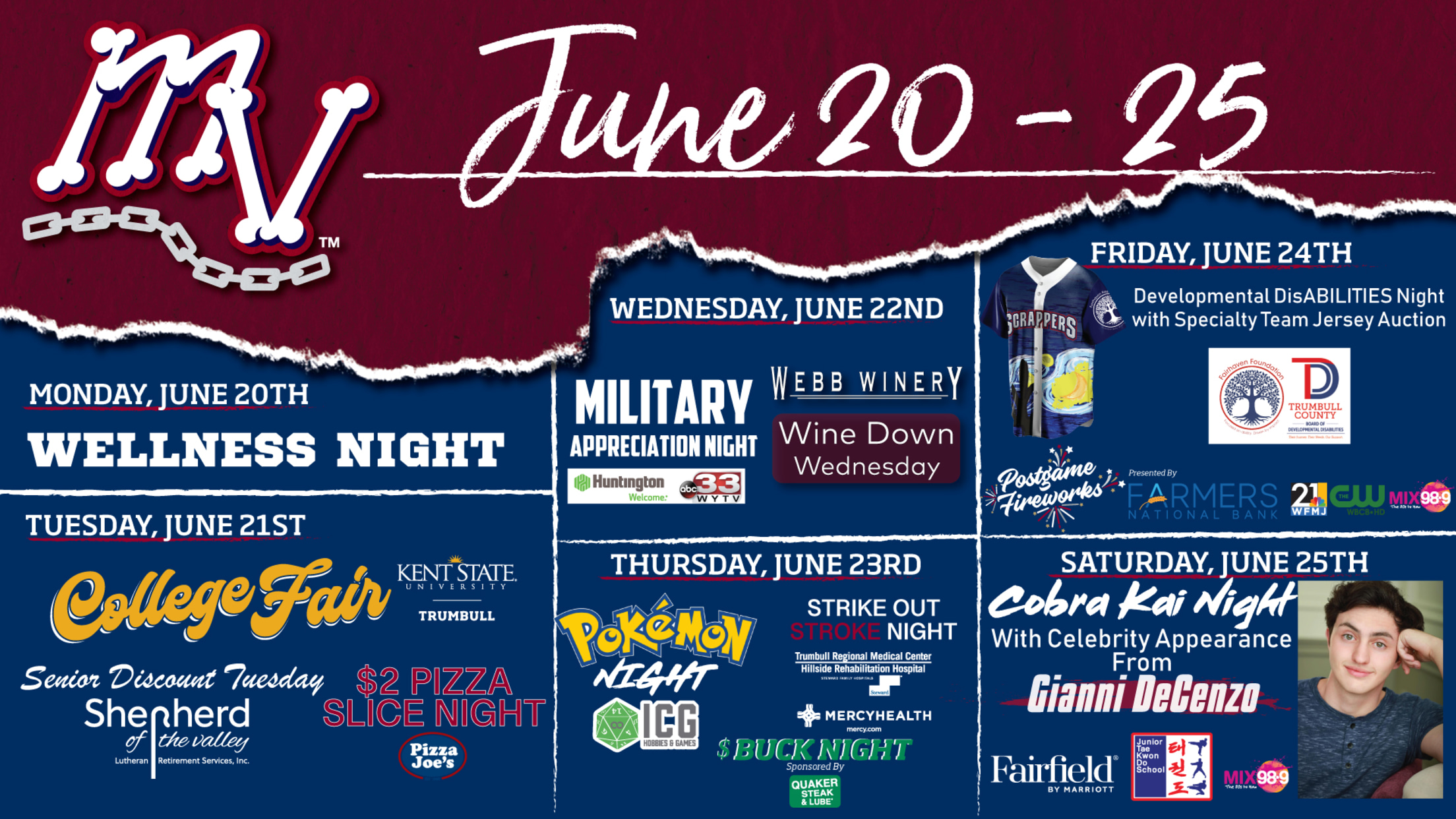 Monday, June 20 vs. Trenton Thunder @ 7:05 pm - BUY TICKETS It's Wellness Night at the ballpark! Visit with our wellness partners throughout the concourse. Tuesday, June 21 vs. Trenton Thunder @ 7:05pm - BUY TICKETS It's College and Career Fair Night presented by Kent State University Trumbull Campus.
High School Valley All-Star Classic Rescheduled to Wednesday, June 8th at Eastwood Field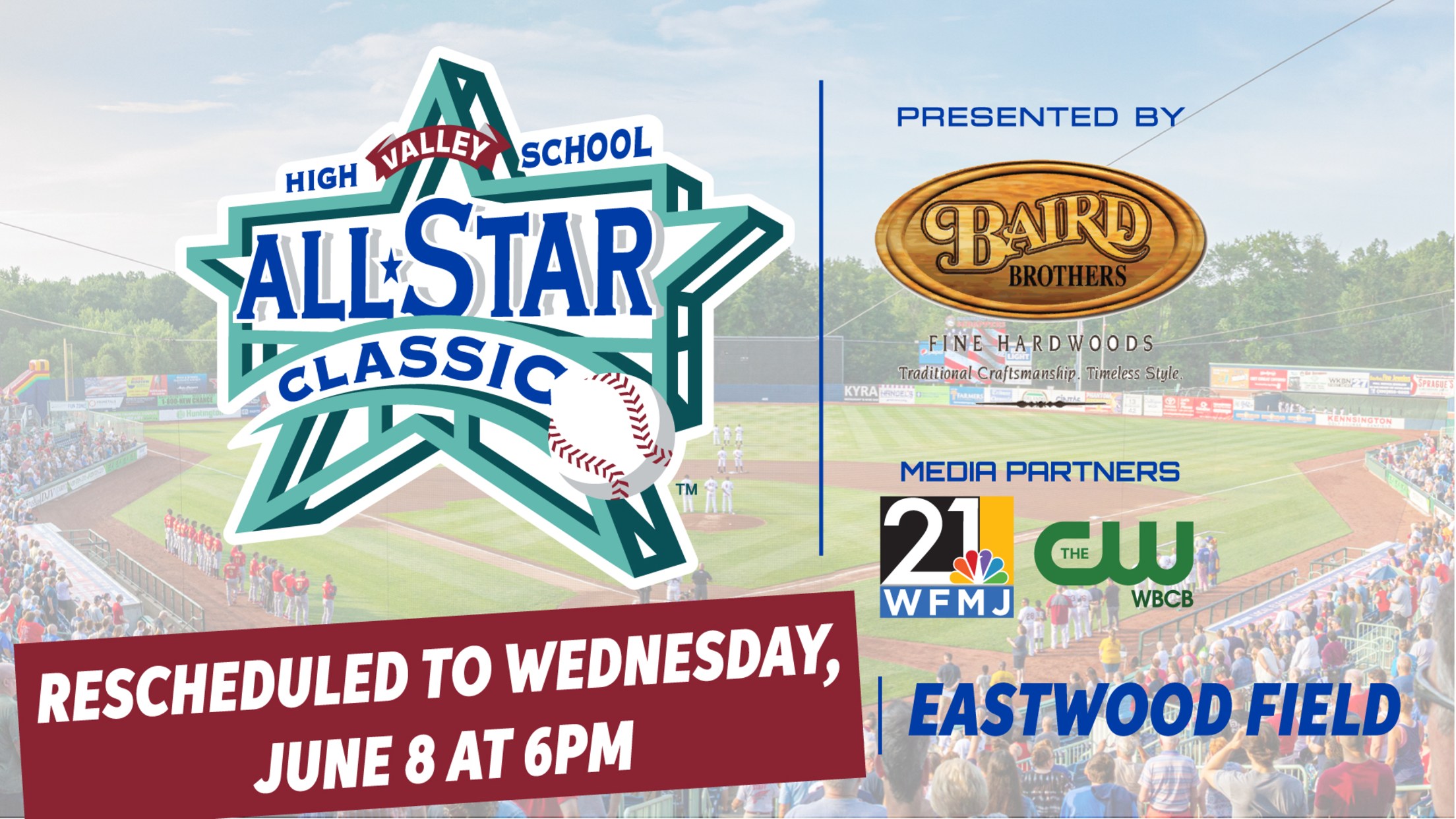 NILES, OH – Due to weather, the High School Valley All Star Classic is rescheduled to Wednesday, June 8th at 6pm at Eastwood Field. The High School Valley All-Star Classic, presented by Baird Brothers Fine Hardwoods and media partners 21 WFMJ and WBCB, will feature elite high school players from
2022 HOMESTAND #2 JUNE 10-12 Vs. West Virginia Black Bears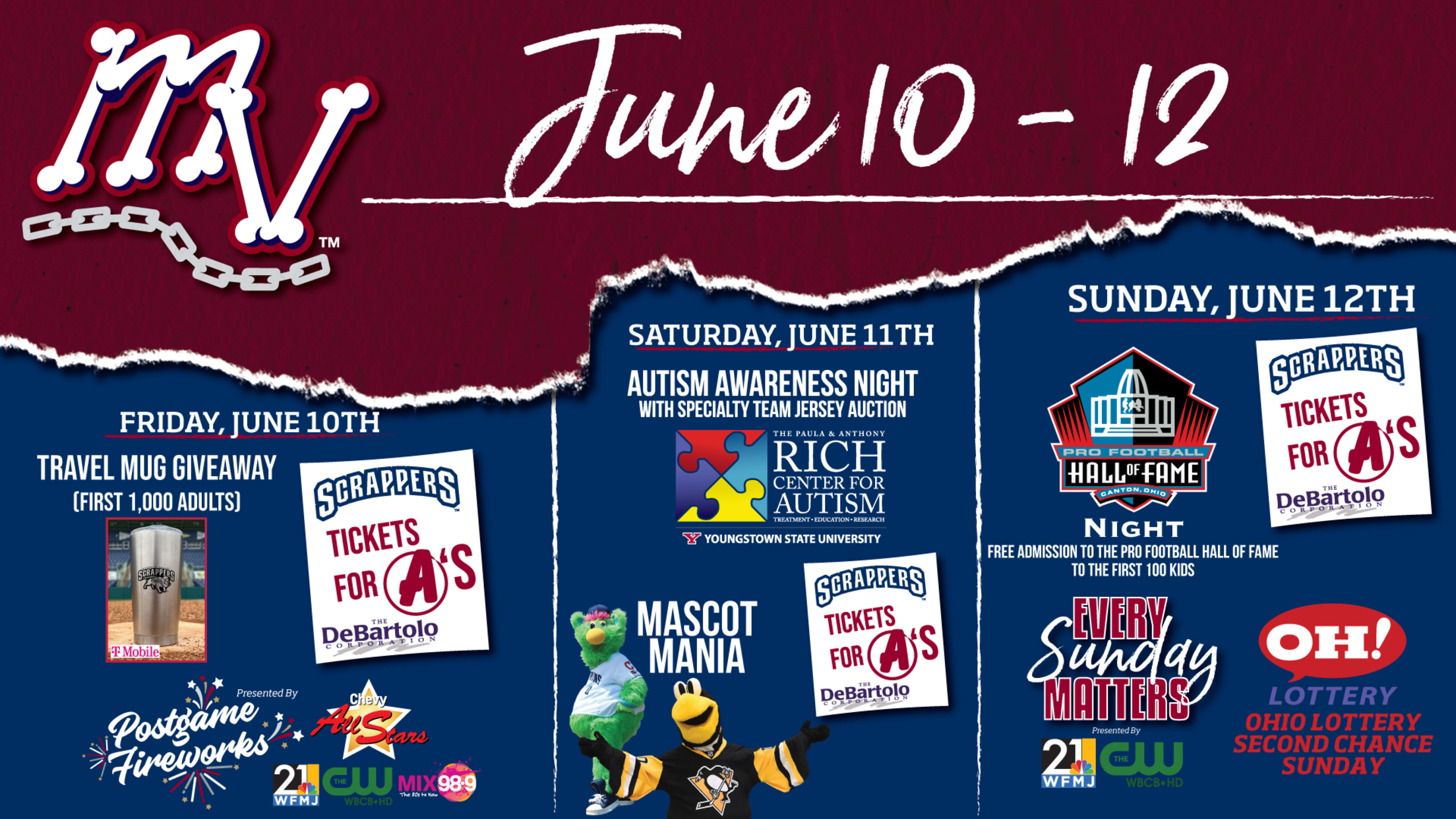 Friday, June 10 vs. West Virginia Black Bears @ 7:05pm Travel Mug Giveaway to the first 1,000 Adults courtesy of T-Mobile. Stick around after the game for a fantastic fireworks show presented by Chevy All-Stars, 21 WFMJ, WBCB and radio partner Mix 98.9. We're also giving away Tickets for A's
Scrappers Partner with the DeBartolo Corporation to Award Tickets for A's for June 10-12 Games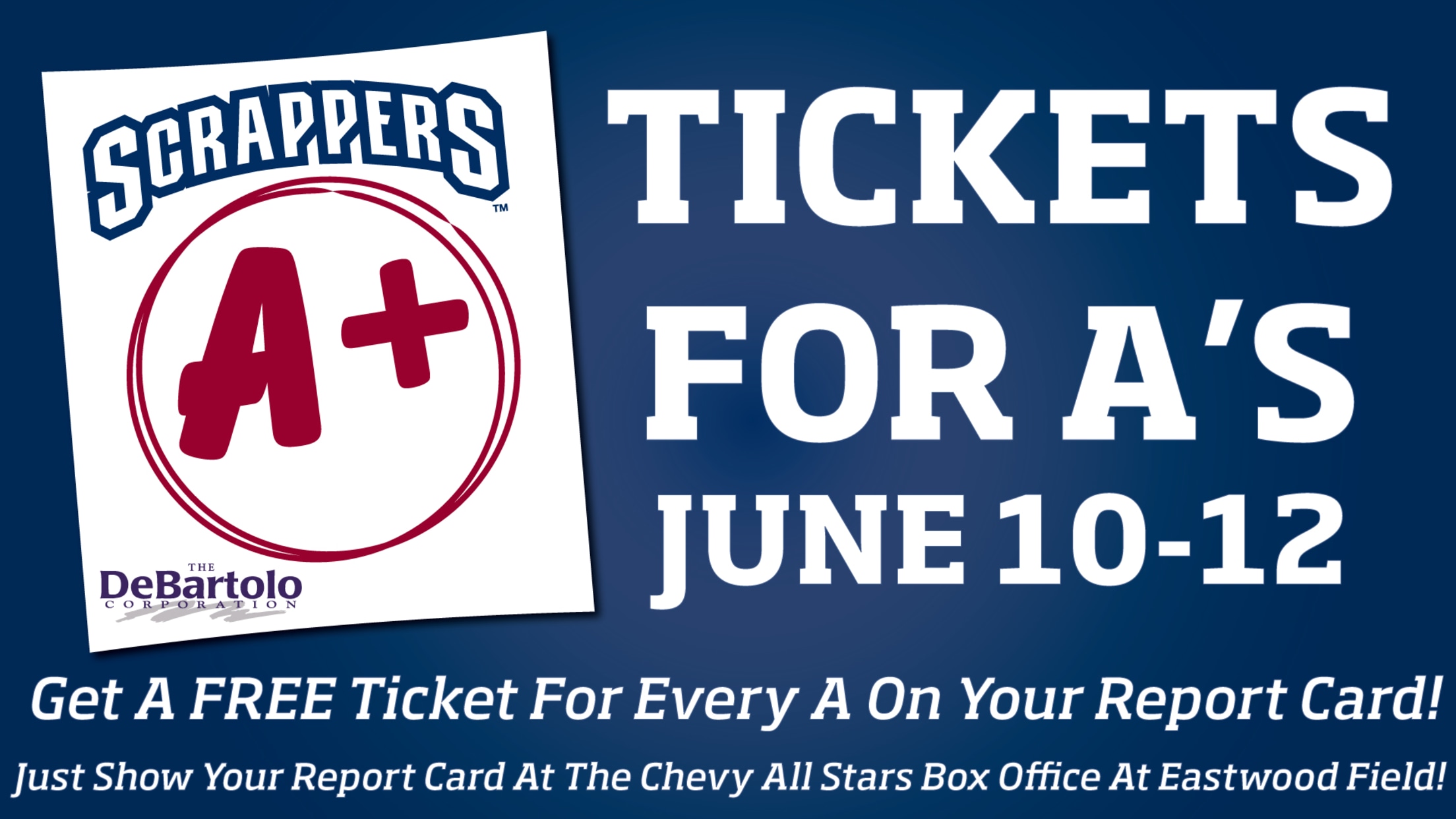 NILES, OH –The Mahoning Valley Scrappers have partnered with the DeBartolo Corporation to award Tickets for A's for the Friday, June 10th - Sunday, June 12th Scrappers games. Students can present their report cards at the Chevy All-Stars Box Office at Eastwood Field and they will receive a free General
Scrappers Host High School Valley All-Star Classic on Wednesday, June 8th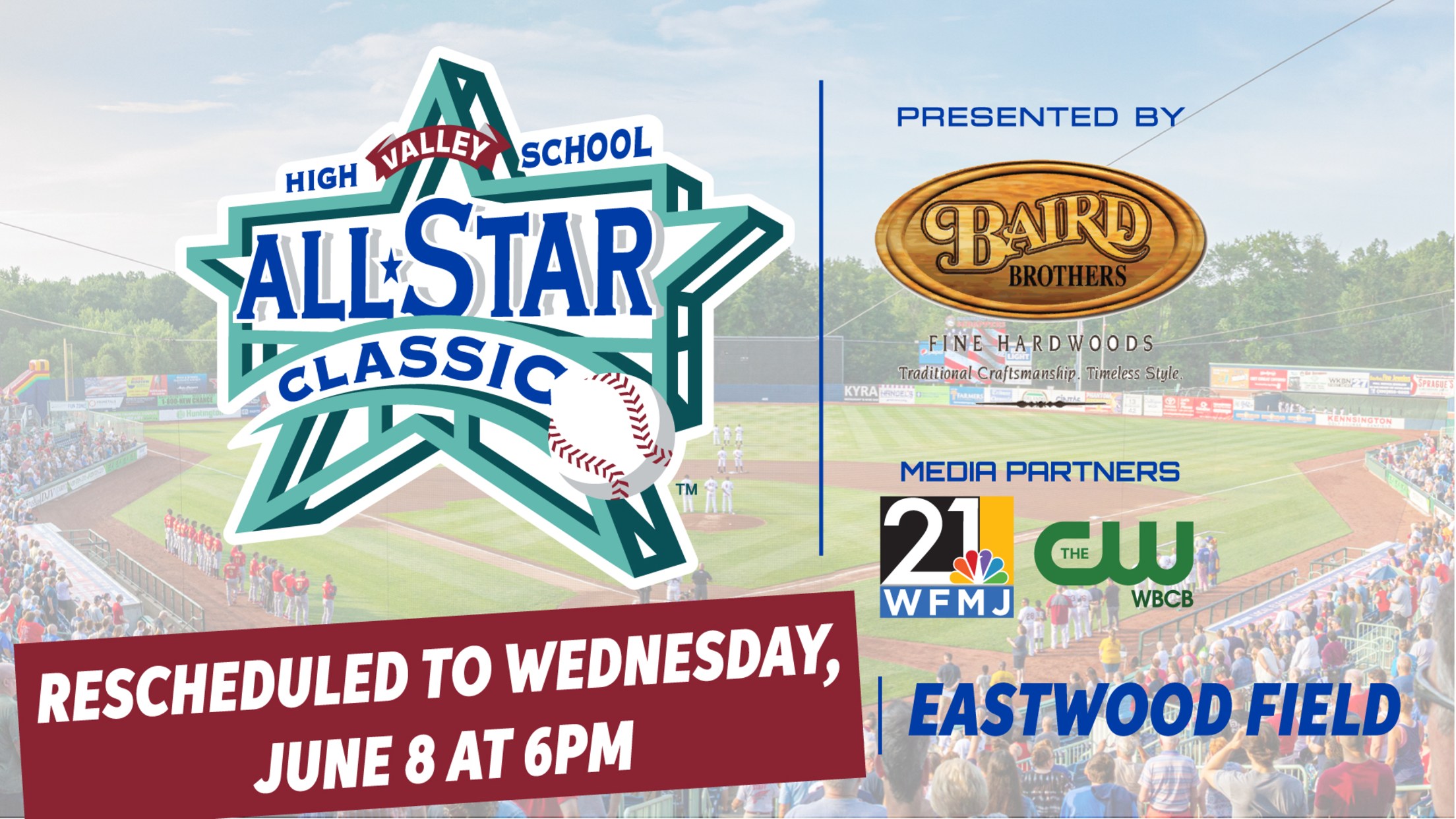 NILES, OH – The Mahoning Valley Scrappers are excited to announce they will be hosting the seventh annual High School Valley All-Star Classic, presented by Baird Brothers Fine Hardwoods and media partners 21 WFMJ and WBCB, on Wednesday, June 8, 2022 at 6:00pm at Eastwood Field. The High School Valley
Scrappers Partner With The DeBartolo Corporation To Present The Community Dugout Program For The 2022 Season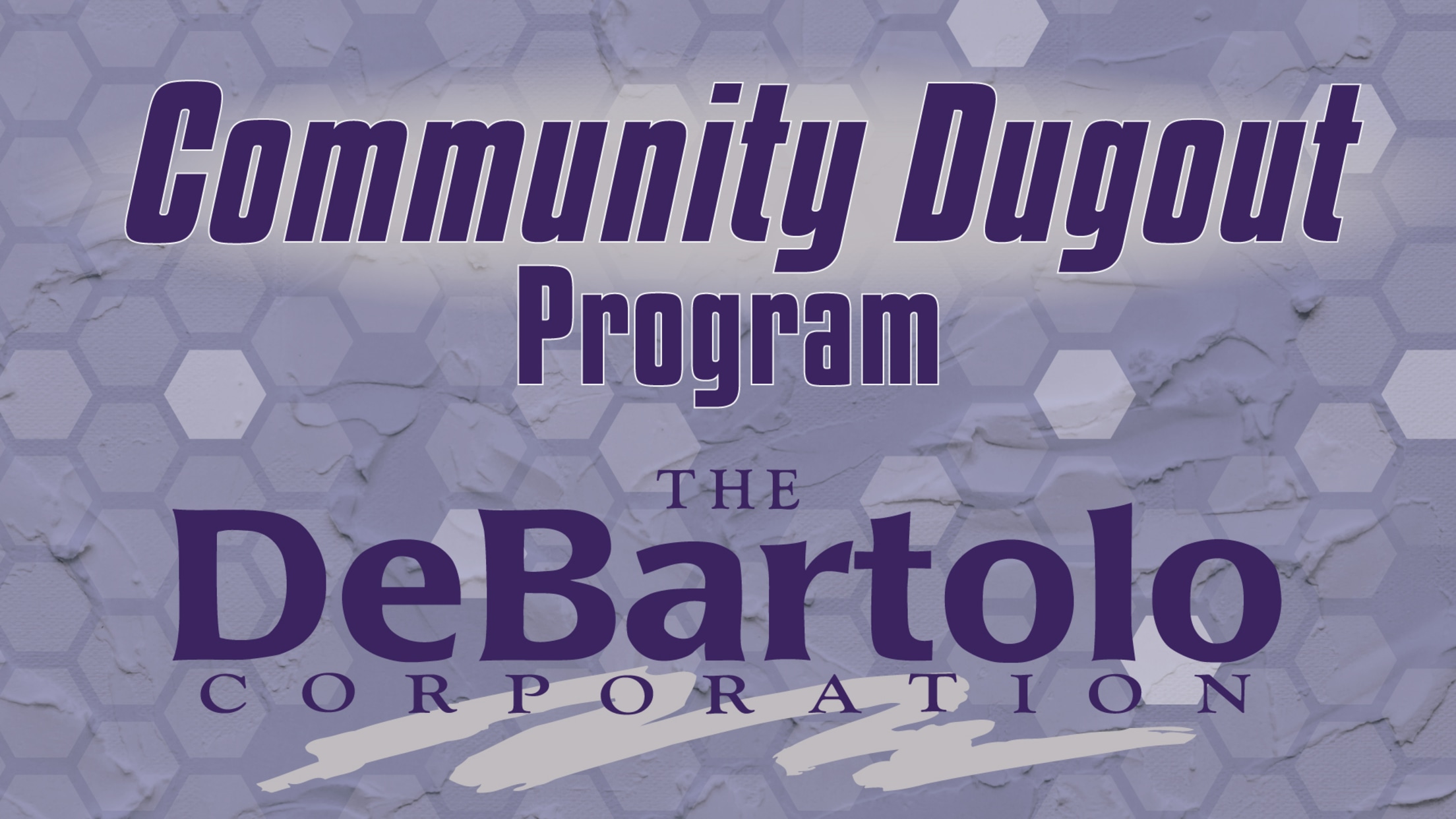 NILES, OH – The Mahoning Valley Scrappers present the Community Dugout Program for the 2022 Scrapers season. The program is designed to provide complimentary tickets to a Scrappers game to non-profit organizations in the Mahoning Valley. Non-profit organizations can apply for the program and use the tickets for those who
2022 HOMESTAND #1 JUNE 2-5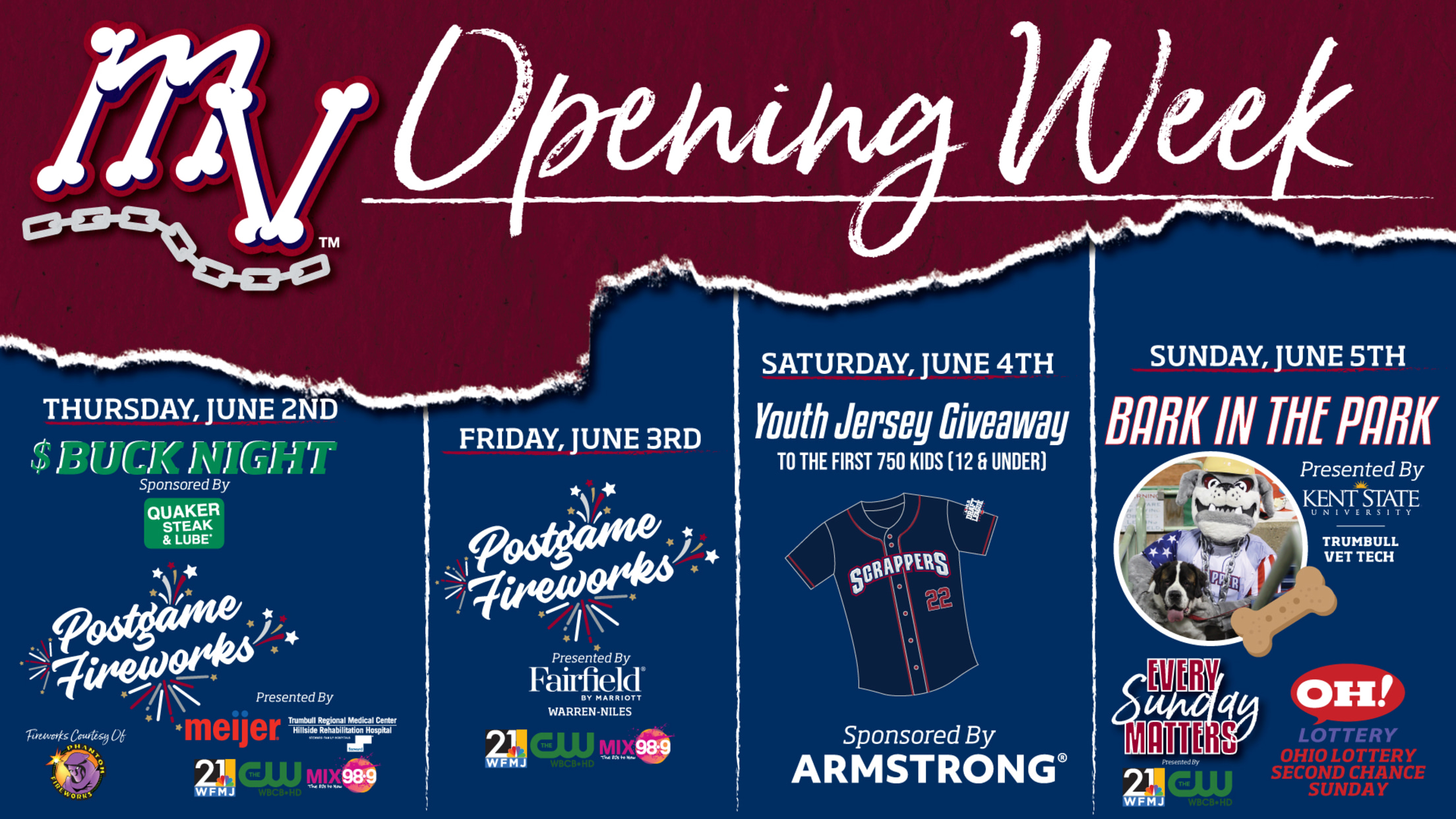 Thursday, June 2 vs. West Virginia Black Bears @ 7:05 pm It's Opening Night at Eastwood Field! It's BUCK Night and FIREWORKS Night! It's the first Buck Night of the season presented by Quaker Steak & Lube. Fans can get $1 General Admission tickets, $1 hot dogs and $1 drinks