Taylor stretches streak to 19 games, Spikes fall to W'port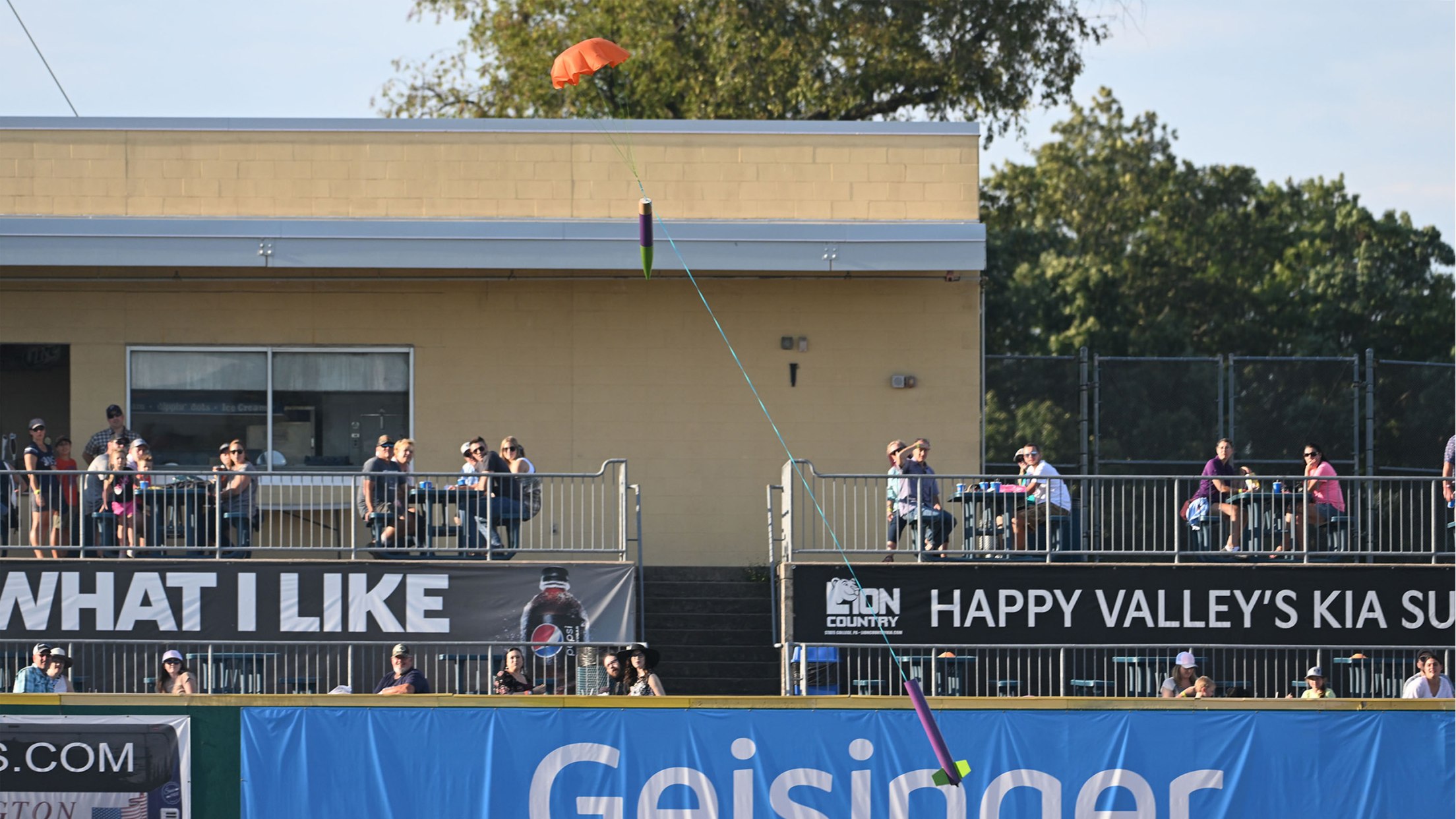 The purple and green rocket launched by SEDS Penn State before Saturday night's State College Spikes game falls back to earth in front of the Pepsi Picnic Pavilion. (Steve Manuel)
BOX SCORE PLAY-BY-PLAY UNIVERSITY PARK, Pa. – Trent Taylor collected a trio of hits to extend his hitting streak to 19 games, and Luis Aviles crushed a three-run homer, but a six-run first for the Williamsport Crosscutters was too much for the State College Spikes to overcome as their seven-game
UNIVERSITY PARK, Pa. – Trent Taylor collected a trio of hits to extend his hitting streak to 19 games, and Luis Aviles crushed a three-run homer, but a six-run first for the Williamsport Crosscutters was too much for the State College Spikes to overcome as their seven-game winning streak concluded with an 8-4 loss on Saturday night at Medlar Field at Lubrano Park.
Taylor is now hitting .436 (34-for-78) with seven doubles and three triples during his hit string, which began on July 28. The UCF product has upped his batting average for the season to .370, and added a stolen base while also reaching base a fourth time via hit by pitch.
Aviles's home run, his second of the season for the Spikes (17-10 2nd half), went 431 feet to left field on the first pitch he saw from Wiliamsport (15-10 2nd half) reliever Logan Bowen (1) in the seventh inning to conclude the scoring.
John Mead also notched his second straight three-hit night, with a triple on Friday followed by a double on Saturday.
However, the Crosscutters brought 11 batters to the plate in the opening frame, with both Daniel Harris IV and Jesse Hall driving in two runs with a double each. Travis Holt and Taylor Jackson also singled home runs in the frame, with E.J. Taylor's fourth-inning triple and Zach Miller's solo homer in the seventh, his first as a Crosscutter, completing the Williamsport offense.
Spikes reliever Jayson Summers did yeoman's work with 5 2/3 innings of one-run relief to finish the game. Summers yielded just three hits and a hit batsmanwhile striking out a season-high seven batters. Starter Isaiah Magwood (1-1) took the loss for State College after being charged with six runs on six hits, two walks and a hit batsman in 2/3 of an inning.
Matt Gilbertson (3-1) yielded one run on seven hits, two walks and a hit batsman over six innings for the win. Gilbertson recorded five strikeouts and lasted 109 pitches on the night. Bowen logged three innings for the save, allowing three runs on six hits and a walk while striking out four batters in the process.
Before the game, fans were thrilled by a Rocket Launch from SEDS Penn State, as a five-foot rocket soared 600 feet into the Happy Valley sky before ejecting its parachute and falling harmlessly back to the outfield grass at Medlar Field at Lubrano Park.
Following the game, fans enjoyed FIREWORKS from the Field presented by College Township, with all fans able to enjoy the FIREWORKS spectacular put on by Starfire Corporation from the ballpark infield. There will be two more opportunities for fans to see FIREWORKS from the Field this season – one on Saturday, August 27 presented by McClure Company, and another on Sunday, September 4 presented by Starfire Corporation on Fan Appreciation Night presented by Lion Country Kia.
Sunday, the Spikes conclude their three-game series against the Crosscutters with a 4:05 p.m. matchup at Medlar Field at Lubrano Park. State College is scheduled to send right-hander Brendan Knoll (1-2) to the hill to face Williamsport righty Nick Meyer (4-2).
It will be Witches and Wizards Night at the ballpark on a Sunday Funday presented by Bigfoot Country Legends. Sunday Funday includes a Pre-Game Catch on the Field from 3:00-3:30 p.m., Kids Eat Free for the first 250 kids 12 and under with a voucher for a free hot dog, chips and soda at the ballpark entrance gates, and Half-Price Hard Seltzers from 3:00-5:00 p.m.
Plus, after the game will be the third straight Kids Run the Bases Home Run Edition of the weekend, presented by Mount Nittany Health.
Tickets for Sunday's game, as well as all 11 remaining games on the Spikes' biggest regular season home schedule in franchise history, including both remaining FIREWORKS from the Field shows, are available now. Tickets can be purchased by calling (814) 272-1711 or by visiting the Spikes Ticket Office in person from 9 a.m. to 5 p.m. Monday through Friday.
Fans can also buy and download single-game tickets, and view the full 2022 promotional schedule, at the only source for authentic Spikes tickets online by visiting StateCollegeSpikes.com.
More ticket packages, including Flex Books and an array of group and hospitality options for the 2022 season, are currently on sale by calling the Spikes at (814) 272-1711. Additional information on all club ticketing options, as well as team news and schedule info, can be viewed at StateCollegeSpikes.com.
Catch all the action of the Spikes' game on Sunday via the Spikes Radio Network presented by Penn State Sports Medicine, Official Healthcare Provider of Penn State Athletics with Steve Jones and Joe Putnam on the call. The broadcast starts with Spikes Live! presented by Mount Nittany Health, on the air from Medlar Field at Lubrano Park at approximately 3:40 p.m.
The game can be viewed worldwide on the MLB Draft League streaming platform at MLBDraftLeague.com/streaming, along with the "Listen Live" link on StateCollegeSpikes.com and the TuneIn Radio app.