Spikes to throw Sean Clifford Retirement Party with Bobblehead Giveaway
First 1,000 fans to receive Sean Clifford Bobblehead presented by Lion Country Kia on July 15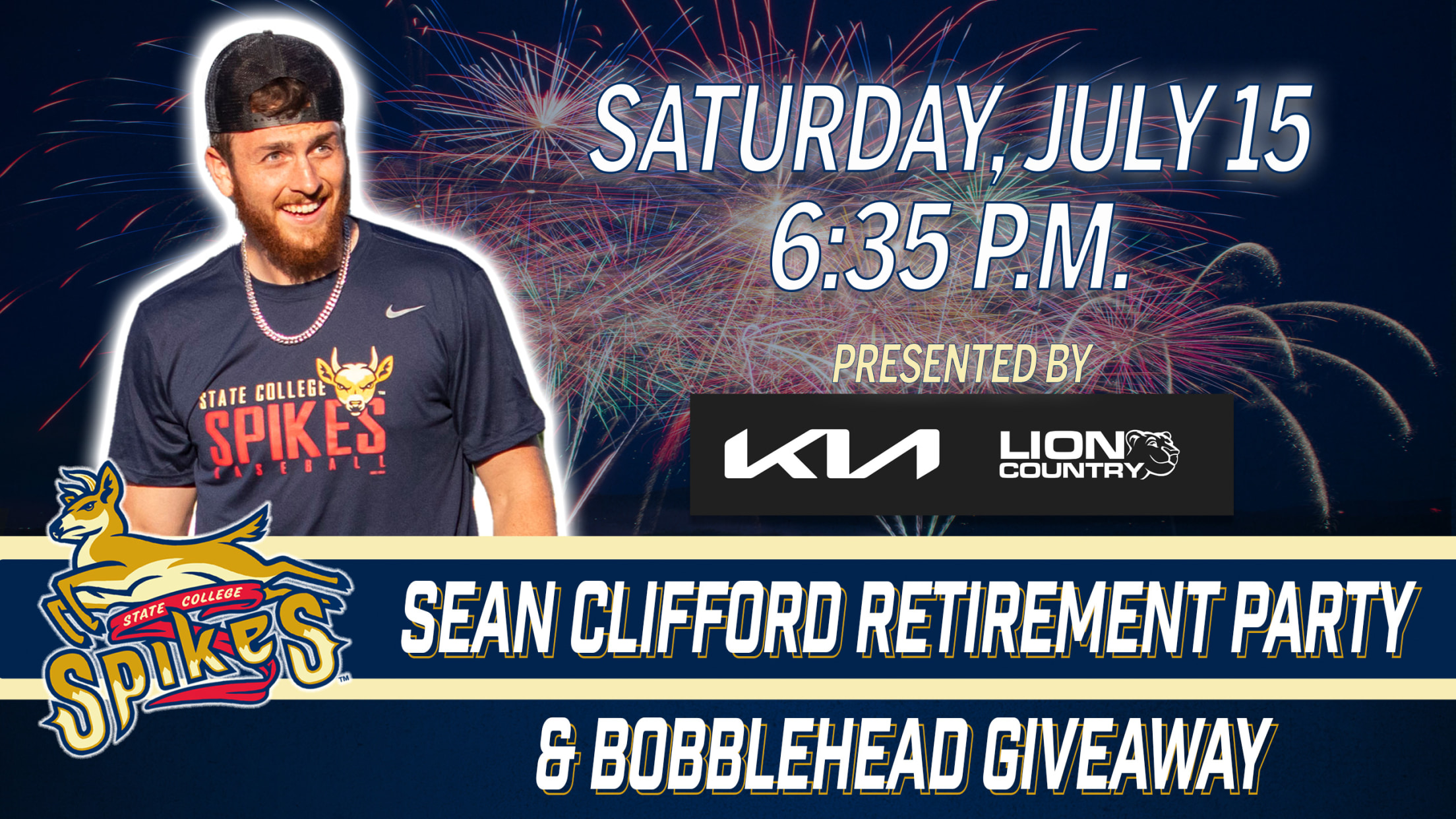 The State College Spikes are giving a fitting farewell to a QB who's been around the block and back in Happy Valley with the Sean Clifford Retirement Party, in partnership with Limitless NIL, set for Saturday, July 15 at Medlar Field. The fun will feature a Sean Clifford Bobblehead Giveaway
The State College Spikes are giving a fitting farewell to a QB who's been around the block and back in Happy Valley with the Sean Clifford Retirement Party, in partnership with Limitless NIL, set for Saturday, July 15 at Medlar Field. The fun will feature a Sean Clifford Bobblehead Giveaway for the first 1,000 fans, presented by Lion Country Kia, plus an array of retirement gifts and activities for both Clifford and fans to share in during the game.
The bobblehead giveaway will depict Clifford coming up like a rose after winning MVP honors in Pasadena with 279 yards and two touchdown passes in his final collegiate game. The full bobblehead artwork will be released at a later date.
In addition, early birds through the gates will receive a copy of the 1923 Team Photo, which will show just how long Sean Clifford has been a part of our lives.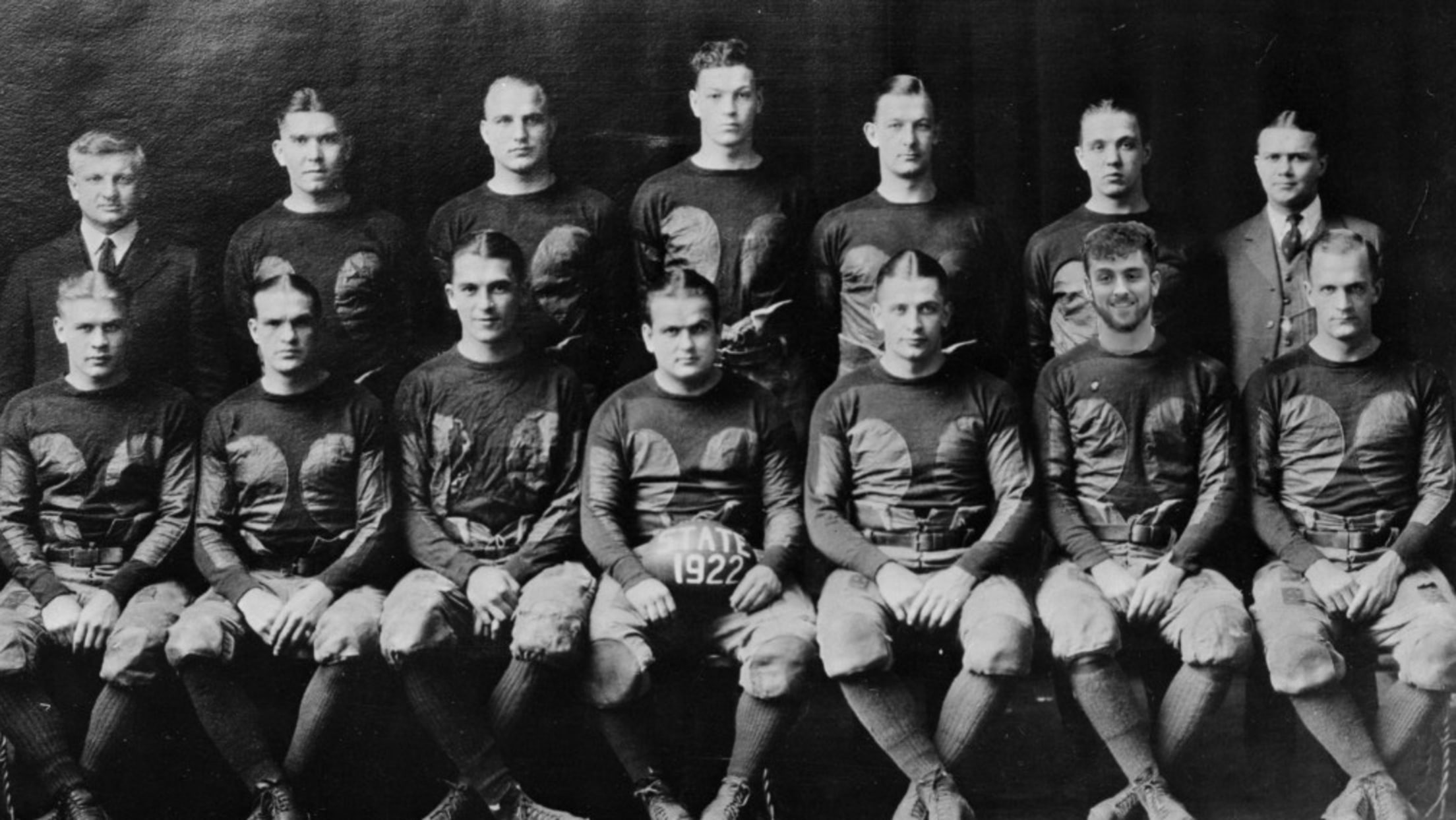 After setting program records for completion percentage (61.2) pass completions (817), passing yards (10,382), passing touchdowns (84) and pass attempts (1,335), Clifford will be joining the Spikes to mark the official end of his collegiate career one day after his 25th birthday.
Fans will have the opportunity to meet, greet and pay tribute to Sean in person as he signs autographs during the 6:35 p.m. game as well.
With his sunset years on the horizon, the Spikes and Lion Country Kia will be presenting Sean with an array of gifts and activities to prepare him for old age. Of course, in true Spikes fashion, one "LuCKy" fan will also be receiving each of them, with some of the items including a Rocking Chair Giveaway, a Florida "Snowbird" Trip Giveaway (complete with one-way airline ticket for the retiree) and a Year's Supply of Adult Diapers.
In addition, all fans 25 and older will also be able to receive the Spikes' senior citizen discount at the Medlar Field Ticket Office for the game in honor of Sean's elder status, and fans can enter for the chance to win the *Ultimate Pickleball Set *for future recreational opportunities.
The fun also includes a crowd-wide sing-along of the traditional retirement serenade "For He's a Jolly Good Follow" and the chance to sign a giant "Happy Retirement" card.
Plus, the Spikes will welcome Sean and all senior citizens for a "Silver Sneakers" stroll around the ballpark the morning of the July 15 game, and we'll prove that parting is such sweet sorrow with a Retirement Cake, games of 500 rummy and canasta, party favors and more.
"All of us at the Spikes have watched Sean Clifford work his magic on the field for quite a long time, and we are honored to welcome him to Medlar Field to celebrate his career with us," said Spikes President & General Manager Scott Walker. "We are looking forward to giving Sean the sendoff he deserves at the ripe old age of 25, and we hope that in the end, our fans will say we rose to the occasion."
"It's been the greatest experience of my life to play in Happy Valley, and I'm looking forward to celebrating it with Nittany Nation at Medlar Field on July 15," said Clifford. "I'm pumped to be part of all of the fun the Spikes have planned, especially the bobblehead, and hopefully I can get some tips from my fellow retirees at the party."
"As longtime partners of the Spikes, we love teaming up with them on fun ideas that bring joy to fans across Happy Valley," said Lion Country Kia General Manager Jonathan Runkle. "We are thrilled to partner with the Spikes and Sean Clifford on his Retirement Party and Bobblehead Giveaway, as well as the return of Deer Bats to Medlar Field all season long."
The announcement of the Sean Clifford Retirement Party featuring the Sean Clifford Bobblehead Giveaway *presented by *Lion Country Kia marks the first of many to come relating to the Spikes' 2023 promotional schedule. Fans can expect to learn about more activities on the Spikes' 40-game home slate over the coming weeks and months.
Fans can ensure they are part of all of the fun by purchasing their Spikes Season Tickets *now. Season Ticket holders can use one of their *TWO Guaranteed Giveaway Items, or their early entrance into the ballpark for every game, to pick up the July 15 bobblehead giveaway, among other amenities.
Season Tickets, plus Spikes Flex Books and group and hospitality options for the 2023 Spikes season, are now available by calling a Spikes ticket representative at 814-272-1711, or by logging on to StateCollegeSpikes.com.