2x Stanley Cup Champion Ross Colton to Appear at Trenton Thunder Ballpark this August
Robbinsville NJ native to hold an autograph signing and Meet & Greet on August 18th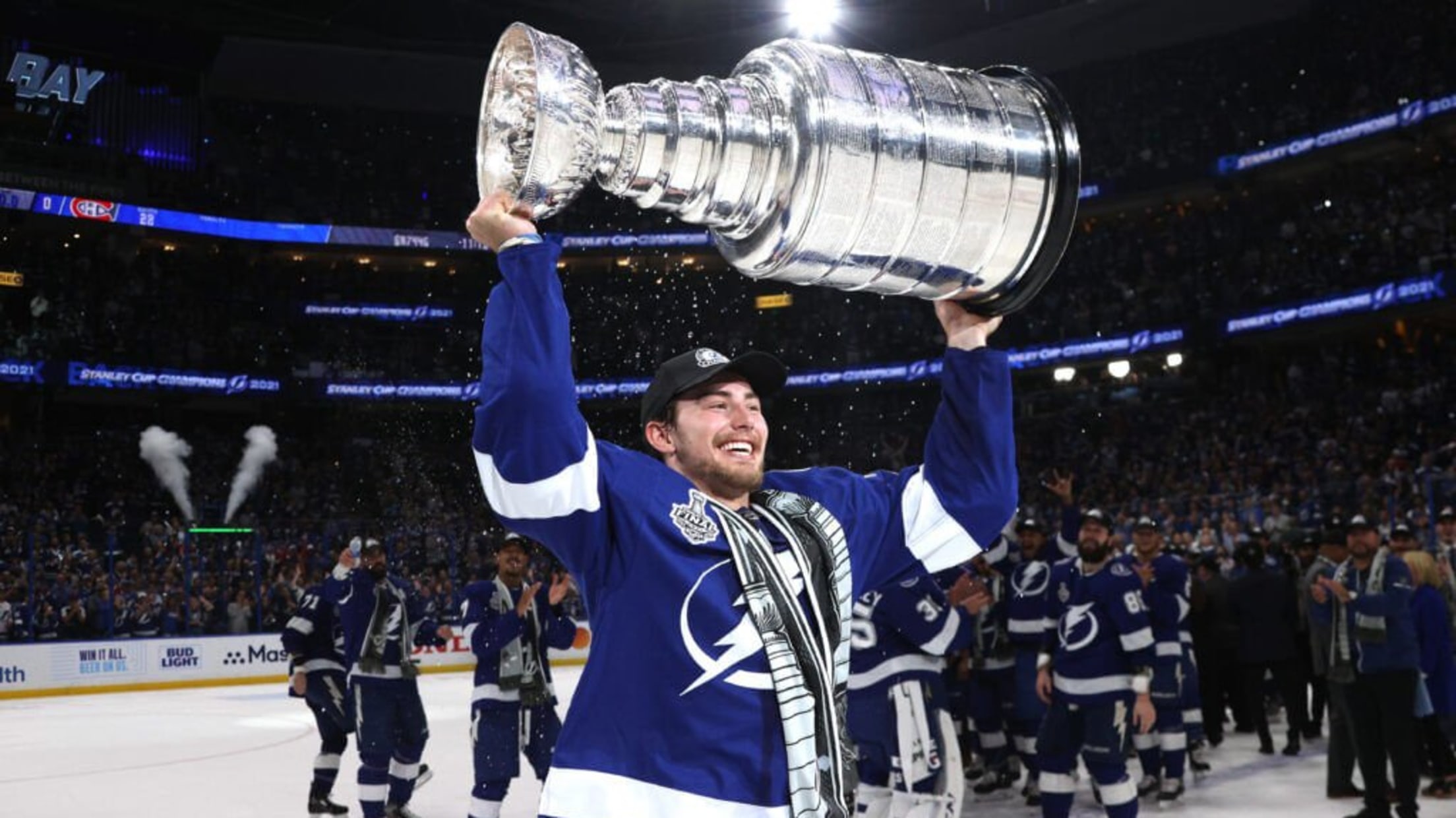 Purchase tickets here! (TRENTON, NJ) - Your Trenton Thunder, presented by NJM Insurance Group, are excited to announce that Robbinsville, NJ native and Tampa Bay Lightning Center Ross Colton will appear at Trenton Thunder Ballpark before the team's 7:00pm on Thursday, August 18th against the Williamsport Crosscutters. Meet & Greet
(TRENTON, NJ) - Your Trenton Thunder, presented by NJM Insurance Group, are excited to announce that Robbinsville, NJ native and Tampa Bay Lightning Center Ross Colton will appear at Trenton Thunder Ballpark before the team's 7:00pm on Thursday, August 18th against the Williamsport Crosscutters. Meet & Greet tickets with the 2x Stanley Cup Champion cost only $30 and will include both a photo opportunity and autograph session.
The Trenton Thunder WILL NOT provide items to be autographed, so please bring your own to the meet and greet, which will take place between 5:30-6:30 PM. Colton will then throw out a ceremonial first pitch before signing autographs during the game on the concourse from 7pm-8pm on a first-come-first-served basis.
Your $30 Meet & Greet ticket purchase includes one seat for the game, a Food Voucher for a hot dog, popcorn, and soda, plus access to the meet and greet with Colton.Wrist bands for the meet and greet and food voucher can be picked up at the top of the 3rd Base Picnic Area at Trenton Thunder Ballpark. Photos ($15) and Tampa Bay Lightning Pucks ($20) will be available for purchase while supplies last.
It didn't take long for Ross Colton to fit in with the Tampa Bay Lightning.
The forward was chosen in the fourth round (No. 118) of the 2016 NHL Draft and scored a goal on his first and only shot of his NHL debut, a 3-0 win against the Carolina Hurricanes on Feb. 24, 2021. He joined Nikita Kucherov as the only players in Lightning history to score a game-winning goal in their first NHL game.
Colton's hockey career evolved after two seasons with Cedar Rapids of the United States Hockey League (2014-16). In 2015-16 he tied for second in the USHL with 66 points (35 goals, 31 assists) in 55 games.
He signed a two-year, entry-level contract with the Lightning on June 26, 2018, following two seasons at the University of Vermont. He signed a one-year contract Oct. 14, 2020 after finishing second for Syracuse of the American Hockey League with 42 points (11 goals, 31 assists) in 62 games.
Colton saw a regular role with the Lightning during the 2020-21 season with forwards Kucherov and Steven Stamkos out, scoring 12 points (nine goals, three assists) in 30 games.
He scored six points (four goals, two assists) in 23 Stanley Cup Playoff games to help the Lightning repeat as Stanley Cup champions. His goal in the third period of Game 5 of the Stanley Cup Second Round sealed a 2-0 win to eliminate the Carolina Hurricanes, and he scored at 13:27 of the second period in Tampa Bay's Cup-clinching 1-0 win against the Montreal Canadiens in Game 5 of the Final.
Colton signed a two-year contract Aug. 9, 2021, avoiding an arbitration hearing.
NOTES & TRANSACTIONS
USHL First All-Star Team (2016)
Hockey East All-Rookie Team (2017)
#
New Jersey's Baseball Team | Big League Futures. Major League Fun.
The Trenton Thunder have drawn over 10 million fans over 28 years and have won the three major awards that Minor League Baseball teams can win; the Johnson Trophy for the "Nation's Best Franchise", the Larry MacPhail Trophy for Outstanding Club Promotion, and the Bob Frietas Award for Long-Term Success (Given by Baseball America). The team has given back over $7.5 million worth of goods, services, and monetary donations through Trenton Thunder Charities, under the Grand Slam We Care Foundation umbrella. The Thunder can be found online at trentonthunder.com, facebook.com/trentonthunder, twitter.com/trentonthunder, and on youtube.com/AATrentonThunder.