Spikes Spoil Start of Thunder Weekend
6,722 fans on hand to witness Tony Franklin's jersey retirement ceremony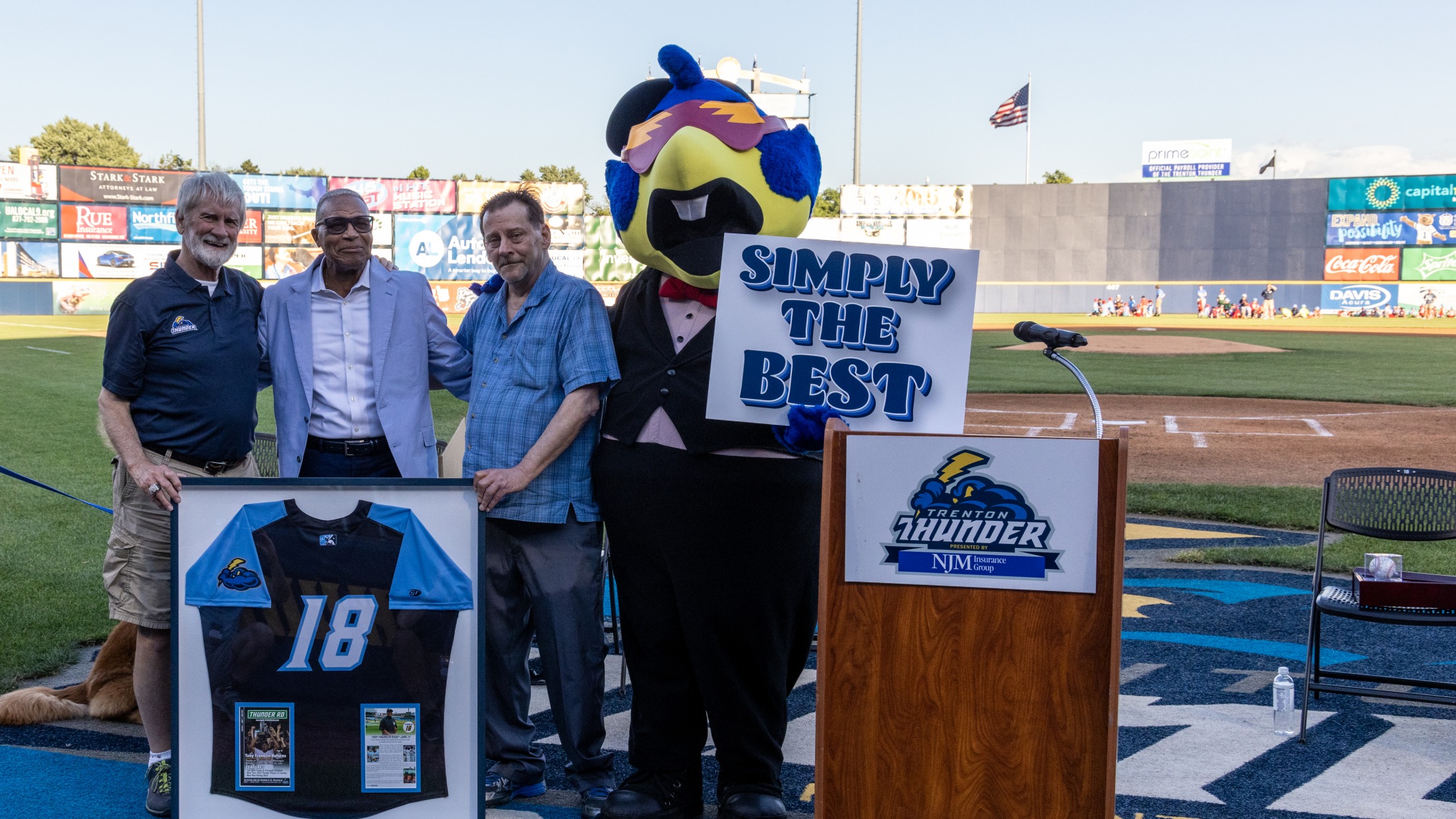 (Trenton, NJ) – Friday night's game between the Trenton Thunder and the State College Spikes was delayed at the outset as your Trenton Thunder retired long time manager Tony Franklin's #18 jersey forever. The franchise's winningest skipper, who led the Thunder to three Eastern League Championships, returned to Trenton Thunder
(Trenton, NJ) – Friday night's game between the Trenton Thunder and the State College Spikes was delayed at the outset as your Trenton Thunder retired long time manager Tony Franklin's #18 jersey forever. The franchise's winningest skipper, who led the Thunder to three Eastern League Championships, returned to Trenton Thunder Ballpark for a celebration of his eight seasons in the dugout. Shortly thereafter, the Spikes raced out to a 4-0 lead and never looked back as they scored a team-record 18 runs in an 18-6 win in the first meeting between the teams this season.
Making his second start at home, righthander Joe Joe Rodriguez *(1-1)surrendered four unearned runs over three innings on a night where Trenton committed a season-high five errors. In the bottom of the third, *Jovani Wiggs **picked up his first hit with an infield single and showed off his speed with a steal of second base. Two batters later,Tate Ballestero **singled him home for his first run batted in of the season to trim the deficit to 4-1.
The Spikes put it away for good by putting up 13 combined runs when they batted around in both the fourth and fifth. Trailing 17-1, the Thunder never surrendered and started chipping away in the sixth when Andrew Cossetti *hit a one-out triple. He soon scored on *Dalton Davis' sacrifice fly to right, which allowed the bottom of the order to bring in the second run of the inning. *Gus Sosa *stroked a double into left center in his first plate appearance, and Wiggs notched his second hit with a double of his own.
Trenton loaded the bases to start the seventh when Jorge Bojorquez *sandwiched a walk in between singles by *Johnny Weaver and Colby Backus in their home debuts. A double play ball scored the fourth Thunder run, and they'd push across two more on Sosa's bomb to center in the eighth for his team-leading third of the season. Righthanders Chase Nowak and *Dylan Heine *stood out by working scoreless frames in the seventh and eighth in their Thunder debuts. Only eight of the Spikes 18 runs were earned, and Trenton actually ended up outhitting State College 12-11.
The series continues on Saturday, June 19 at 6:30 PM for Buffalo Bisons Appreciation Night followed by a postgame fireworks show! To purchase tickets, call (609)-394-3300, Opt 4 or visit trentonthunder.com.
#
New Jersey's Baseball Team | Big League Futures. Major League Fun
The Trenton Thunder have drawn over 10 million fans over 28 years and have won the three major awards that Minor League Baseball teams can win; the Johnson Trophy for the "Nation's Best Franchise", the Larry MacPhail Trophy for Outstanding Club Promotion, and the Bob Frietas Award for Long-Term Success (given by Baseball America). The team has given back over $7.5 million worth of goods, services, and monetary donations through Trenton Thunder Charities, under the Grand Slam We Care Foundation umbrella. The Thunder can be found online at trentonthunder.com, facebook.com/trentonthunder, twitter.com/trentonthunder, and on youtube.com/AATrentonThunder.