Tillmon, Hunt earn MLB Draft League weekly honors
Sean Tillmon and KC Hunt named Draft League Hitter and Pitcher of the Week, respectively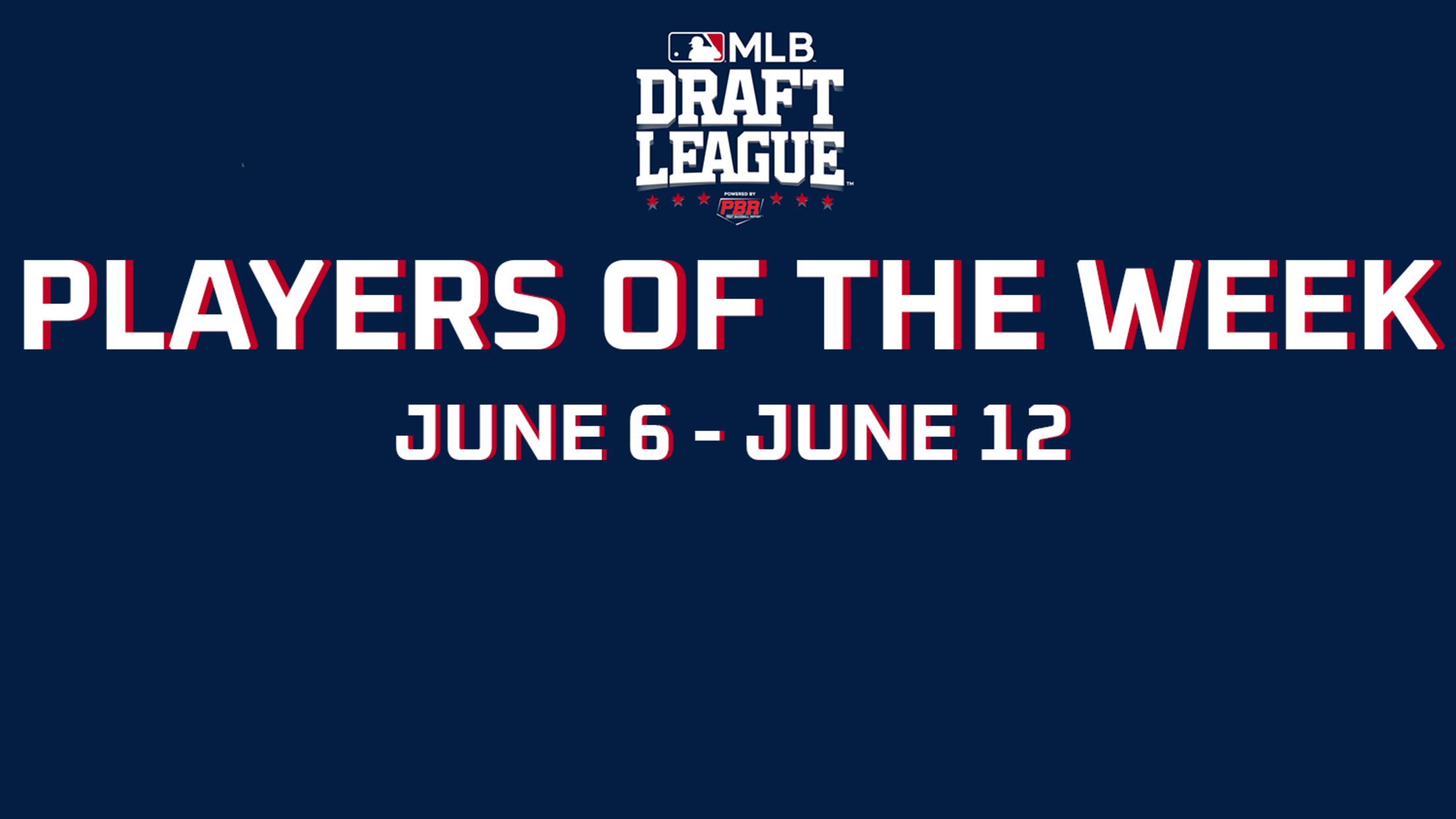 NEW YORK -- The MLB Draft League announced that Mahoning Valley's Sean Tillmon and Trenton's KC Hunt were named Hitter and Pitcher of the Week, respectively, for the period of June 6-12. Tillmon, 21, batted .524 (11-for-21) with one home run, two doubles and five RBI in five games for
NEW YORK -- The MLB Draft League announced that Mahoning Valley's Sean Tillmon and Trenton's KC Hunt were named Hitter and Pitcher of the Week, respectively, for the period of June 6-12.
Tillmon, 21, batted .524 (11-for-21) with one home run, two doubles and five RBI in five games for the Scrappers. He also scored five runs and stole a base while pacing all Draft League hitters for the week in hits, total bases (16) and OPS (1.345). Tillmon went 0-for-3 on Tuesday before hitting safely in Mahoning Valley's next four games, turning in a four-hit performance and a pair of three-hit games along the way. The Scrappers infielder capped his impressive week by hitting his first Draft League homer on Sunday as part of a 3-for-4, 3-RBI performance against West Virginia. The Plainfield, Ill., native is batting .433/.500/.600 through seven games in the Draft League after posting a .380/.468/.551 batting line and scoring 40 runs in 40 games this past season as a Concordia University Wisconsin (Division III) senior.
Draft League Data: Eight of Tillmon's batted balls last week had an exit velocity of at least 90 mph, including three more than 98. He did most of his damage against fastballs, posting a .615 average against the pitch.
𝘐𝘯𝘴𝘪𝘥𝘦 @SeanTillmon'𝘴 𝘣𝘪𝘨 𝘸𝘦𝘦𝘬:

▪️.524/.583/.762
▪️8 BIP > 90 mph EV
▪️3 BIP > 98 mph EV
▪️.615 average vs. fastballs@mvscrappers @BushHomer https://t.co/cRiwHV8Rmd pic.twitter.com/KxdkVHYsgS

— MLB Draft League Data (@draftleaguedata) June 14, 2022
Hunt, 21, struck out seven hitters over five scoreless innings for Trenton against Frederick on Saturday. The Thunder right-hander scattered three hits and did not issue a walk in the outing, throwing strikes with 52 of 63 pitches. Hunt has now put together consecutive scoreless starts to begin the season after tossing four scoreless innings of one-hit ball against the Keys in his June 3 season debut. The Wyckoff, N.J., native has not given up a run this season, allowing four hits and two walks while striking out 12 in nine innings. Hunt recently completed his athletic-sophomore season at Mississippi State, where he struck out 32 batters in 25 1/3 innings while making 15 appearances for the Bulldogs.
Draft League Data: Hunt posted an 83-percent first-pitch-strike rate in his June 11 start against Frederick. His fastball reached 94 mph and averaged 92.5 with 2379-rpm spin. Keys hitters produced an average exit velocity of 72 mph against Hunt's fastball and chased five of the seven curveballs he threw outside the strike zone (71% Chase%).
.@mlbdraftleague's @WeintraubCole with the Pitcher of the Week - Thunder's own KC Hunt (@khunt_2) pic.twitter.com/8zy9lipMlS

— Trenton Thunder⚡️ (@TrentonThunder) June 14, 2022
For more information about the MLB Draft League, visit mlbdraftleague.com or follow @mlbdraftleague & @draftleaguedata on Twitter, and @mlbdraftleague on Instagram.