Thunder and NJM Insurance Group Raise Money for Safe at Home Program
Partnership raised over $12,000 in 2021, bringing total to $129,750 since 2012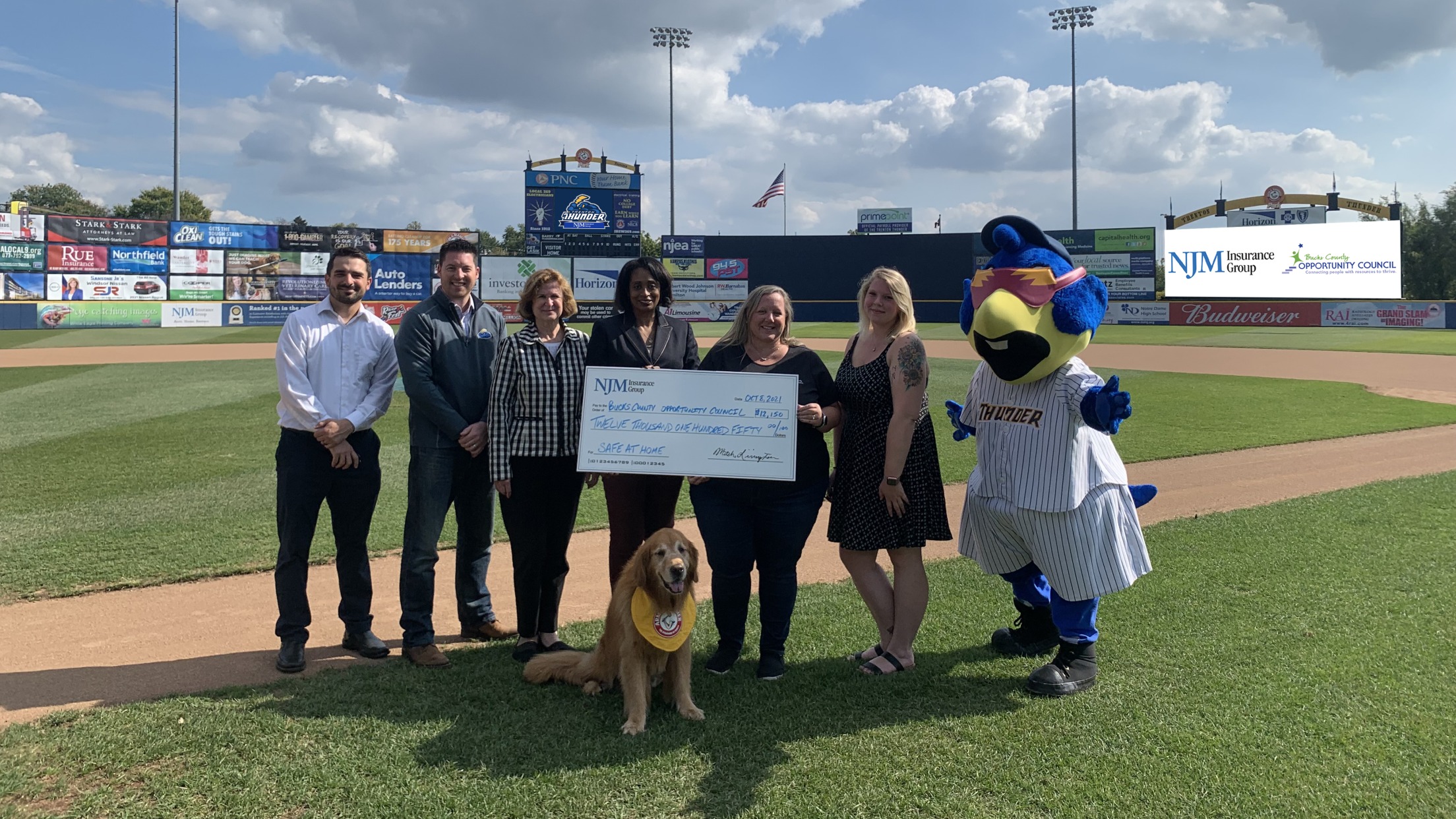 (Trenton, NJ) – The Trenton Thunder is thrilled to announce that in conjunction with NJM Insurance Group, $12,150 was donated to the Bucks County Opportunity Council as part of the Safe at Home Program. The Safe at Home partnership between the Trenton Thunder and NJM Insurance Group started in 2012
(Trenton, NJ) – The Trenton Thunder is thrilled to announce that in conjunction with NJM Insurance Group, $12,150 was donated to the Bucks County Opportunity Council as part of the Safe at Home Program. The Safe at Home partnership between the Trenton Thunder and NJM Insurance Group started in 2012 and has now raised $129,750 for local nonprofit organizations.
"BCOC is honored to have been selected by NJM as the 2021 Safe at Home charitable partner," said Erin Lukoss, Bucks County Opportunity Council CEO and Executive Director. We are grateful for this donation during a time of unprecedented need in our community. Thank you to all involved for this generous support."
The mission of the Bucks County Opportunity Council is "to reduce poverty and partner with the community to promote economic self-sufficiency. Our vision is to elevate the awareness of poverty, and to create and lead partnerships to make our community a "Bridges Out of Poverty" community. We strive to be a model of seamless case management and influence our community to make reducing poverty one of its priorities."
Through the Safe at Home Program, NJM Insurance Group makes an annual donation to a local nonprofit based on the total number of runs the Thunder score at all home games throughout the season.
"Our partnership with the Trenton Thunder is built upon our shared value of supporting the communities we are privileged to serve," noted Jeff Richardson, NJM Community Outreach & Events Coordinator. "For more than 50 years, the Bucks County Opportunity Council has focused on reducing poverty by providing critical services to families in need. We are proud to help advance the organization's efforts to promote economic self-sufficiency."
"This partnership has been very meaningful to us for the past nine seasons," added Thunder General Manager and COO Jeff Hurley. "Together, the Trenton Thunder and NJM Insurance Group continue to make a special impact throughout the region and we're looking forward to another successful year together in 2022."
Other nonprofits that have been a part of the Safe at Home Program include: Children's Home Society of NJ, Rescue Mission of Trenton, Trenton Area Soup Kitchen (TASK), Anchor House Foundation, PEI Kids, Womanspace, Boys & Girls Clubs (Mercer County), and Family Service Association of Bucks County.
#
New Jersey's Baseball Team | Founding Member of the MLB Draft League
The Trenton Thunder have drawn over 10 million fans over 28 years and have won the three major awards that Minor League Baseball teams can win; the Johnson Trophy for the "Nation's Best Franchise" (2005), the Larry MacPhail Trophy for Outstanding Club Promotion (2003) and the Bob Frietas Award for Long-Term Success (1998, given by Baseball America). The team has given back over $7.5 million worth of goods, services, and monetary donations through Trenton Thunder Charities, under the Grand Slam We Care Foundation umbrella. The Thunder can be found online at trentonthunder.com, facebook.com/trentonthunder, twitter.com/trentonthunder, and on youtube.com/AATrentonThunder.