Mollerus named MLB Draft League Pitcher of the Week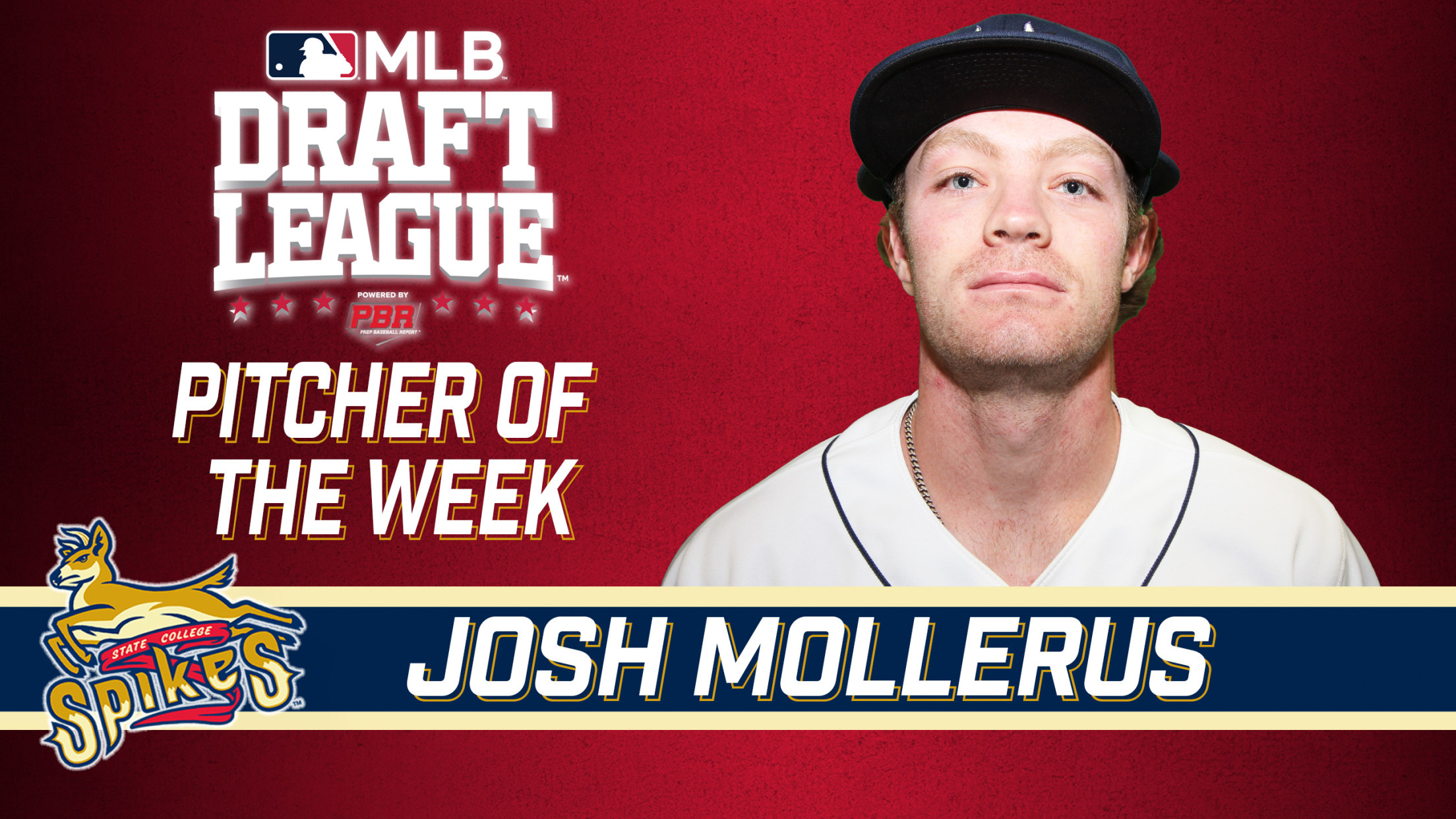 The Major League Baseball Draft League announced on Tuesday that State College Spikes right-hander Josh Mollerus was named the MLB Draft League Pitcher of the Week for the week of July 11-17. Mollerus was nearly lights-out in relief over the final week of the MLB Draft League's first half. The
The Major League Baseball Draft League announced on Tuesday that State College Spikes right-hander Josh Mollerus was named the MLB Draft League Pitcher of the Week for the week of July 11-17.
Mollerus was nearly lights-out in relief over the final week of the MLB Draft League's first half. The University of San Francisco product faced 15 batters over two appearances and struck out nine of them. Mollerus tossed two perfect innings against Mahoning Valley on Wednesday, then followed by allowing just a hit, a walk and a hit batsman while striking out five Williamsport batters on Friday.
The righty finished the first half with an 0-1 record and a 4.82 ERA over 12 appearances totaling 18 2/3 innings. However, if one removes an outing at Trenton on June 19 in which Mollerus was charged with five runs in 2/3 of an inning, his ERA reduces to 2.50 for the first half. The Campbell, Calif. native also posted a 31-to-9 strikeout-to-walk ratio.
Mollerus follows Spikes teammate Mason Olson on the honor roll for the MLB Draft League Pitcher of the Week award. Previous recipients this season include Trenton's K.C. Hunt, who picked up in the inaugural award for the week of June 6-12. Hunt was followed by two West Virginia pitchers - Max Alba (June 13-19) and Trey Braithwaite (June 20-26). Dan Kiritsis, another Trenton hurler, received the honor for the week of June 27-July 3.
For more on the award, including Olson's advanced metrics from MLB Draft League data, click here.
Mollerus, along with several other Spikes, are awaiting potential selection in the MLB Draft, taking place in Los Angeles as part of MLB All-Star Week through this afternoon. Following the draft, the second half of the Spikes' MLB Draft League season begins on Friday, July 22 with a 7:05 p.m. matchup at Eastwood Field against the Mahoning Valley Scrappers to begin a three-game road series.
The Spikes will return home to Medlar Field at Lubrano Park for a set of six home games in seven days starting on Monday, July 25 with a 6:35 p.m. matchup against the Williamsport Crosscutters. It will be Christmas in July at the ballpark with a special appearance by Santa Claus, and fans can help support a great cause on Jared Box Night. Plus, fans can get into the game with $1 outfield bleacher seats, then enjoy $1 hot dogs and $1 popcorn all game long on the last Buck Monday of the season.
Tickets for every game in the second half of the Spikes' biggest regular season home schedule in franchise history are available now. Tickets can be purchased by calling (814) 272-1711 or by visiting the Spikes Ticket Office in person from 9 a.m. to 5 p.m. Monday through Friday.
Fans can also buy and download single-game tickets, and view the full 2022 promotional schedule, at the only source for authentic Spikes tickets online by visiting StateCollegeSpikes.com.
More ticket packages, including Flex Books and an array of group and hospitality options for the 2022 season, are currently on sale by calling the Spikes at (814) 272-1711. Additional information on all club ticketing options, as well as team news and schedule info, can be viewed at StateCollegeSpikes.com.