Splendid pitching powers Spikes' shutout win over Black Bears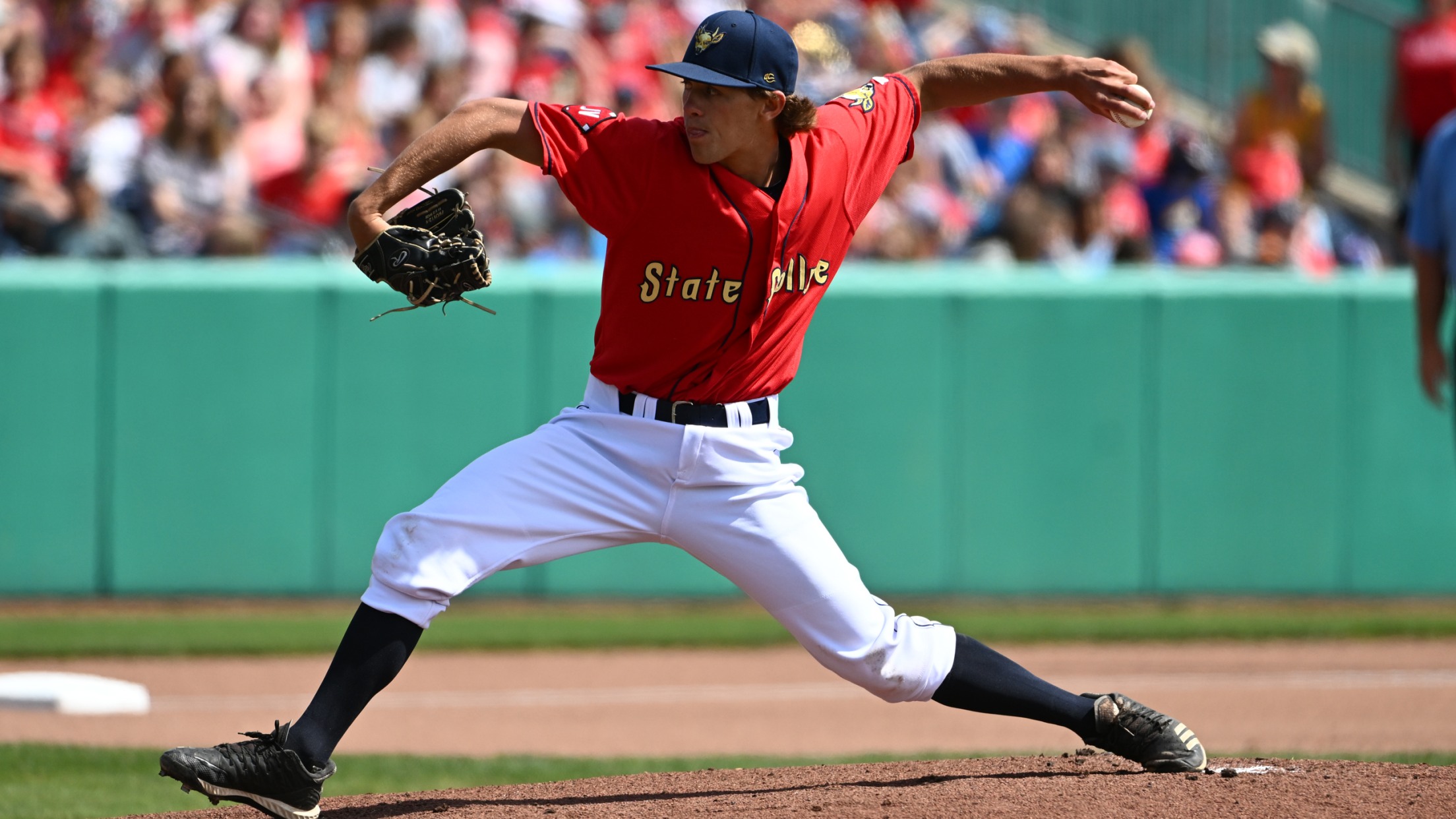 BOX SCORE PLAY-BY-PLAY GRANVILLE, W.Va. – Mason Olson, Tyler Jeans, Josh Mollerus and Christian Wall combined to shut out the West Virginia Black Bears on three hits, Lyndon Weaver reached base three times and swiped as many bases, and Kevin Karstetter recorded three hits as the State College Spikes took
GRANVILLE, W.Va. – Mason Olson, Tyler Jeans, Josh Mollerus and *Christian Wall *combined to shut out the West Virginia Black Bears on three hits, *Lyndon Weaver *reached base three times and swiped as many bases, and *Kevin Karstetter *recorded three hits as the State College Spikes took the opener of a three-game series, 2-0, on Tuesday night at Monongalia County Ballpark.
Olson started the Spikes' (3-8) night strong with four innings of one-hit ball in which he struck out a season-high six batters. The College of Southern Idaho product, who is committed to continue his collegiate career at BYU, gave up just one walk and retired the last seven batters he faced.
Jeans (2-0) continued the solid performance by stranding a pair of runners after two hits and striking out one batter. Mollerus then walked the leadoff man, but retired three straight batters to finish the sixth before Wall (1) struck out two batters in a perfect seventh inning to record his first save as a Spike.
Weaver electrified the State College offense by singling twice and walking once as the leadoff hitter. The Shorter (Ga.) University product then took second base after each occasion, and scored both Spikes runs, once on a West Virginia (2-9) error in the first and another on Ty Hill's one-out RBI single in the sixth. Weaver is now 7-for-10 at the plate with three walks over the last three games after starting the MLB Draft League season 0-for-17.
Karstetter collected a trio of singles on Tuesday to increase his average to .375 on the season. The State College native has reached base in each of his last four plate appearances stretching back to Sunday.
Tuesday's game was seven innings in length in accordance with MLB Draft League player safety rules. All Tuesday games during the first half of the season, running until July 16, will be seven innings, excluding home openers. All Tuesday games during the season's second half from July 22 to the MLB Draft League Championship Game on September 6 will be nine innings.
West Virginia starter *Jay Schueler *(0-2) took the loss after allowing one unearned run on three hits and three walks over four innings. The right-hander struck out two batters.
Wednesday, the Spikes and Black Bears return to nine-inning play with a 6:35 p.m. game at Monongalia County Ballpark. State College will send Emporia State (Kan.) right-hander *Jared Kengott *(0-0) to the mound for his second start and third appearance this season. West Virginia is set to go with right-hander *Peyton Olejnik *(1-0) on the hill.
Following the three-game set against the Black Bears, the Spikes will visit the Trenton Thunder for another three-game road series before starting a six-game homestand from Monday, June 20 through Saturday, June 25 aft Medlar Field at Lubrano Park.
Highlights of the homestand include Yoga Night on International Yoga Day, with a Yoga Night Ticket Package, featuring admission to Pregame Yoga in Porter Gardens presented by TriYoga of Central Pennsylvania, on Tuesday, June 21, the return of *Thirsty Thursday *on Thursday, June 23, and a fantastic post-game *FIREWORKS *show presented by *The Meadows *on Saturday, June 25.
Tickets for the Spikes' next homestand, as well as every game on the Spikes' biggest regular season home schedule in franchise history, are available now. Tickets can be purchased by calling (814) 272-1711 or by visiting the Spikes Ticket Office in person from 9 a.m. to 5 p.m. Monday through Friday.
Fans can also buy and download single-game tickets, and view the full 2022 promotional schedule, by visiting StateCollegeSpikes.com.
More ticket packages, including Flex Books and an array of group and hospitality options for the 2022 season, are currently on sale by calling the Spikes at (814) 272-1711. Additional information on all club ticketing options, as well as team news and schedule info, can be viewed at StateCollegeSpikes.com.
Catch all of the action on Wednesday via the Spikes Radio Network, presented by Penn State Sports Medicine, Official Healthcare Provider of Penn State Athletics, with Joe Putnam on the call. The broadcast starts with Spikes Live, presented by Mount Nittany Health, on the air from Monongalia County Ballpark at 6:20 p.m. The game can be viewed worldwide on the *MLB Draft League *streaming platform at MLBDraftLeague.com/streaming, along with the "Listen Live" link on StateCollegeSpikes.com and the *TuneIn Radio *app.