Spikes stifled in 7-1 defeat vs. Crosscutters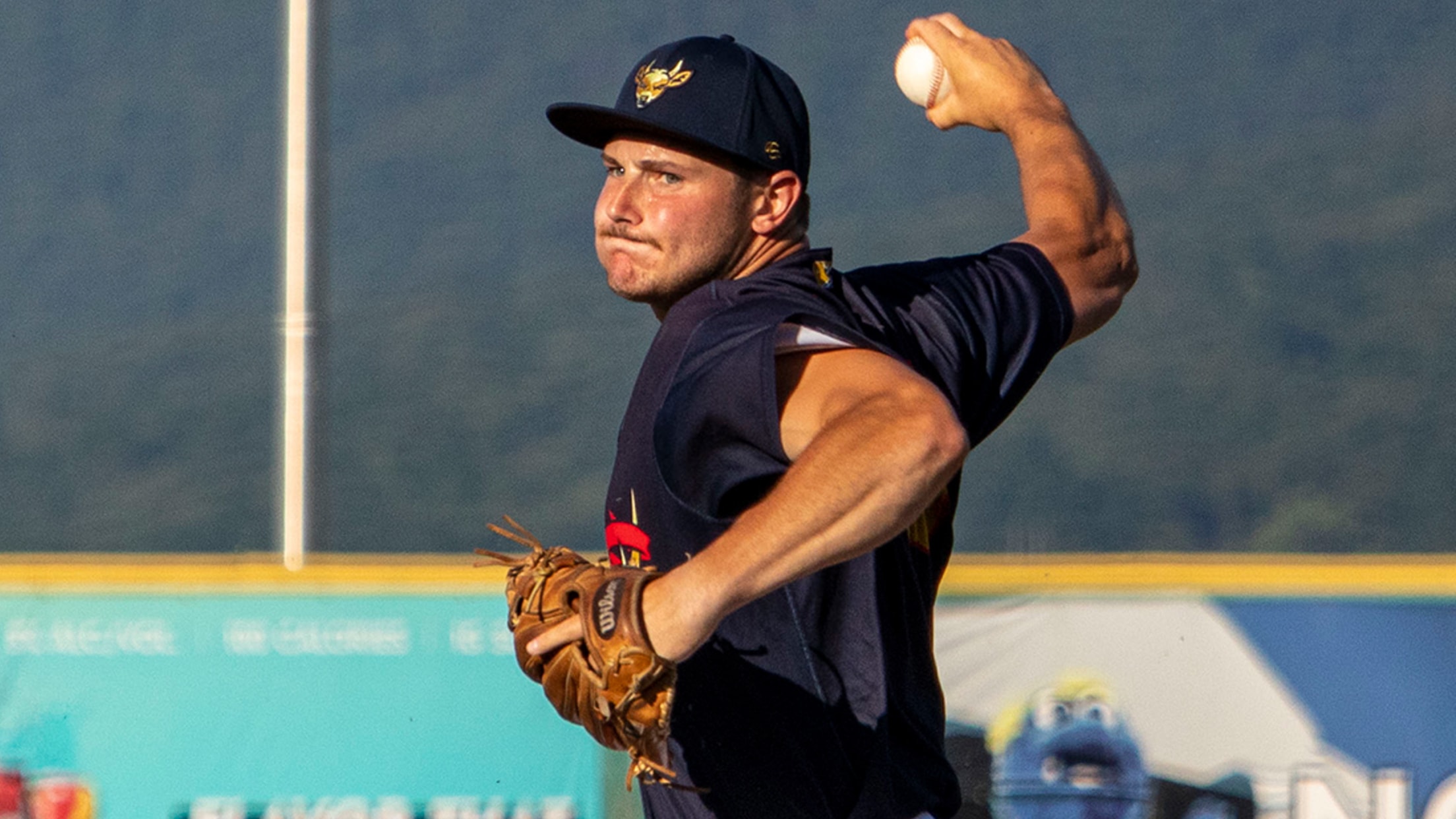 Brendan Knoll went four innings on the mound for the Spikes but took the loss on Tuesday night in Williamsport. (Steve Manuel)
BOX SCORE PLAY-BY-PLAY WILLIAMSPORT, Pa. – The State College Spikes saw their four-game winning streak come to an end on Tuesday night at Muncy Bank Ballpark at Historic Bowman Field as Nick Meyer struck out a season-high 11 batters and held the Spikes to one hit over the first six
WILLIAMSPORT, Pa. – The State College Spikes saw their four-game winning streak come to an end on Tuesday night at Muncy Bank Ballpark at Historic Bowman Field as Nick Meyer struck out a season-high 11 batters and held the Spikes to one hit over the first six innings to guide the Williamsport Crosscutters to a 7-1 victory.
The Spikes' (6-5 2nd half) bats, which produced 30 runs and 32 hits in a four-game sweep of the Mahoning Valley Scrappers this past weekend, fell silent against Meyer (3-2), who posted the second-highest strikeout total for an MLB Draft League pitcher this season. West Virginia's Jeremy Cook struck out 13 batters last Wednesday at Trenton to set the league's high-water mark for whiffs.
Dawson Bailey netted the Spikes' first hit with a single to right field in the third, after which Meyer retired the next 12 consecutive batters. John Mead and Rob Morosetti each collected singles in the seventh before Meyer exited after 6 1/3 scoreless innings.
The Williamsport (7-2 2nd half) right-hander also allowed a walk and a hit batsman.
State College scored its lone run in the eighth after DeAndre Shelton led off the inning with a single to center, then advanced to third on an error and scored on a double-play ball.
Starter Brendan Knoll (1-2) took the loss for the Spikes after being charged with five runs on seven hits and three walks over four innings. Knoll struck out three batters in the effort.
Connor Denning led off the scoring with a solo homer to the Crosscutters bullpen in right field in the first inning, then added an RBI double in the second and an infield single in the fourth to finish a triple shy of the cycle. Nemo Wright collected two hits for Williamsport, including a two-run single in the fifth.
The Spikes and Crosscutters meet again Wednesday night at Muncy Bank Ballpark at Historic Bowman Field in a 6:35 p.m. matchup for the second game of their three-game set. State College will give the ball to right-hander Louis Davenport III (0-0) for his third start of the 2022 second half. Williamsport is slated to send left-hander Blair Frederick (1-0) to the hill for his third start.
The Spikes will be back home on Thursday, August 4 for the return of Super Splash Day at Medlar Field at Lubrano Park when they host the Crosscutters for a 12:05 p.m. matinee matchup. There will be plenty of wet and wild fun as the Geisinger Kids Zone turns into the Splash Zone, with sprinklers, pools, a dunk tank and much more.
Plus, it's a Thirsty Thursday at the ballpark with $2 16-oz. select drafts and $4 16-oz. craft drafts available from 11 a.m. to 1 p.m.
Tickets for every game remaining in the second half of the Spikes' biggest regular season home schedule in franchise history are available now. Tickets can be purchased by calling (814) 272-1711 or by visiting the Spikes Ticket Office in person from 9 a.m. to 5 p.m. Monday through Friday.
Fans can also buy and download single-game tickets, and view the full 2022 promotional schedule, at the only source for authentic Spikes tickets online by visiting StateCollegeSpikes.com.
More ticket packages, including Flex Books and an array of group and hospitality options for the 2022 season, are currently on sale by calling the Spikes at (814) 272-1711. Additional information on all club ticketing options, as well as team news and schedule info, can be viewed at StateCollegeSpikes.com.
Catch all of the action of the Spikes' game on Wednesday via the Spikes Radio Network presented by Penn State Sports Medicine, Official Healthcare Provider of Penn State Athletics with Steve Jones and Joe Putnam on the call. The broadcast starts with Spikes Live! presented by Mount Nittany Health, on the air from Muncy Bank Ballpark at Historic Bowman Field starting at 6:20 p.m.
The game can be viewed worldwide on the MLB Draft League streaming platform at MLBDraftLeague.com/streaming, along with the "Listen Live" link on StateCollegeSpikes.com and the TuneIn Radio app.