Spikes pound out 12-1 win over Scrappers
Hill, Weaver power offense with three hits apiece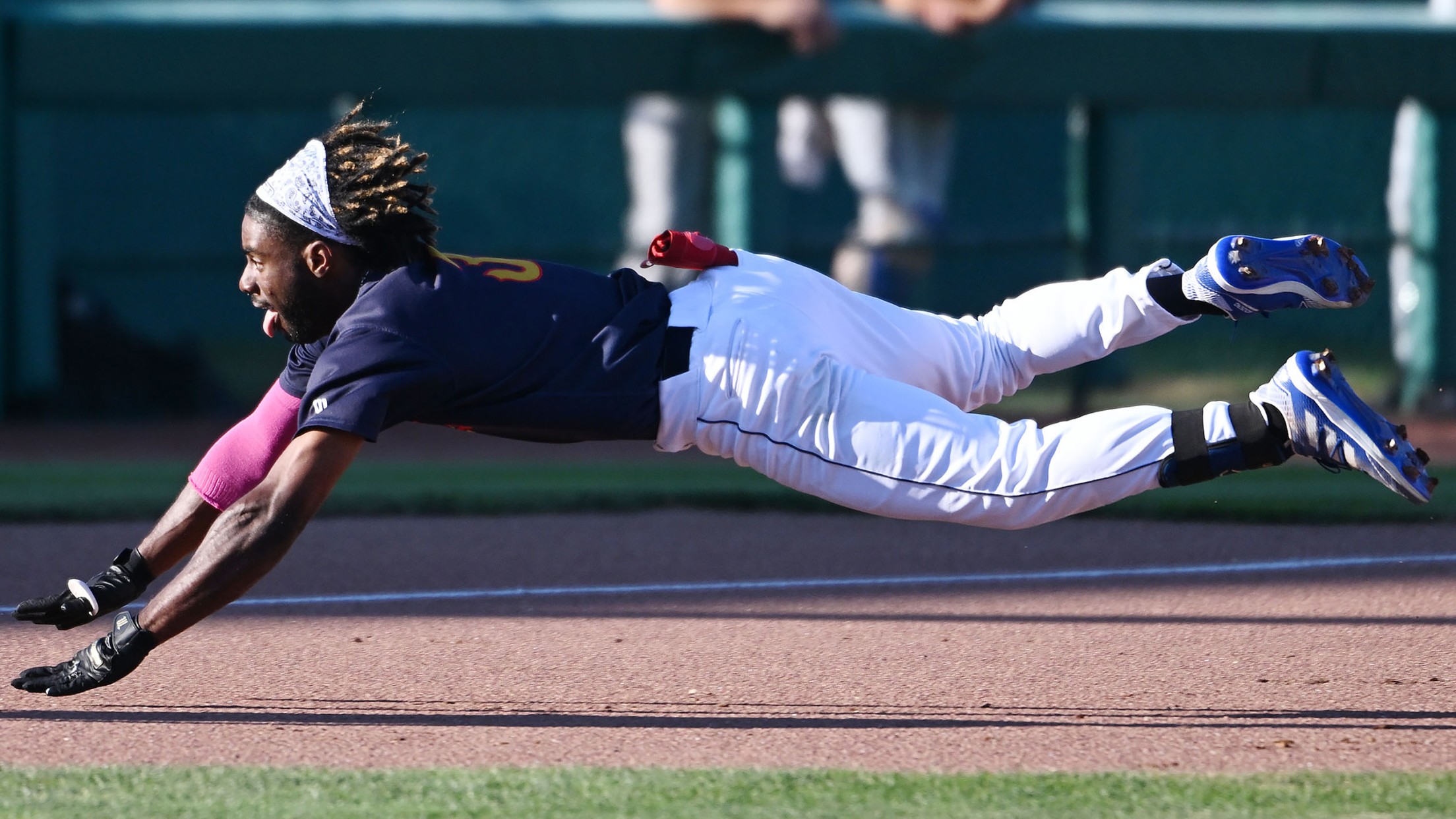 Lyndon Weaver, seen here diving into third on July 3, went 3-for-4 and stole three bases, including a steal of home, on Monday night at Medlar Field at Lubrano Park. (Steve Manuel)
BOX SCORE PLAY-BY-PLAY UNIVERSITY PARK, Pa. – Ty Hill and Lyndon Weaver led the hit parade with three knocks apiece and Jared Kengott tossed five scoreless innings to extend his own shutout streak as the State College Spikes shellacked the Mahoning Valley Scrappers, 12-1, on Monday night at Medlar Field
UNIVERSITY PARK, Pa. – Ty Hill and Lyndon Weaver led the hit parade with three knocks apiece and Jared Kengott tossed five scoreless innings to extend his own shutout streak as the State College Spikes shellacked the Mahoning Valley Scrappers, 12-1, on Monday night at Medlar Field at Lubrano Park.
Hill collected two doubles and knocked in a pair of runs while scoring two more runs. The Jackson State product also singled and walked.
Weaver notched three singles and a walk while stealing three bases, including taking home on a double steal in the second, and scoring two runs. The outfielder from Shorter (Ga.) has now stolen 18 bases this season, fourth-most in the MLB Draft League.
Kengott (1-0) improved his streak of scoreless innings to nine in a row with his performance on Monday. The Emporia (Kan.) State right-hander struck out two batters while scattering two hits and three walks. Kengott also elicited three double plays while leaving the bases loaded in his final frame in the fifth for his first win this season.
Jake DeFries added to the offensive firepower with two hits, including a double, and two runs batted in.
The victory marked the fifth time the Spikes (15-18) produced double-digit scoring this season, with each of the last two coming against the Scrappers (15-19). State College plated five runs each in the fifth and sixth to drive the win, batting around in both frames.
Reed Chumley collected all three hits for Mahoning Valley, including two doubles, while Xavier Carter's groundout in the ninth produced the lone Scrappers run.
Mahoning Valley starter Jacob Harsany (1-1) took the loss after allowing one run on three hits and two walks. Harsany struck out five batters in the effort.
Tuesday, the Spikes and Scrappers play the middle game of the three-game set at 6:35 p.m. Right-hander Thomas Wilhite (1-1), coming off of a start against Mahoning Valley last Wednesday in which he delivered four no-hit innings, gets the ball for State College. The Scrappers will go with right-hander Michael Brewer (1-0) on the hill.
Fans are invited to come on down for Game Show Night at the ballpark, with plenty of buzzers, bells and whistles as the fun includes tributes to some of the most famous game shows through the years.
Plus, it's $2 Walking Taco Tuesday, presented by WOWY, with Walking Tacos available for just $2 each at the beefed-up Salsa stand behind home plate.
More highlights of the Spikes' four-game homestand through Thursday include Kids Take Over the Ballpark on a Wine Wednesday presented by Seven Mountains Wine Cellars, and Ag Night on a Thirsty Thursday.
Tickets for every game remaining in this week's homestand, as well as every game on the Spikes' biggest regular season home schedule in franchise history, are available now. Tickets can be purchased by calling (814) 272-1711 or by visiting the Spikes Ticket Office in person from 9 a.m. to 5 p.m. Monday through Friday.
Fans can also buy and download single-game tickets, and view the full 2022 promotional schedule, at the only source for authentic Spikes tickets online by visiting StateCollegeSpikes.com.
More ticket packages, including Flex Books and an array of group and hospitality options for the 2022 season, are currently on sale by calling the Spikes at (814) 272-1711. Additional information on all club ticketing options, as well as team news and schedule info, can be viewed at StateCollegeSpikes.com.
Catch all of the action on Tuesday via the Spikes Radio Network presented by Penn State Sports Medicine, Official Healthcare Provider of Penn State Athletics with Joe Putnam on the call. The broadcast starts with Spikes Live! presented by Mount Nittany Health, on the air from Medlar Field at Lubrano Park at approximately 6:10 p.m.
The game can be viewed worldwide on the MLB Draft League streaming platform at MLBDraftLeague.com/streaming, along with the "Listen Live" link on StateCollegeSpikes.com and the TuneIn Radio app.