Spikes go wire-to-wire in 15-1 win over Scrappers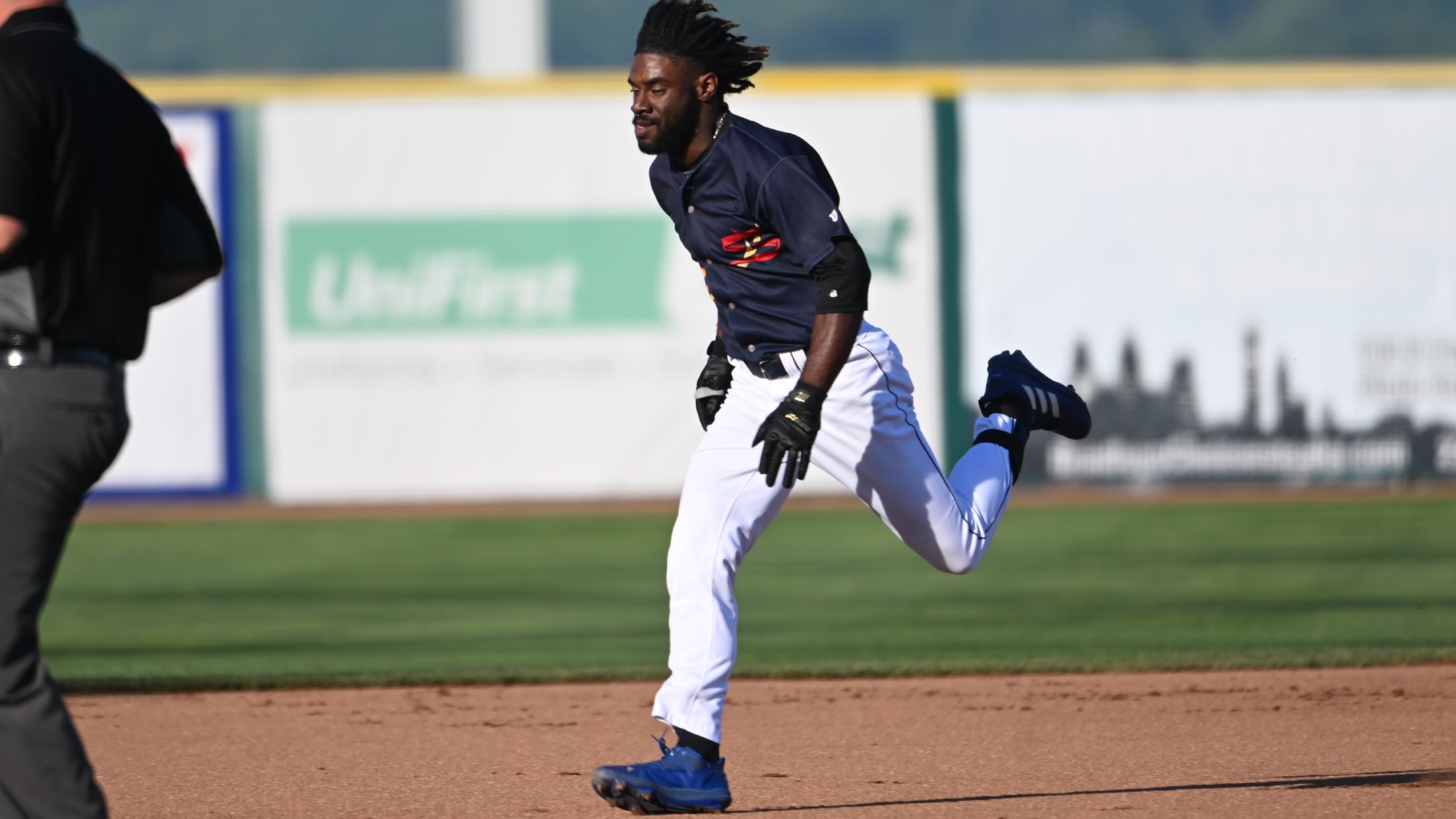 Lyndon Weaver collected two doubles and knocked in three runs on Wednesday night in the Spikes' 15-1 win over Mahoning Valley. (Steve Manuel)
BOX SCORE PLAY-BY-PLAY UNIVERSITY PARK, Pa. – The State College Spikes piled up the tallies early and often as Will Simpson collected three hits, Lyndon Weaver knocked in three runs, and Brendan Knoll keyed another stout pitching effort in the Spikes' 15-1 victory over the Mahoning Valley Scrappers on Wednesday
UNIVERSITY PARK, Pa. – The State College Spikes piled up the tallies early and often as Will Simpson collected three hits, Lyndon Weaver knocked in three runs, and Brendan Knoll keyed another stout pitching effort in the Spikes' 15-1 victory over the Mahoning Valley Scrappers on Wednesday night to finish a three-game sweep at Medlar Field at Lubrano Park.
The Spikes (17-18) scored a run in the first on Simpson's RBI double before bringing 11 batters to the plate in a six-run second and batting around again in the third while plating five runs. Weaver smashed a pair of doubles and scored two runs, while Simpson produced two RBI's and Alex Toral delivered a two-run double of his own in the third.
Knoll (1-0) retired the first 11 batters he faced en route to his first victory as a Spike. The Minnesota State right-hander struck out five batters over five innings of one-run ball, yielding just three hits along the way.
State College relievers also shined again as Josh Mollerus struck out four batters across two perfect innings, Will Stevens allowed a walk and notched two strikeouts in a scoreless eighth, and Connor Holden struck out one batter in a perfect ninth.
Mahoning Valley (15-21) scored its lone run when Jalen Jones tripled and Dominick Bucko followed with a double in the fifth.
Scrappers starter Frank Elissalt (0-2) took the loss after being charged with seven runs on five hits and three walks over 1 2/3 innings. Elissalt struck out two batters in the effort.
The Spikes finished the three-game sweep of the Scrappers, their first such sweep of the season, by outscoring Mahoning Valley 30-2 in the set.
Thursday, the Spikes finish their four-game homestand with their last home game of the MLB Draft League season's first half against the Williamsport Crosscutters. Right-hander Connor Brandon (1-0) is scheduled to start for State College against Williamsport righty Mauricio Rodriguez (1-0) in the 6:35 p.m. matchup.
With the last two games of the series set for Muncy Bank Ballpark at Historic Bowman Field on Friday and Saturday, the Spikes find themselves poised to play a key role in the pursuit of the MLB Draft League's first-half title.
While eliminated from the race themselves, the Spikes can play spoiler as Williamsport enters the final set of the first half of the MLB Draft League season in a tie for first place with the West Virginia Black Bears. West Virginia will host Mahoning Valley for a trio of games, each of which take place concurrently with the Spikes-Crosscutters matchups over the next three nights.
Fans of age will enjoy the return of Thirsty Thursday, with $2 16-oz. select drafts and $4 16-oz. craft drafts available from 5:30 to 7:30 p.m.
In addition, it's Ag Night, with goats from Nittany Meadow Farm joining the festivities, along with Happy Valley Agventures presenting plenty of great ways to enjoy agriculture around Happy Valley as we pay tribute to the agricultural heritage of our home.
Tickets for Thursday's game, as well as every game on the Spikes' biggest regular season home schedule in franchise history, are available now. Tickets can be purchased by calling (814) 272-1711 or by visiting the Spikes Ticket Office in person from 9 a.m. to 5 p.m. Monday through Friday.
Fans can also buy and download single-game tickets, and view the full 2022 promotional schedule, at the only source for authentic Spikes tickets online by visiting StateCollegeSpikes.com.
More ticket packages, including Flex Books and an array of group and hospitality options for the 2022 season, are currently on sale by calling the Spikes at (814) 272-1711. Additional information on all club ticketing options, as well as team news and schedule info, can be viewed at StateCollegeSpikes.com.
Catch all of the action on Thursday via the Spikes Radio Network presented by Penn State Sports Medicine, Official Healthcare Provider of Penn State Athletics with Joe Putnam on the call. The broadcast starts with Spikes Live! presented by Mount Nittany Health, on the air from Medlar Field at Lubrano Park at approximately 6:10 p.m.
The game can be viewed worldwide on the MLB Draft League streaming platform at MLBDraftLeague.com/streaming, along with the "Listen Live" link on StateCollegeSpikes.com and the TuneIn Radio app.