Spikes' big first leads to rout of Black Bears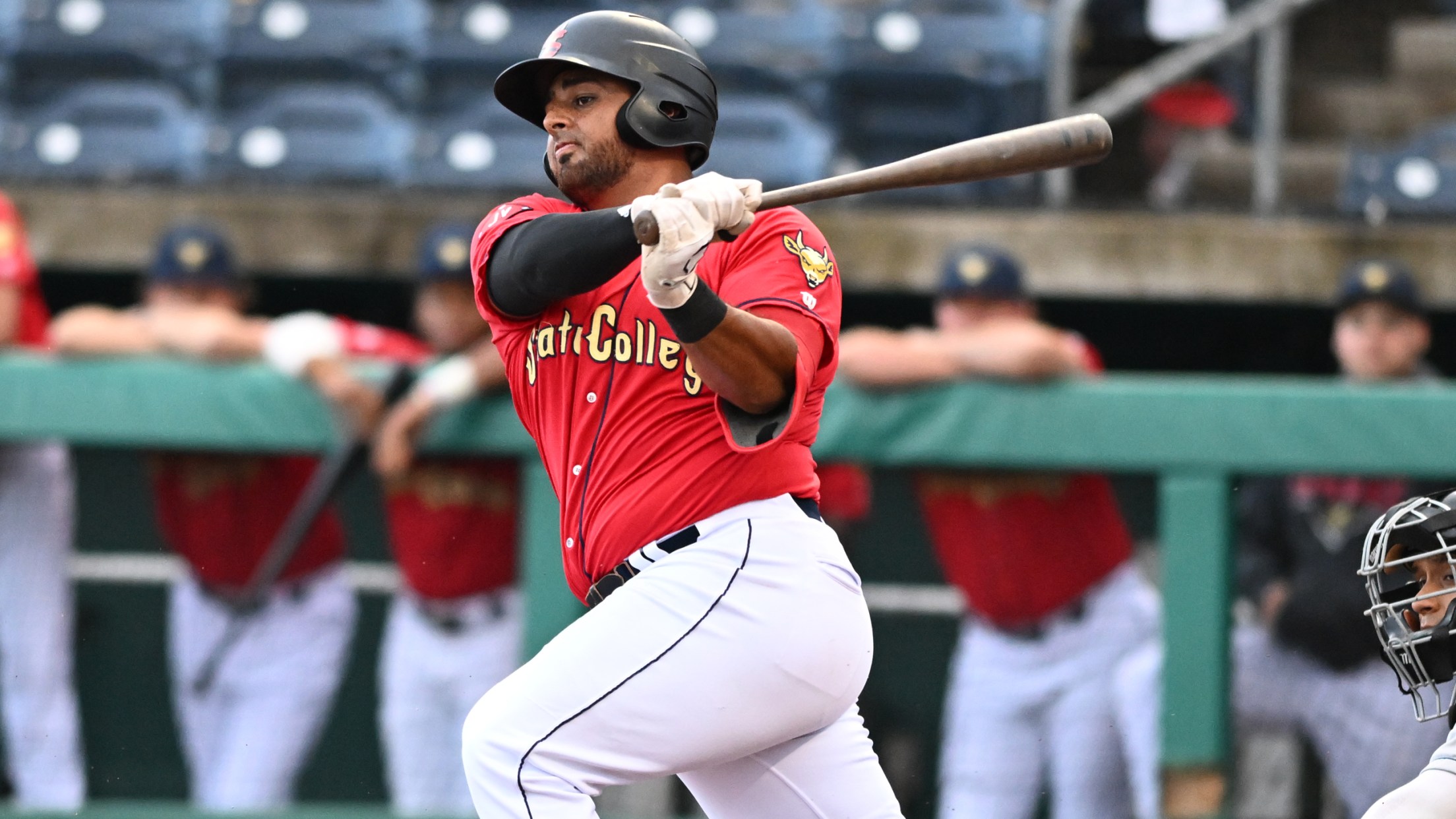 E.J. Doskow (above) smashed a home run that had to be estimated by human observers instead of measured by the Trackman system at Medlar Field at Lubrano Park because, among other reasons, it launched at a steep 39-degree angle on Thursday. (Steve Manuel)
BOX SCORE PLAY-BY-PLAY GRANVILLE, W.Va. – The State College Spikes came roaring out of the gates with five runs in the first and E.J. Doskow produced another magnificent blast in an 11-4 win over the West Virginia Black Bears on Wednesday night at Monongalia County Ballpark. State College's (4-8) opening-frame
_GRANVILLE, W.Va. _– The State College Spikes came roaring out of the gates with five runs in the first and *E.J. Doskow *produced another magnificent blast in an 11-4 win over the West Virginia Black Bears on Wednesday night at Monongalia County Ballpark.
State College's (4-8) opening-frame surge started with Lyndon Weaver's leadoff walk, followed by Lukas Cook's RBI double to the right-field corner. After Miles Simington's walk, *Kevin Karstetter *doubled in another run and *Ty Hill *followed with a run-scoring groundout.
*Tyler Williams *also contributed an RBI double, with a West Virginia (2-10) error bringing home the last run of the inning.
In the third, Doskow smashed his third home run of the year, a 402-foot two-run shot to left field off Black Bears reliever Thomas Gross. The Valdosta State (Ga.) product has now hit three home runs this season to tie for the Major League Baseball Draft League lead, with all three long balls hit in excess of 400 feet.
The Spikes plated 11 runs on just five hits for the game, taking advantage of 10 West Virginia walks and three hit batsmen.
Cook went 2-for-5 with a pair of runs batted in. Weaver reached base three times via walk and grabbed two more bases on the night.
State College also received a strong pitching effort as five pitchers combined to hold West Virginia to six hits. *Jared Kengott *started and tossed three innings of one-run ball before *Trae Robertson *(1-1) threw two perfect innings with three strikeouts to earn credit for the win.
Josh Bortka, *Jonathan Haab *and *Gunner Morris *completed a seven-strikeout, three-walk night for the Spikes staff.
West Virginia starter *Peyton Olejnik *(1-1) took the loss after allowing all five Spikes runs in the first, four of them earned, on three hits and three walks. Olejnik needed 48 pitches to finish the frame, striking out two batters in the process.
The game was played with a 93-degree gametime temperature, nearing record highs for the Morgantown, W. Va. area.
With the win, the Spikes clinched their first series victory of the year, and now seek the sweep on Thursday as they complete their three-game set against the Black Bears. Right-hander *Thomas Wilhite *(1-0) out of Tyler Junior College in Texas makes his fifth appearances and first start on the mound for State College. West Virginia is set to go with right-hander *Zach Bravo *(0-0), who plays his collegiate baseball on the same Monongalia County Ballpark turf with the Mountaineers.
Following the three-game set against the Black Bears, the Spikes will visit the Trenton Thunder for another three-game road series this weekend before starting a six-game homestand from Monday, June 20 through Saturday, June 25 aft Medlar Field at Lubrano Park.
Highlights of the homestand include Yoga Night *on *International Yoga Day, with a Yoga Night Ticket Package,featuring admission to Pregame Yoga *in Porter Gardens presented by *TriYoga of Central Pennsylvania, on *PA Bus Association Night *this Tuesday, June 21, the return of *Thirsty Thursday *on *Singles Night *Thursday, June 23, and a fantastic post-game *FIREWORKS *show presented by *The Meadows *on *First Responders Night *Saturday, June 25.
Tickets for the Spikes' next homestand, as well as every game on the Spikes' biggest regular season home schedule in franchise history, are available now. Tickets can be purchased by calling (814) 272-1711 or by visiting the Spikes Ticket Office in person from 9 a.m. to 5 p.m. Monday through Friday.
Fans can also buy and download single-game tickets, and view the full 2022 promotional schedule, by visiting StateCollegeSpikes.com.
More ticket packages, including Flex Books and an array of group and hospitality options for the 2022 season, are currently on sale by calling the Spikes at (814) 272-1711. Additional information on all club ticketing options, as well as team news and schedule info, can be viewed at StateCollegeSpikes.com.
Catch all of the action on Thursday via the Spikes Radio Network, presented by Penn State Sports Medicine, Official Healthcare Provider of Penn State Athletics, with Joe Putnam on the call. The broadcast starts with Spikes Live, presented by Mount Nittany Health, on the air from Monongalia County Ballpark at 6:20 p.m. The game can be viewed worldwide on the *MLB Draft League *streaming platform at MLBDraftLeague.com/streaming, along with the "Listen Live" link on StateCollegeSpikes.com and the *TuneIn Radio *app.