Simpson's homer parade continues in Spikes' defeat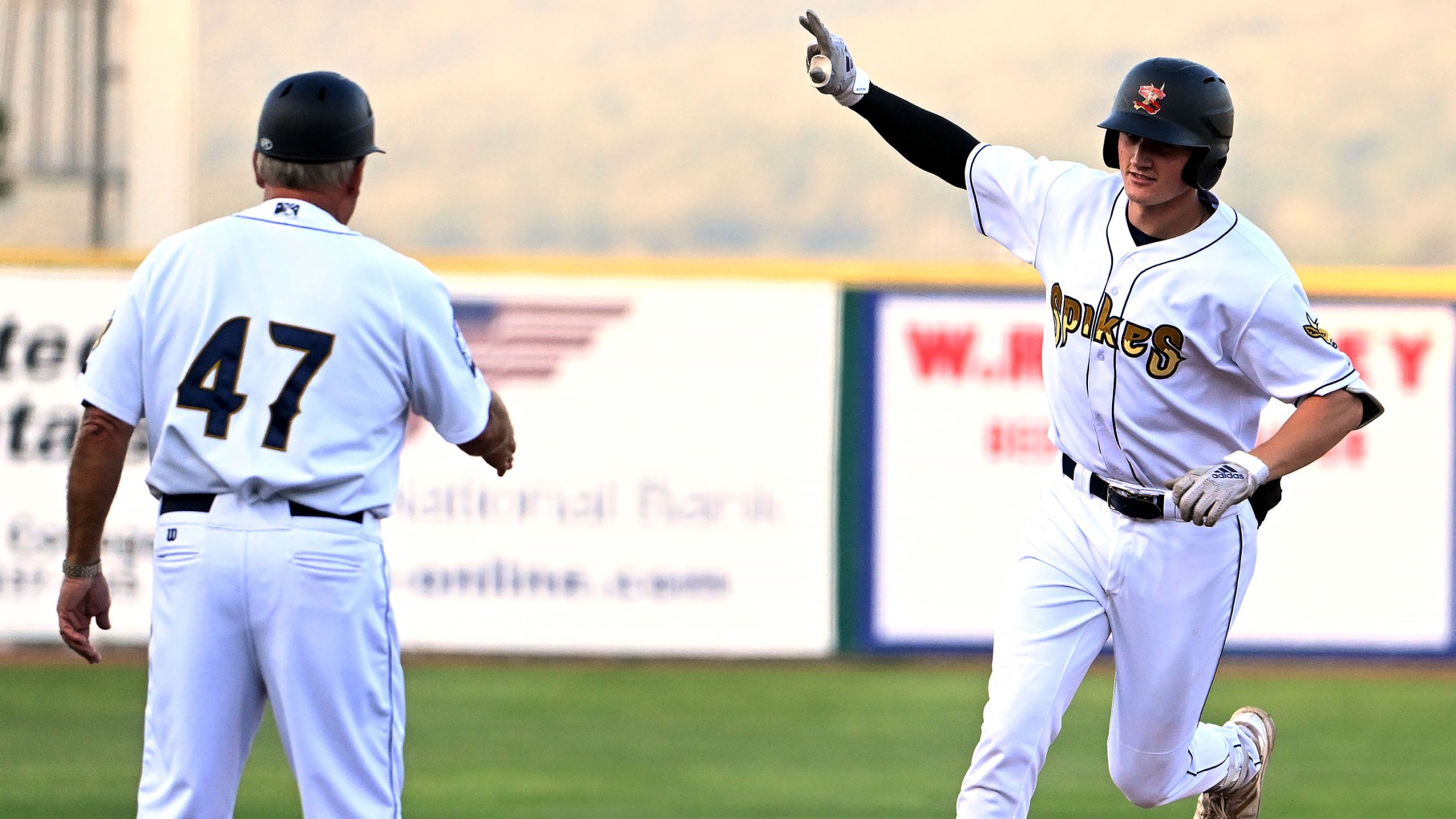 Will Simpson (right) gets congratulations from Spikes manager and third-base coach Dave Trembley (47) after smashing his fourth homer in five games. (Steve Manuel/State College Spikes)
BOX SCORE PLAY-BY-PLAY UNIVERSITY PARK, Pa. –* Will Simpson *continued to launch home runs at a torrid pace on Tuesday night, collecting his fourth long ball in the last five games for the State College Spikes despite the Spikes' 12-6 defeat at the hands of the Frederick Keys at Medlar
_UNIVERSITY PARK, Pa. _–* Will Simpson *continued to launch home runs at a torrid pace on Tuesday night, collecting his fourth long ball in the last five games for the State College Spikes despite the Spikes' 12-6 defeat at the hands of the Frederick Keys at Medlar Field at Lubrano Park.
Simpson moved into sole possession of the Major League Baseball Draft League homer lead with a sky-high two-run shot to the Pepsi Picnic Pavilion in left field in the fifth on a 1-1 pitch from Frederick (9-8) reliever *Nik Galatas. *
The first baseman from the University of Washington has surpassed 400 feet with each of his first three Spikes (6-11) dingers, with Tuesday's homer unable to be immediately measured due to a 45-degree launch angle.
State College catcher *Owen Ayers *also hit his first home run of the season, a solo shot to right on a 1-1 pitch from Keys starter *Luke Pryor *in the second to put the Spikes on the board.
Frederick took control of the game early, staking a 5-0 lead in the first two innings and holding onto the lead for the duration of the game.* Grant Jay *reached base four times with three hits, including a triple, and a walk. *Jake Plastiak *knocked in four runs during a 2-for-4 night at the plate, with three of them scoring on a bases-loaded double in the second.
*Jordan Williams *and *Jake DeFries *each drove in runs for the Spikes in their debuts with the club.
*Thomas Wilhite *(1-1) started and took the loss for State College after being tagged with five runs, four of them earned, on five hits, two walks and a hit batsman over 1 2/3 innings.
Pryor started and went three innings, allowing three runs, two of the earned, on five hits and four walks over three innings. The right-hander struck out two batters.
Galatas followed Pryor and yielded three runs, one of them earned, on three hits while recording three strikeouts over three innings.
Tuesday's game was seven innings in length in accordance with MLB Draft League player safety rules. All Tuesday games during the first half of the season, running until July 16, will be seven innings, excluding home openers. All Tuesday games during the season's second half from July 22 to the MLB Draft League Championship Game on September 6 will be nine innings.
Wednesday, the Spikes and Keys finish their three-game series with a 6:35 p.m. matchup at Medlar Field at Lubrano Park. Right-hander *Will Stevens *(0-0) will get the ball for State College, while right-hander *Zak Szabo *(0-0) gets the start for Frederick.
The Spikes will hold a Salute to Educators *on Wednesday, paying homage to our local educators across the region. All educators can get half-price tickets for Wednesday's game either in person at the Medlar Field Box Office, by phone at 814-272-2711 or online at StateCollegeSpikes.com by using the promo code *APPLE.
Plus, it's a Wine Wednesday *from *Seven Mountains Wine Cellars, with half-price glasses of wine available from 5:30 to 7:30 p.m.
Fans of age can also enjoy a *Leinenkugel's Summer Shandy Happy Hour *from 5:30 to 7:30 p.m.
In addition, the Spikes are giving fans the opportunity to get their tickets at half-price for two additional theme nights during the upcoming homestand.
On Friday, June 24, the slate of half-price nights continues on Jersey Night, when the Spikes take on the Trenton Thunder. Fans can get half-price tickets for that game by wearing a jersey to the game, presenting a form of New Jersey ID, or by using promo code JERSEY.
Finally, on Saturday, June 25, it's First Responders Night at Medlar Field, and we're showing our appreciation for the brave police, fire and EMT personnel in our communities by offering them half-price tickets in person, by phone and online with promo code RESPOND.
All half-price specials exclude Rail Kings seats, Pepsi Picnic Pavilion seats and Geisinger Champions Club luxury suites.
Tickets for the Spikes' homestand, as well as every game on the Spikes' biggest regular season home schedule in franchise history, are available now. Tickets can be purchased by calling (814) 272-1711 or by visiting the Spikes Ticket Office in person from 9 a.m. to 5 p.m. Monday through Friday.
Fans can also buy and download single-game tickets, and view the full 2022 promotional schedule, by visiting StateCollegeSpikes.com.
More ticket packages, including Flex Books and an array of group and hospitality options for the 2022 season, are currently on sale by calling the Spikes at (814) 272-1711. Additional information on all club ticketing options, as well as team news and schedule info, can be viewed at StateCollegeSpikes.com.
Catch all of the action on Wednesday via the Spikes Radio Network presented by Penn State Sports Medicine, Official Healthcare Provider of Penn State Athletics with Steve Jones *and *Joe Putnam on the call. The broadcast starts with Spikes Live, presented by Mount Nittany Health, on the air from Medlar Field at Lubrano Park at approximately 6:10 p.m.
The game can be viewed worldwide on the *MLB Draft League *streaming platform at MLBDraftLeague.com/streaming, along with the "Listen Live" link on StateCollegeSpikes.com and the *TuneIn Radio *app.