Karstetter drives in five to give Spikes first win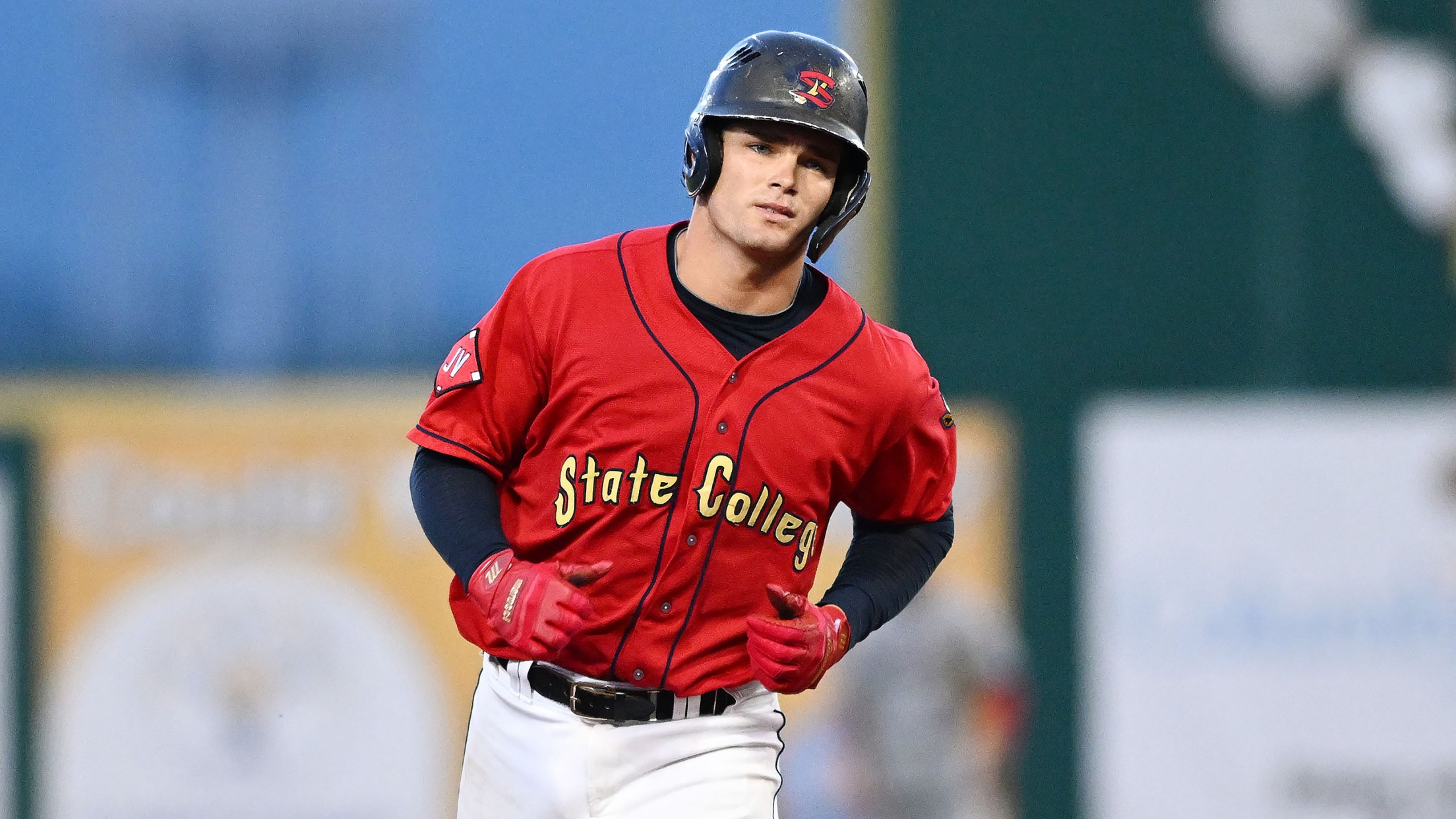 Kevin Karstetter trots home after his two-run homer measured at 435 feet on Tuesday night. (Steve Manuel)
BOX SCORE PLAY-BY-PLAY UNIVERSITY PARK, Pa. – Kevin Karstetter capped off a five-RBI night with a long two-run homer in the sixth to drive the State College Spikes to a 6-1 win over the Mahoning Valley Scrappers, the first for the Spikes in 2022, on Tuesday night at Medlar Field
UNIVERSITY PARK, Pa. – Kevin Karstetter capped off a five-RBI night with a long two-run homer in the sixth to drive the State College Spikes to a 6-1 win over the Mahoning Valley Scrappers, the first for the Spikes in 2022, on Tuesday night at Medlar Field at Lubrano Park.
Karstetter, a native of State College, broke a 1-1 tie in the third with a bases-loaded, three-run double to center field. In the sixth, Karstetter launched the first pitch he saw from Mahoning Valley (4-1) reliever Michael Brewer 435 feet to left field for his first home run of the season.
The two-run shot was the longest home run in the MLB Draft League this season as measured by the Trackman systems at each league ballpark. The blast was also just eight feet shy of the longest ever measured at Medlar Field at Lubrano Park. Major leaguer Brendan McKay hit a ball 443 feet, as tracked by the system, for the Hudson Valley Renegades in a 2016 New York-Penn League Championship Series game.
The Spikes (1-4) fell behind in the first when an error plated Roberto Pena after he doubled earlier in the frame. Carlos Aranda, who has hit two home runs of his own for State College in the MLB Draft League season's first five games, tied the game in the fourth with a bases-loaded walk before Karstetter collected his first three RBI's of the night.
Spikes reliever Tyler Jeans (1-0) earned the win on the mound. The Arkansas State product showcased a dynamic breaking ball in recording three strikeouts over 1 1/3 innings of one-hit ball. Jeans also walked one batter.
Hunter Deprimo started for State College and continued his streak of innings without allowing a earned run. Deprimo has made three appearances totaling 7 1/3 innings this season, with 2 2/3 coming on Tuesday, with just two unearned runs against him, making him one of just three pitchers in the MLB Draft League to toss five or more innings this season with a 0.00 earned run average.
The right-hander, who is Mansfield (Pa.) University's all-time leader in strikeouts, struck out three batters while yielding three hits and a walk.
Tuesday's game was seven innings in length in accordance with MLB Draft League player safety rules. All Tuesday games during the first half of the season, running until July 16, will be seven innings, excluding home openers. All Tuesday games during the season's second half from July 22 to the MLB Draft League Championship Game on September 6 will be nine innings.
Wednesday, the Spikes and Scrappers will return to nine-inning action with a very early start time for Education Day at Medlar Field at Lubrano Park. First pitch will be at 10:35 a.m. with left-hander Mason Olson (0-0), who threw four scoreless innings in State College's season opener last Thursday, on the hill.
Mahoning Valley will go with right-hander Chad Coles (0-0). Coles is a native of North Huntingdon, Pa., just outside of Pittsburgh, who went 4-5 with a 5.26 ERA over 26 appearances at Youngstown State this spring.
Wednesday's Education Day fun offers the Education Day Ticket Package to local schoolkids for their last field trip of the school year. The package includes a ticket, hot dog, chips apple juice and Spikes Backpack presented by Strouse Electric.
In addition, it will still be Wine Wednesday presented by Seven Mountains Wine Cellars, with half-price glasses of wine available from 9:30 to 11:30 a.m., along with a Leinenkugel's Summer Shandy Happy Hour with half-price Leininkugel's Summer Shandy, also from 9:30 to 11:30 a.m.
More big promotions include Pride Night featuring a Spikes Pride Night T-Shirt Giveaway for the first 500 fans presented by Chumley's Cocktail Bar on a Thirsty Thursday, and a fantastic post-game FIREWORKS display on Saturday with a Sean Clifford Appearance as Happy Valley's QB1 signs autographs and throws out the first pitch.
Tickets for this week's homestand, as well as every game on the Spikes' biggest regular season home schedule in franchise history, are available now. Tickets can be purchased by calling (814) 272-1711 or by visiting the Spikes Ticket Office in person from 9 a.m. to 5 p.m. Monday through Friday.
Fans can also buy and download single-game tickets, and view the full 2022 promotional schedule, by visiting StateCollegeSpikes.com.
More ticket packages, including Flex Books and an array of group and hospitality options for the 2022 season, are currently on sale by calling the Spikes at (814) 272-1711. Additional information on all club ticketing options, as well as team news and schedule info, can be viewed at StateCollegeSpikes.com.
Catch all of the action on Wednesday via the Spikes Radio Network, presented by Penn State Sports Medicine, Official Healthcare Provider of Penn State Athletics, with Steve Jones and Joe Putnam on the call. The broadcast starts with Spikes Live, presented by Mount Nittany Health, on the air from Medlar Field at Lubrano Park at 10:10 a.m. The game can be viewed worldwide on the MLB Draft League streaming platform at MLBDraftLeague.com/streaming, along with the "Listen Live" link on StateCollegeSpikes.com and the TuneIn Radio app.