FIREWORKS from the Field return for rest of 2022 season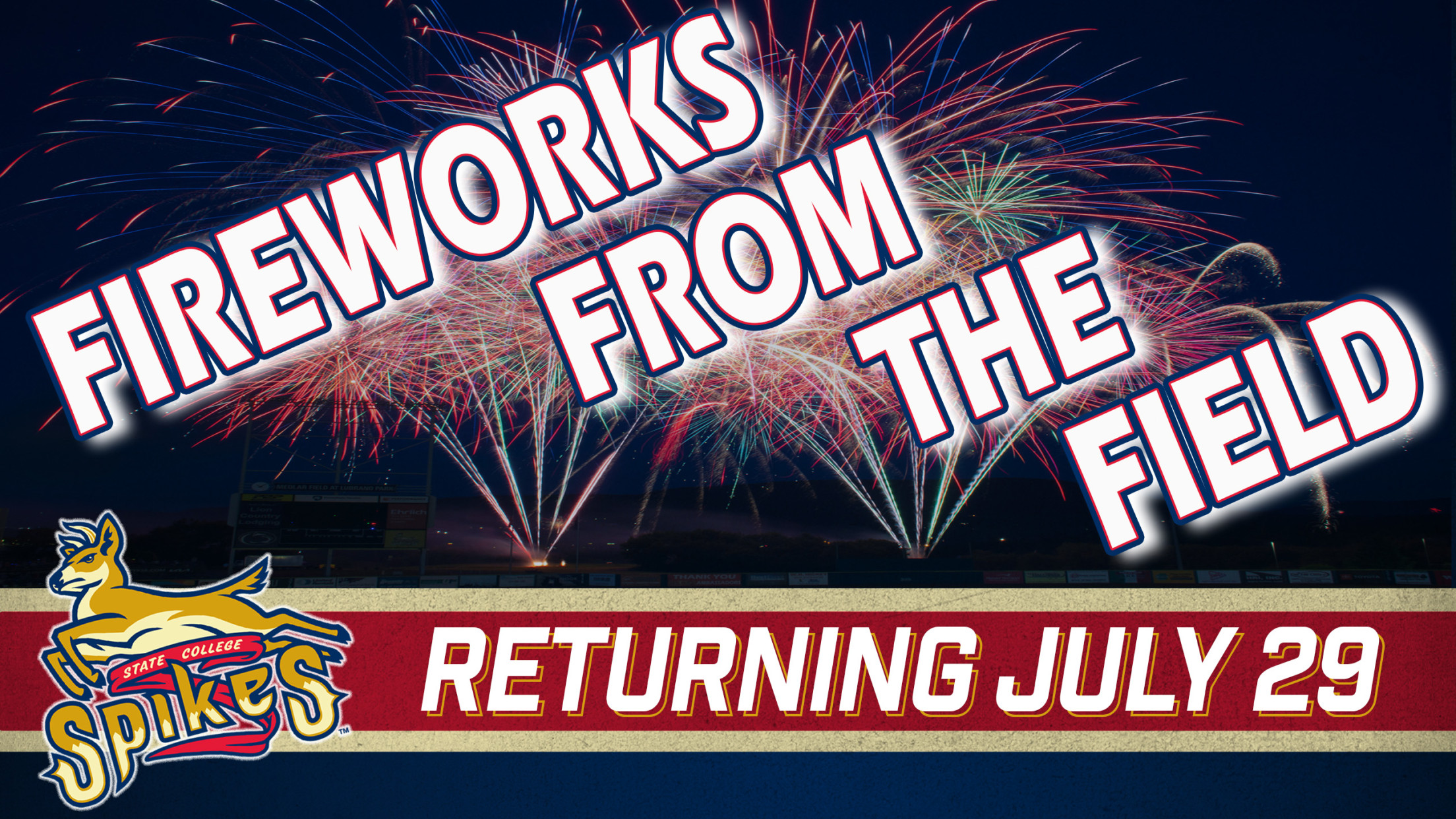 The State College Spikes and FIREWORKS in the summertime have gone hand-in-hand since the club first hit Happy Valley in 2006. Now, Spikes fans can once again enjoy these dazzling spectaculars from a unique vantage point as FIREWORKS from the Field returns for each of the five remaining shows on
The State College Spikes and FIREWORKS in the summertime have gone hand-in-hand since the club first hit Happy Valley in 2006. Now, Spikes fans can once again enjoy these dazzling spectaculars from a unique vantage point as FIREWORKS from the Field returns for each of the five remaining shows on the 2022 home schedule.
Starting with a FIREWORKS Weekend that features back-to-back shows on Friday, July 29 and Saturday, July 30, all fans are invited to come down onto the infield at Medlar Field at Lubrano Park to see the skies light up with each of these special presentations from the Spikes and their official FIREWORKS provider, Starfire Corporation.
The final five FIREWORKS shows of the 2022 season will take place as follows:
• Friday, July 29 – presented by Penn State Health
• Saturday, July 30 – presented by Mount Nittany Health
• Saturday, August 20 – presented by College Township
• Saturday, August 27 – presented by McClure Company
• Sunday, September 4 – presented by Starfire Corporation
"We are excited and delighted to bring fans the opportunity to enjoy FIREWORKS from the Field for the rest of the 2022 season," said Spikes President & General Manager Scott Walker. "FIREWORKS from the Field were a tremendous success during the home stretch of the 2021 season, and fans are sure to be amazed once again as they witness our tremendous FIREWORKS shows from the infield at Medlar Field at Lubrano Park."
Tickets for all five FIREWORKS from the Field nights, plus every game in the second half of the Spikes' biggest regular season home schedule in franchise history, are available now. Tickets can be purchased by calling (814) 272-1711 or by visiting the Spikes Ticket Office in person from 9 a.m. to 5 p.m. Monday through Friday.
Fans can also buy and download single-game tickets, and view the full 2022 promotional schedule, at the only source for authentic Spikes tickets online here at StateCollegeSpikes.com!
More ticket packages, including Flex Books and an array of group and hospitality options for the 2022 season, are currently on sale by calling the Spikes at (814) 272-1711.