Enjoy a Blue & White Night with the Spikes on Thursday
Spikes face Mahoning Valley at 6:35 p.m., Penn State/Purdue game to play at Medlar Field throughout night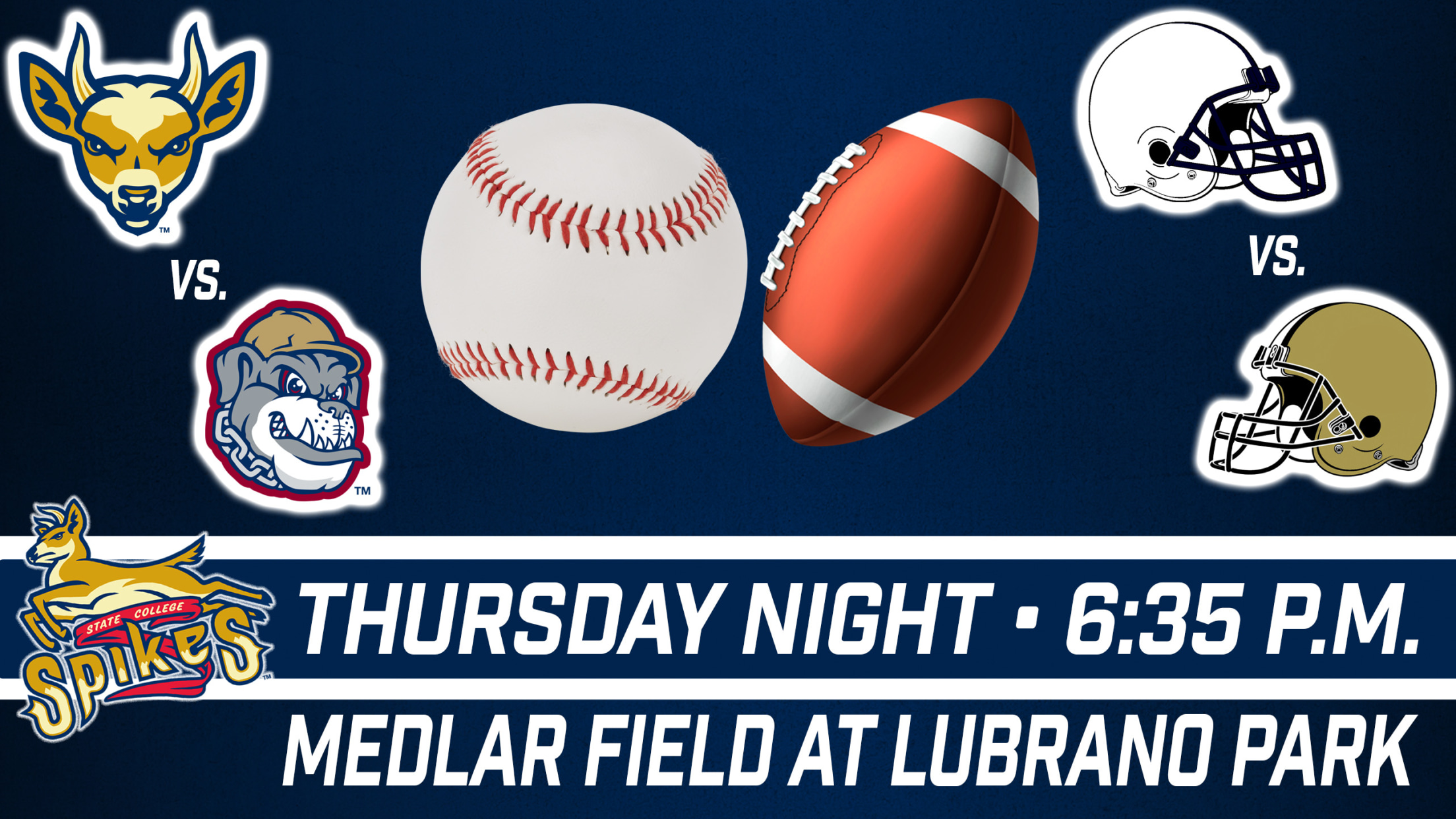 The State College Spikes are home at 6:35 p.m. on Thursday, and fans looking to enjoy Penn State football's season opener at Purdue on the same night can have the best of both worlds at Medlar Field at Lubrano Park. During the Spikes' matchup against the Mahoning Valley Scrappers, fans
The State College Spikes are home at 6:35 p.m. on Thursday, and fans looking to enjoy Penn State football's season opener at Purdue on the same night can have the best of both worlds at Medlar Field at Lubrano Park.
During the Spikes' matchup against the Mahoning Valley Scrappers, fans will be able to enjoy live look-ins at the Penn State/Purdue game, which is slated to kick off at 8 p.m., during each and every inning break once it starts.
Once the Spikes game concludes, the Penn State/Purdue game broadcast on FOX will play in full on the Medlar Field at Lubrano Park videoboard, with Gus Johnson and Joel Klatt's call on the ballpark sound system.
Ballpark concessions will be available throughout both games, and admission will be free for all fans wishing to watch the football game once the Spikes game has concluded.
Gates will open for the Spikes game at 5:30 p.m., and fans can also enjoy the last Thirsty Thursday of the season, with $2 select drafts and $4 craft drafts available from 5:30 to 7:30 p.m.
Tickets for Thursday's Spikes game, as well as all five remaining home games on the 2022 schedule, are available now. Tickets can be purchased by calling 814-272-1711 or by visiting the Spikes Ticket Office in person from 9 a.m. to 5 p.m. Monday through Friday.
Fans can also buy and download single-game tickets, and view the full 2022 promotional schedule, at the only source for authentic Spikes tickets online by visiting StateCollegeSpikes.com.
More ticket packages, including an array of group and hospitality options for football Saturdays in the fall, are currently on sale by calling the Spikes at 814-272-1711.