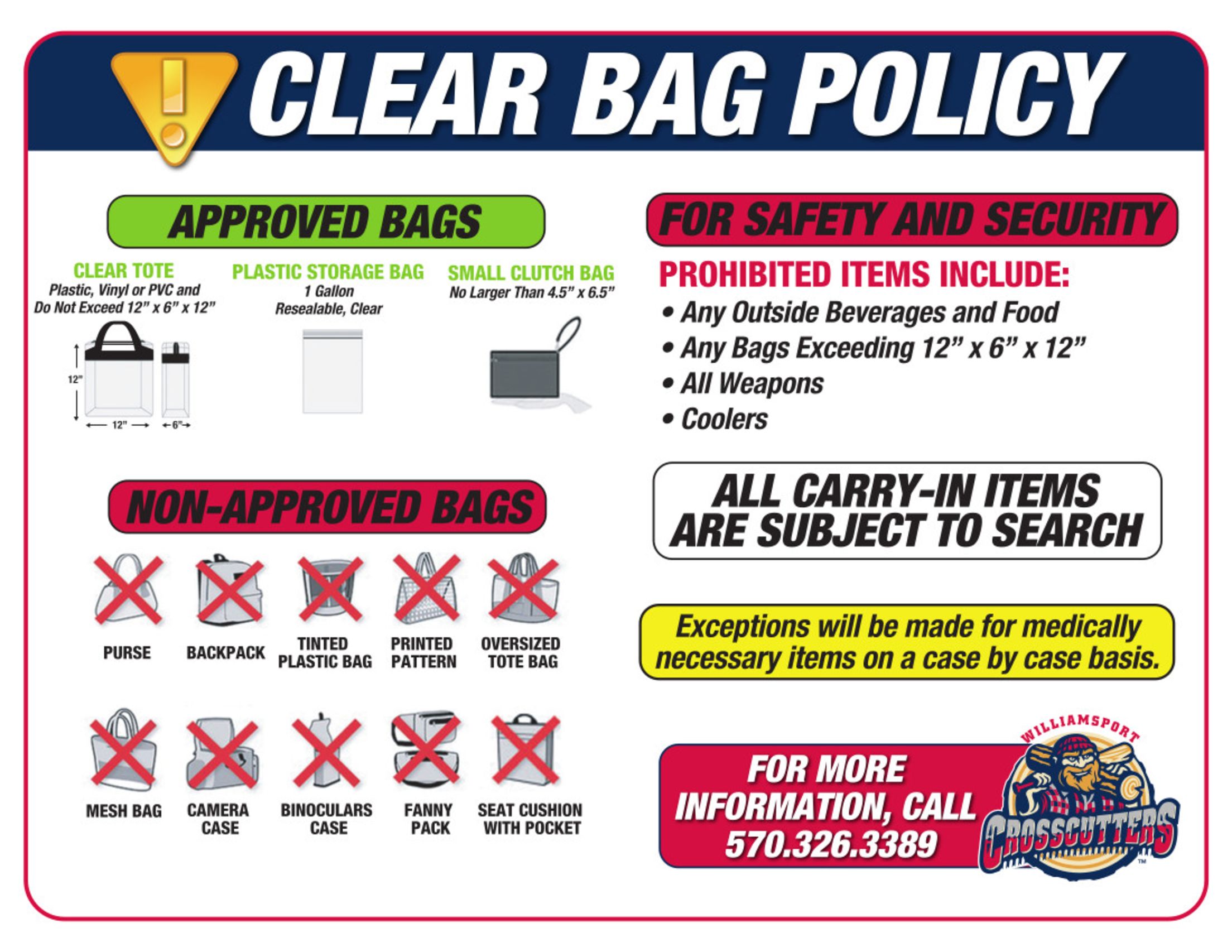 To provide a safer environment for fans, expedite fan entry and to better adhere to COVID-19 safety protocols, the Williamsport Crosscutters have implemented a CLEAR BAG POLICY that limits the size and type of bags that may be brought into Muncy Bank Ballpark at Historic Bowman Field for Cutters games. Exceptions to this policy will be made for all medically necessary items after proper inspection.
The Williamsport Crosscutters encourage fans to not bring any type of bags, but fans will be able to carry the following style and size bag into the stadium (subject to visual or, if deemed necessary, physical inspection):
Bags that are clear plastic, vinyl or PVC and do not exceed 12" x 6" x 12."
One-gallon clear plastic freezer bag (Ziplock bag or similar)
Diaper Bags *subject to physical inspection
Note: In keeping with MLB Draft League Policy no food or beverages of any kind may be brought into the stadium with the exception of baby formula. Exceptions are made for medically necessary items on a case-by-case basis.
Why did the Williamsport Crosscutters adopt this policy?
The Crosscutters review public safety and stadium security policies each year looking for ways to improve them and enhance fan safety. The team strongly believes that it makes sense to adjust our policy to enhance public safety, and make stadium access more efficient by limiting the size and style of bags carried into the stadium while also attempting to limit or eliminate the need for physical searches of bags in the wake of the recent pandemic. This proactive measure will enhance safety both inside and outside the ballpark and speed the entry process for all fans. We strongly believe that Cutters fans deserve to be in a safe, secure environment at all times. This policy is about both safety and improving the overall fan experience.
Was this step taken because of the COVID-19 pandemic?
That was a factor taken into account, certainly, but we felt that for that and other reasons it was time for us to implement this policy which is in effect for many other stadiums across the country including some in the MLB Draft League as well as all NFL Stadiums and numerous college stadiums including Penn State. Our policies will continue to evolve as we adjust to the realities of public safety.
How does this make it more convenient for fans?
This policy allows staff to be more efficient and effective in checking bags that are brought into the ballpark. There will be less time spent standing in lines at the front gate. Fans also will enjoy an improved sense of safety. Shorter lines mean fewer hassles.
Will clear bags be available for purchase at Historic Bowman Field?
For fans who wish to purchase approved Cutters clear bags, they will be available in the Sawmill Team Store while supplies last.
How many bags can each person bring into the ballpark?
One large clear bag per person– either a one-gallon Ziploc style bag or a clear bag up to 12" x 6" x 12"– plus a small clutch. The larger clear bag must be 12" x 6" x 12" or smaller made of clear PVC vinyl and easily searched. The one-gallon Ziploc bag is readily available, inexpensive and easily searched. The small clutch allows privacy for small personal items and also is easily searched if deemed necessary.
Can fans carry cameras, smart phones or tablets separately from what they put in a clear bag?
Yes. Binoculars or a phone or camera can be carried into the ballpark so long as it is not in its own bag. This is not a restriction on items that fans have been able to bring into the ballpark. It is only a restriction on the type of container used to carry items.
Are seat cushions allowed to be carried into the stadium?
Approved seat cushions may be carried into the stadium. Large seat cushions that have pockets, zippers, compartments, or covers are not permitted. Seat cushions without pockets, zippers, compartments, or covers are permitted.
What about bringing blankets?
Fans will be able to bring blankets by tossing them over a shoulder or arm. They cannot be rolled up under your arm.
What happens if I show up at the gate with a bag that is not permitted?
Fans carrying bags that do not meet the criteria will be turned away at the gate and will be required to bring their items back to their vehicle before entering the ballpark. The Crosscutters do not have facilities to "check" bags for later pick up.
If I have certain items that I need to bring into the stadium for medical reasons and they won't fit in the clear bag, what do I do?
Exceptions to this policy will be made for all medically necessary items after proper inspection.
Are all purses prohibited?
No. Unlike some event venues, we are not banning all bags. Small clutch purses (4.5" x 6.5" or smaller), with or without a handle or strap, are permitted along with either the 12" x 6" x 12" clear tote bag or the one-gallon freezer bag. This should enable you to carry the same personal items you have in previous years. We encourage fans not to bring any bags, but have created a policy that balances fan needs with improved public safety and convenience.
Do I have to put everything I'm carrying into the permissible bags?
No. We are limiting only the type of bags carried into the stadium, not items that you normally bring to a game. Therefore, you can carry in your pockets or jacket; keys, makeup, feminine products, comb, phone, wallet, credit cards, etc. You can carry a blanket over your arms and binoculars and/or camera around your neck or in your hands without the case. You can use the clear bag and clutch to carry other items. You will continue to have the flexibility to bring a wide variety of approved items into the stadium. Every member of your family may carry in a permissible bag. Knives or razor blades of any kind are not permitted.
What about diaper bags?
Diapers bags will be permitted but will be checked by security before entering the stadium.
If I have special medical equipment I need to have with me at all times, where do I put that?
Exceptions to this policy will be made for all medically necessary items after proper inspection. Anyone having questions about the ballpark bag policy can call the Williamsport Crosscutters at (570) 326-3389.