Cutters to Rebrand as Williamsport Potato Capers August 31
Dave Bresnahan to make appearance at Bowman Field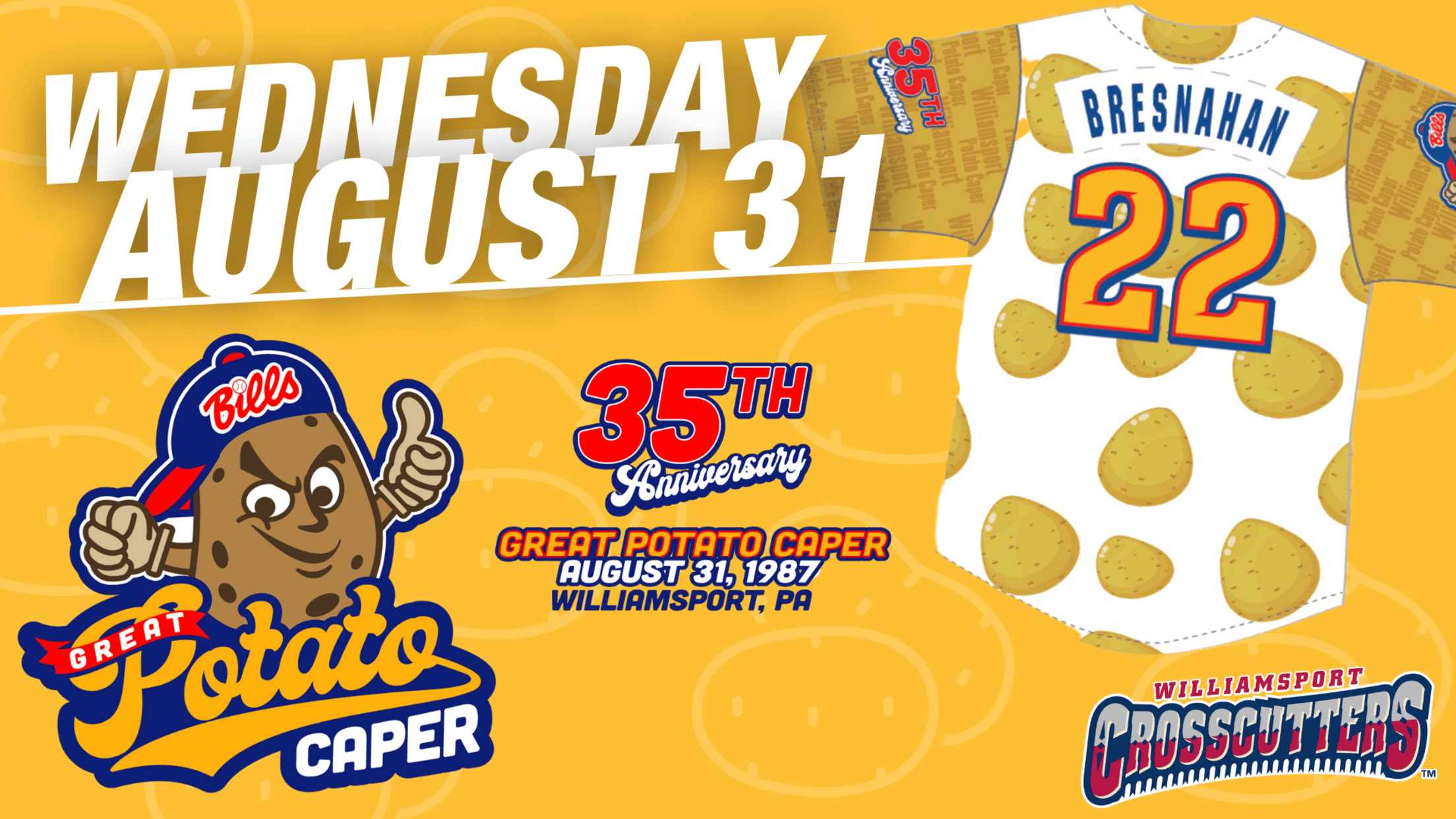 The Williamsport Crosscutters will commemorate the 35th anniversary of Dave Bresnahan's infamous hidden ball trick when they rebrand as the Williamsport Potato Capers for their game on August 31 against the Trenton Thunder at 6:35pm. In 1987, as a member of the Williamsport Bills, Bresnahan used a peeled potato in
The Williamsport Crosscutters will commemorate the 35th anniversary of Dave Bresnahan's infamous hidden ball trick when they rebrand as the Williamsport Potato Capers for their game on August 31 against the Trenton Thunder at 6:35pm.
In 1987, as a member of the Williamsport Bills, Bresnahan used a peeled potato in a trick play that garnered international attention. As part of the celebration, Bresnahan will be making a special appearance at the game meeting fans and signing autographs.
"I can't believe it's been 35 years and we are still talking about it", Bresnahan said. "It's a testament to our passion for the game we all love and cherish. I'm sincerely appreciative and forever thankful to have played a small role in that and look forward to meeting and talking with the fans in Williamsport to mark the anniversary."
Bresnahan's number 59 was retired by the Williamsport Bills in 1988 and still hangs on the outfield wall of Muncy Bank Ballpark. He was inducted into the Bowman Field Hall of Fame in 2012.
The game, sponsored by UPMC and WILQ, will feature a special commemorative baseball for the first 1,000 fans and the Cutters will be outfitted in special, limited-edition Potato Caper jerseys each featuring Bresnahan's name on the back. The jerseys, which are sure to be collector's items, will be available to fans in an online auction that begins at 5:30pm (EDT) on August 31 and closes at 8pm (EDT) on September 4. Fans around the country can bid using the LiveSource app which can be found as a free download in the App Store.
Tickets for the game are available by CLICKING HERE, via phone at (570) 326-3389 or at the box office at Muncy Bank Ballpark.