Two long homers not enough for Spikes against Keys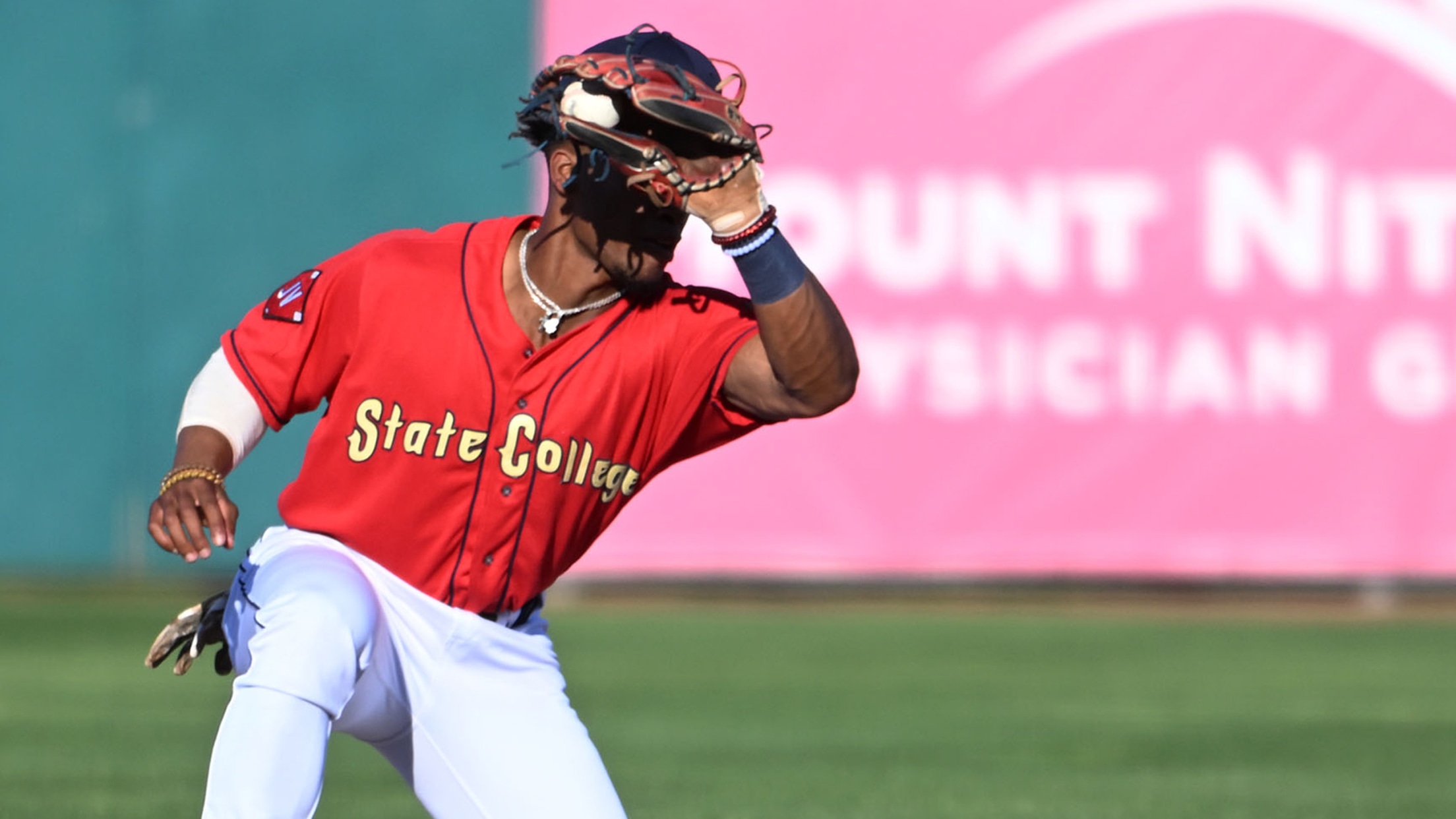 (Steve Manuel)
BOX SCORE PLAY-BY-PLAY UNIVERSITY PARK, Pa. – Ty Hill and Will Simpson each smashed their third home runs of the Major League Baseball Draft League season in excess of 400 feet, but the State College Spikes fell to the Frederick Keys' ninth-inning outburst in a 7-3 defeat on Monday night
UNIVERSITY PARK, Pa. – Ty Hill and Will Simpson each smashed their third home runs of the Major League Baseball Draft League season in excess of 400 feet, but the State College Spikes fell to the Frederick Keys' ninth-inning outburst in a 7-3 defeat on Monday night at Medlar Field at Lubrano Park.
Hill, a product of Jackson State playing third base on Monday night, took a 2-2 pitch from Frederick (8-8) starter Allan Saathoff 411 feet over the center field wall to give the Spikes a 2-1 lead in the third.
Simpson hit his third homer in four games on Monday, going deep to the tune of 408 feet to center field on a 2-2 pitch from Anthony Figueroa in the sixth inning to tie the game at 3-3. All three of the University of Washington first baseman's dingers in the MLB Draft League have been over 400 feet long.
In the ninth, though, Frederick plated four runs as Nander De Sedas brought in the go-ahead run with a ground-rule double down the right field line, an error scored two more runs, and Carlos Guzman's infield single capped the frame.
Three of the Spikes' (6-10) five hits were for extra bases, with Keshawn Ogans adding a triple in the fifth.
State College starter Jared Kengott delivered four one-run innings, giving up three hits and two walks while collecting a pair of strikeouts.
Austin Cheeley (0-1) took the loss for State College after being charged with four runs, but only one of them earned, on fourth hits and a walk while striking out two batters in his inning of work.
Conner Godwin (1-1) picked up the win for Frederick with two innings of scoreless relief in the seventh and eighth. Godwin yielded one hit and one walk while striking out four batters.
Tuesday, the Spikes and Keys continue their three-game series with a 6:35 p.m. matchup at Medlar Field at Lubrano Park. Right-hander Thomas Wilhite (0-0), who threw three scoreless innings at West Virginia on Thursday before the game was halted by lightning, gets the start on the mound for State College. Frederick will go with right-hander Luke Pryor (0-1).
Fans can enjoy Yoga Night at the ballpark as the Spikes celebrate International Yoga Day. The Yoga Night Ticket Package is still available as well, featuring admission to a Pregame Yoga session at 4:30 p.m. in Porter Gardens presented by TriYoga of Central Pennsylvania, along with a Diamond Club seat to Tuesday's game and a complimentary glass of wine or soft drink.
Plus, it's PA Bus Association Night as the Spikes honor bus drivers and celebrate the 100th Anniversary of the PA Bus Association. All bus drivers can purchase half-price tickets in person, by phone or online with promo code WHEEL.
The night also includes the return of $2 Walking Taco Tuesday presented by WOWY, with Walking Tacos just $2 apiece at the Salsa stand behind home plate, and a Miller Lite/Coors Light Happy Hour with half-price Miller Lite and Coors Light products from 5:30 to 7:30 p.m.
More highlights of the homestand include the return of Thirsty Thursday on Singles Night Thursday, June 23, and a fantastic post-game FIREWORKS show presented by The Meadows on First Responders Night Saturday, June 25.
In addition, the Spikes are giving fans the opportunity to get their tickets at half-price at three additional theme nights during the homestand.
Wednesday, June 22 is our Salute to Educators, and everyone in our local education systems can enjoy half-price tickets by using promo code APPLE in person, by phone or online.
On Friday, June 24, the slate of half-price nights continues on Jersey Night, when the Spikes take on the Trenton Thunder. Fans can get half-price tickets for that game by wearing a jersey to the game, presenting a form of New Jersey ID, or by using promo code JERSEY.
Finally, on Saturday, June 25, it's First Responders Night at Medlar Field, and we're showing our appreciation for the brave police, fire and EMT personnel in our communities by offering them half-price tickets in person, by phone and online with promo code RESPOND.
All half-price specials exclude Rail Kings seats, Pepsi Picnic Pavilion seats and Geisinger Champions Club luxury suites.
Tickets for the Spikes' next homestand, as well as every game on the Spikes' biggest regular season home schedule in franchise history, are available now. Tickets can be purchased by calling (814) 272-1711 or by visiting the Spikes Ticket Office in person from 9 a.m. to 5 p.m. Monday through Friday.
Fans can also buy and download single-game tickets, and view the full 2022 promotional schedule, by visiting StateCollegeSpikes.com.
More ticket packages, including Flex Books and an array of group and hospitality options for the 2022 season, are currently on sale by calling the Spikes at (814) 272-1711. Additional information on all club ticketing options, as well as team news and schedule info, can be viewed at StateCollegeSpikes.com.
Catch all of the action on Tuesday via the Spikes Radio Network presented by Penn State Sports Medicine, Official Healthcare Provider of Penn State Athletics with Steve Jones and Joe Putnam on the call. The broadcast starts with Spikes Live, presented by Mount Nittany Health, on the air from Medlar Field at Lubrano Park at approximately 6:10 p.m.
The game can be viewed worldwide on the MLB Draft League streaming platform at MLBDraftLeague.com/streaming, along with the "Listen Live" link on StateCollegeSpikes.com and the TuneIn Radio app.