Frederick Keys Announce Promotions for 2022 Season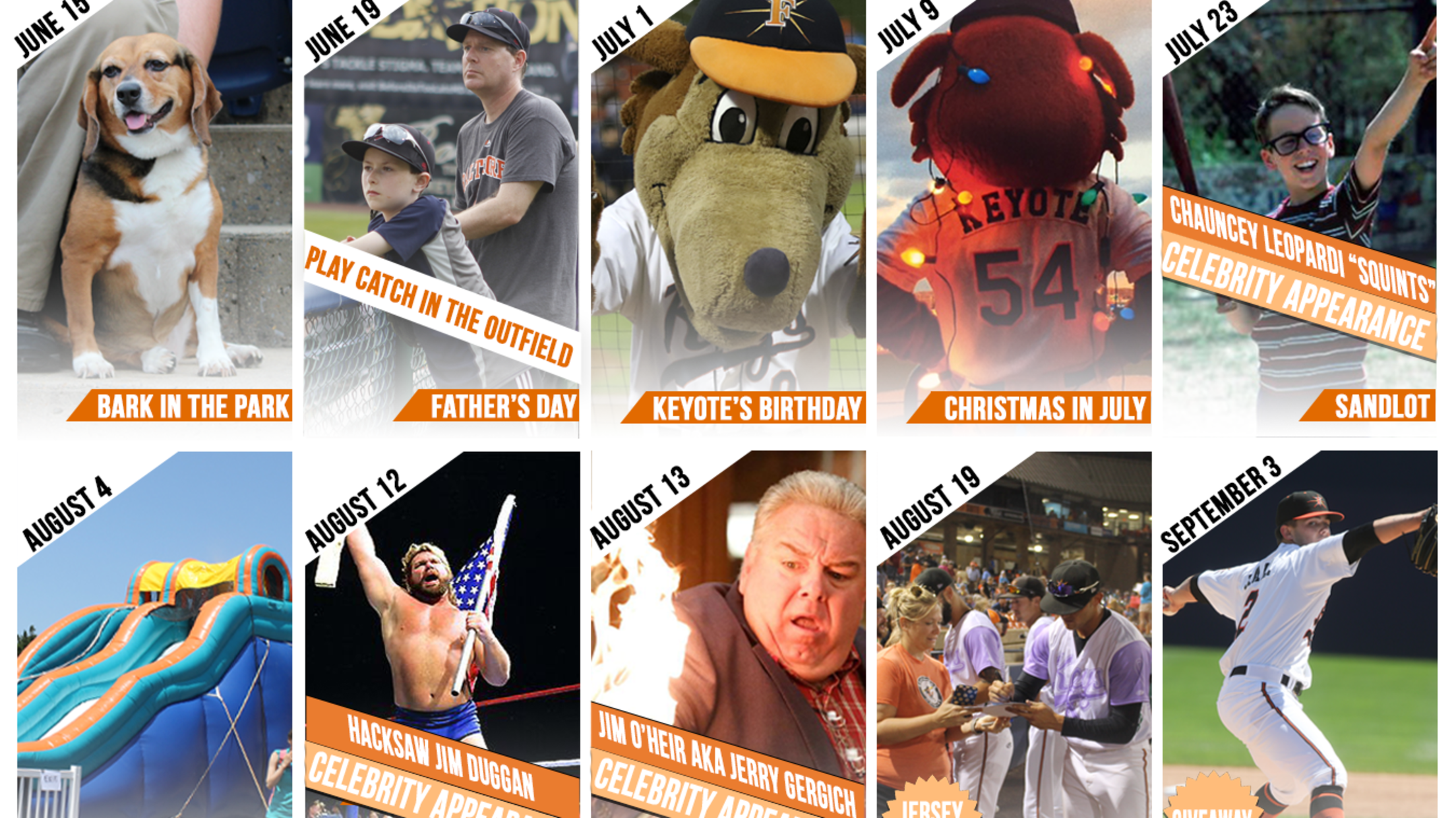 The Frederick Keys are excited to announce the initial 2022 promotional schedule for our upcoming Major League Baseball Draft League season. Highlights include appearances by the stars of Parks and Recreation and The Sandlot, as well as WWE Hall of Famer Hacksaw Jim Duggan. There are also 18 fireworks dates
The Frederick Keys are excited to announce the initial 2022 promotional schedule for our upcoming Major League Baseball Draft League season. Highlights include appearances by the stars of Parks and Recreation and The Sandlot, as well as WWE Hall of Famer Hacksaw Jim Duggan. There are also 18 fireworks dates on the schedule, with two special Sunday Firework Nights. Bobblehead fanatics can also get excited for a special bobblehead featuring former Keys star and second-rated pitcher in the Baltimore Orioles minor league system, D.L. Hall.
On Saturday, July 23 the Keys will celebrate one of the most popular baseball movies of all time The Sandlot at 6 p.m. Gates open at 5 p.m., and fans can meet and get autographs from Chauncey Leopardi, who played Squints in the movie. Our July 23rd game is also Scout Night, where members of the local boys and girls scout troops will have the chance to watch the Keys game and camp out on the field overnight following the game and a viewing of the movie, The Sandlot on the videoboard.
Fans of the show Parks and Recreation can celebrate the Pawnee Parks Department, J.J.'s Diner, and of course Little Sebastian on Saturday, August 13 with our Parks and Recreation Night. Jim O'Heir, who played Jerry/Larry/Terry Gergich on the show will be making an appearance and signing autographs for fans. Game time is at 6 p.m. and O'Heir will be signing autographs from 5-7 p.m. In addition to his work on Parks and Recreation, O'Heir played Matt Cannistra in The Bold and The Beautiful (which earned him an Emmy nomination), along with cameo appearances on Brooklyn Nine-Nine, ER, and It's Always Sunny in Philadelphia. Rounding out the list of celebrities is WWE Hall of Famer Hacksaw Jim Duggan, who visits Frederick on Friday, August 12th at 7:00 pm, and Washington Commanders legend Gary Clark on Saturday, June 4 at 6 pm.
Bark In the Park is back on Wednesday, June 15 presented by Dogtopia. Man's best friend will have the chance to catch a game with their owners and run around the bases postgame. June 15th will also be Deaf and Hard of Hearing Night presented by Maryland School for the Deaf with an in-game experience tailored to the deaf and hard of hearing community.
Youngsters can be excited for the return of the Candy Drop on Sunday, July 10. Following the Keys 1 p.m. game, a "candycopter" will drop candy onto the outfield. Kids also will not want to miss out on Keyote's Minion-themed birthday party on Friday, July 1.
As always, fireworks nights will be a big part of weekend home games. These displays follow Friday and Saturday evening contests as well as two special Sunday Firework Nights (July 3 at 6 P.M. a "Super-Show" as part of our Independence Day Celebration and September 4 at 6 p.m. to celebrate Fan Appreciation Day and our season finale).
The Keys feature a myriad of great giveaways throughout the year including a magnet schedule presented by Premiere Dental Arts on the entire first homestand (Friday, June 2nd -Saturday, June 5th) and a D.L. Hall Bobblehead on Friday, September 2.
Excellent giveaways will be complemented by jersey and baseball auctions throughout the year. Art in the Park Night will feature a baseball design with balls designed by the Keys players. Taking place on September 2, all proceeds will benefit the Frederick Arts Council. Finally, Cancer Awareness Night will feature a jersey-themed auction with all proceeds going to the American Cancer Society. Finally, the annual
Two Meet the Teams are scheduled for June 5, and August 14. These autograph sessions with Keys players and coaches take place from 12-12:30 p.m. on the field prior to the club's 1 o'clock starts.
Finally, we are excited to announce the return of Sunday Fundays presented by GloFiber for the 2022 season. Fans will have the ability to play catch on the field during the first 30 minutes after gates open during every Sunday home game.
To view our promotional schedule check out our promotions page. We are anticipating making additional promotional announcements in the future. Please note, that all Keys promotions are subject to change at any time throughout the 2022 season.