10 Frederick Keys Selected in 2022 MLB First-Year Player Draft
Seven '21 Keys, three '22 Keys drafted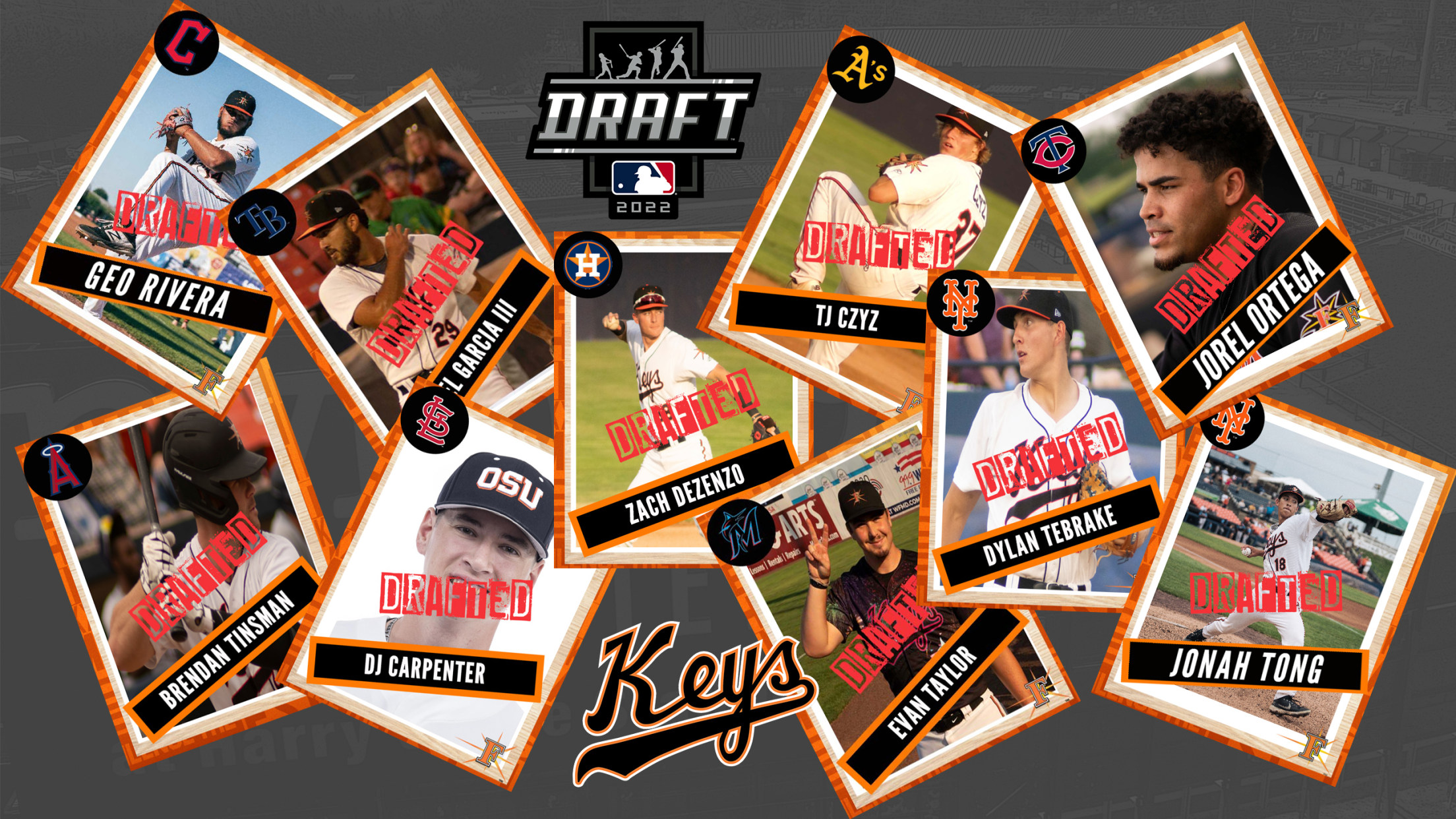 Frederick, MD– 10 Frederick Keys players were taken in the 2022 MLB First-Year Player Draft held in Los Angeles, California. Seven players from the 2021 Keys team were selected and three players from the 2022 Keys team were selected as well. Day Two of the Draft saw four Keys players
Frederick, MD– 10 Frederick Keys players were taken in the 2022 MLB First-Year Player Draft held in Los Angeles, California. Seven players from the 2021 Keys team were selected and three players from the 2022 Keys team were selected as well.
Day Two of the Draft saw four Keys players chosen. '21 Frederick Key Jorel Ortega (Round 6/Twins/174th overall), '22 Key Jonah Tong (Round 7/Mets/209th overall), '21 Key Dylan Tebrake (Round 8/Mets/239th overall), and '21 Key Evan Taylor (Round 9/Marlins/262nd overall).
Ortega, a second baseman from the University of Tennessee, played 13 games for the Keys in 2021 and hit .326 with four home runs and 13 RBI. He was most recently named a 2022 Perfect Game Second-Team All-American after a stellar spring with the Volunteers where he hit .323 with 18 home runs and 61 RBI.
Tong, a right-handed pitcher from Bill Crothers HS in Markham, Ontario, showed strikeout stuff on the mound in four outings this summer for Frederick. The 19-year old North Dakota State commit struck out 14 in 11.2 innings pitched, including a seven-strikeout performance in 2.2 innings at West Virginia on June 25.
Tebrake, a right-handed pitcher from Creighton University, had the lowest ERA on Frederick in the 2021 season. The junior posted a 0.82 ERA in 11 innings, which is best among qualified Keys pitchers, while also striking out 12. Tebrake was recently named 2022 Big East Pitcher of the Year for a second straight season for the Bluejays.
Taylor, a left-handed pitcher from University of Arkansas, shined as both a starter and reliever for the Keys in 2021. The senior pitched to a 3.60 ERA and struck out 22 in 20 innings pitched.
Day Three of the Draft saw six Keys players chosen. '21 Frederick Key TJ Czyz (Round 12/Athletics/364th overall), '21 Key Zach Dezenzo (Round 12/Astros/373rd overall), '22 Key DJ Carpenter (Round 14/Cardinals/427th overall), '21 Key Roel Garcia (Round 14/Rays/434rd overall), '22 Key Geo Rivera Jr. (Round 19/Guardians/571st overall) and '21 Key Brendan Tinsman (Round 20/Angels/598th overall).
Czyz, a right-hander from Cosumnes River College in Sacramento, posted a 1.50 ERA in 18 innings, while striking out 22 last summer with the Keys. He struck out a team-high 117 hitters in 85 innings for the Hawks this spring.
Dezenzo, an infielder from Ohio State, was second on the Keys in home runs with six and third on the team in RBI with 18 in his lone summer with Frederick. The Buckeye was named a 2022 All-Big Ten Second Team selection after setting a career high in home runs with 19 this spring for Ohio State. He returned to the Draft League this summer and played for the Mahoning Valley Scrappers.
Carpenter, a right-handed pitcher from Oregon State, pitched in three games with the Keys in 2022 and posted a 1.59 ERA in 5.2 innings while striking out five. In his first spring with Oregon State after transferring from Central Arizona College, the reliever struck out 31 in 24.1 innings.
Garcia, a right-handed pitcher from Rice University, pitched in four games for Frederick in 2021 and struck out 14 in eight innings with an ERA of 3.38. He returned to the Draft League this summer and pitched for the Trenton Thunder.
Rivera Jr., a right-handed pitcher from Walters State Community College in Morristown, Tennessee, starred on the mound primarily as a starter for the Keys in 2022. The Oregon State commit had the lowest ERA among qualified Frederick starters at 2.20 in 16.1 innings pitched, while striking out 12. His best outing was at West Virginia on July 6 when he pitched 4.0 shutout innings and struck out four, without allowing a walk.
Tinsman, a catcher from Wake Forest, tallied a home run and four RBI in seven games with the Keys in 2021. The Demon Deacon was a 2022 Collegiate Baseball Third-Team All-American and tied the single-season home run record with a career-high 24 home runs at Wake Forest.
Since the Keys became a founding member of the MLB Draft League in November 2020, the total number of draft selections from the Frederick Keys is currently at 17. Last year's draft class saw seven Keys selected.
A total of 47 players that participated in the MLB Draft League in either 2021 or 2022 were selected in this year's MLB First-Year Player Draft.
For more information on the Frederick Keys, please contact Gareth Kwok at [email protected].