Cutters Announce 2018 Promotional Schedule
Retro & Throwback Giveaways Highlight 20th Season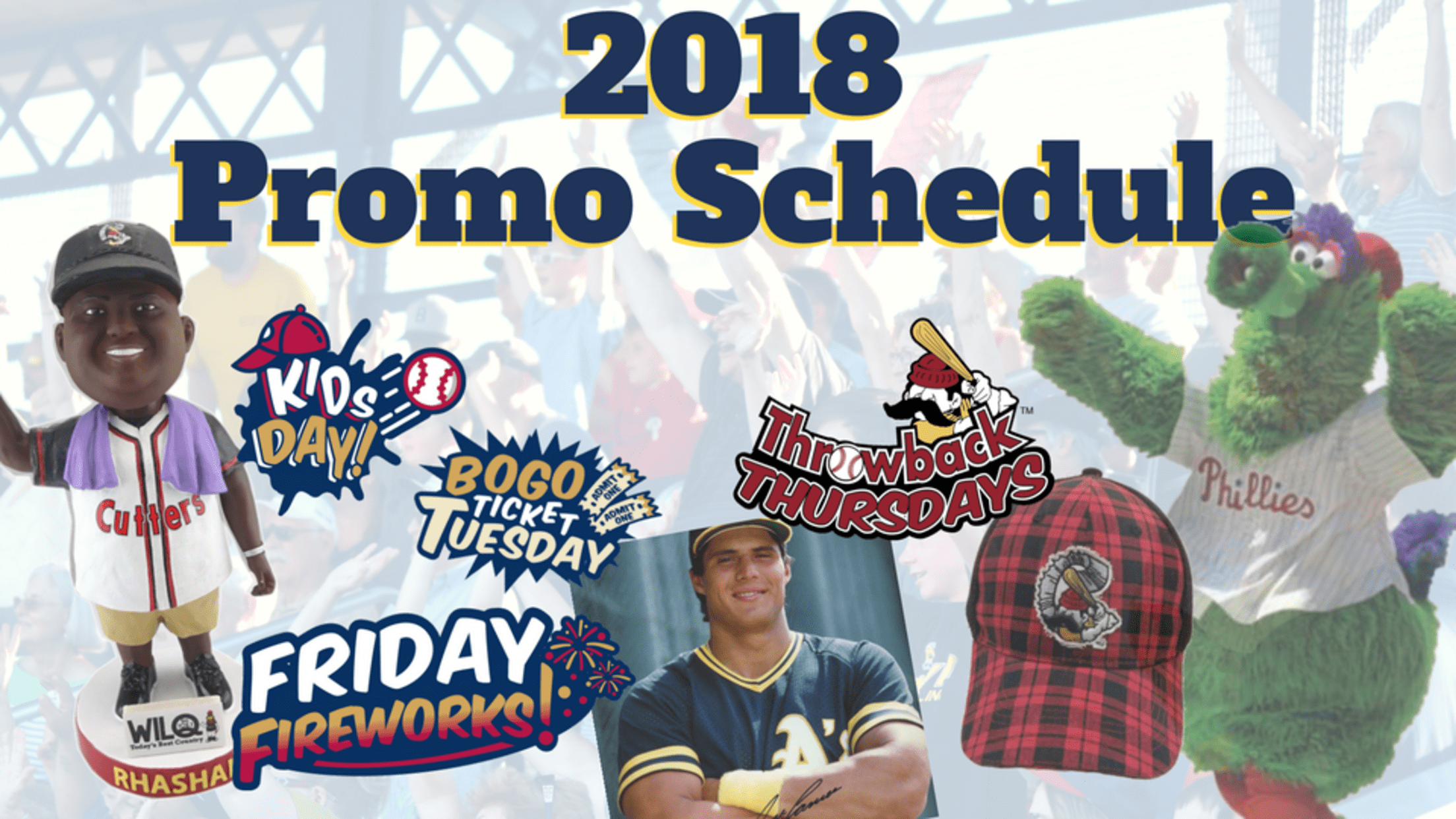 The Williamsport Crosscutters have announced their 2018 promotional schedule as they prepare to celebrate 20 seasons of making memories at BB&T Ballpark at Historic Bowman FieldThe 20th season celebration begins on Friday, June 15 on Opening Night, 2018 with fireworks after the game and Cutters schedule magnets for all fans
The Williamsport Crosscutters have announced their 2018 promotional schedule as they prepare to celebrate 20 seasons of making memories at BB&T Ballpark at Historic Bowman Field
The 20th season celebration begins on Friday, June 15 on Opening Night, 2018 with fireworks after the game and Cutters schedule magnets for all fans in attendance
"This season, many of our giveaways and promotions are tied to our 20th anniversary," said Cutters Vice-President of Marketing & Public Relations Gabe Sinicropi. "Our facility and our business has evolved a great deal over the last 20 years. We are proud of where we are and we're proud of where we've been. We can't wait to celebrate 20 seasons of Cutters baseball with our fans this summer."
In addition to Opening Night, fireworks will light up the sky after Friday night home games (with exception of August 10) along with July 3 and September 1, for a total of seven shows during the season.
In celebrating 20 seasons of Cutters Baseball, Thursday home games will take on a whole new meaning at BB&T Ballpark. The team will celebrate Throwback Thursdays, presented by UPMC Susquehanna. Cutters players and coaches will sport throwback style uniforms in an ode to those worn during the 1999-2007 seasons. The game-worn throwback jerseys will be auctioned off to fans at the conclusion of the season.
Every Thursday game will feature plenty of throwback-themed fun. The Cutters will be bringing back retired on-field promotions that fans will remember from the past 20 seasons and have special appearances from former mascot Rusty Roughcut, along with throwback apparel giveaways for the first 1,000 fans each Thursday including:
• Cutters to the Majors T-shirt Giveaway on June 28
• Throwback Logo T-shirt Giveaway on July 12
• Throwback Replica Jersey Giveaway on July 19
• Rusty Roughcut T-shirt Giveaway on August 2
• 2003 Championship T-shirt Giveaway on August 9
Three bobblehead giveaways also highlight the 2018 schedule including; Rhys Hoskins on June 30, Director of Smiles Rhashan on July 21 and a Cutters retro-style bobblehead on July 28.
Visiting entertainers/celebrities include; former MLB slugger Jose Canseco on June 17, the Phillie Phanatic on August 12 and Tyler's Amazing Balancing Act on August 26.
Again this season, the team will feature special day of the week promotions where fans can take advantage of great specials and offers including;
Mondays
Military Monday. All active and retired military personnel get a free admission ticket when they show their military ID at the box office.

Tuesdays
BOGO Ticket Tuesday. Show your Giant Bonus Card at the box office for buy one get one free Stadium Reserved tickets
Two-for-Tuesday. Fans can enjoy 2-for-1 soft drinks during the game.
Charitable Tuesdays. A different local non-profit is featured at the ballpark every Tuesday
Wednesdays
Kids Eat Free. The first 100 fans age 12 and under get a free meal coupon.
Thursdays
Thirsty Thursday. $2 beer specials
Launch-a-Ball. A chance to win great prizes after the game
MedReturn. Turn in your unused or expired medications for safe disposal and get a free hot dog & soda.
Fridays
Friday Night Fireworks
$2 Beer Specials till 8pm
Saturdays
Free Stuff Saturday. A great giveaway at every Saturday home game
Launch-a-Ball. A chance to win great prizes after the game.
Sundays
Baseball Bingo. All fans age 18 and over can play for a chance to win great prizes.
Kids Day - Stadium Reserved tickets are just $1 for all kids age 12 and under. After the game, all kids can come on the field and run the bases in "Boomer's Mad Dash".
The full slate of 2018 promotions along with details can be viewed HERE!