Black Bears Battle Back to Tie the Keys and Take First Place in the League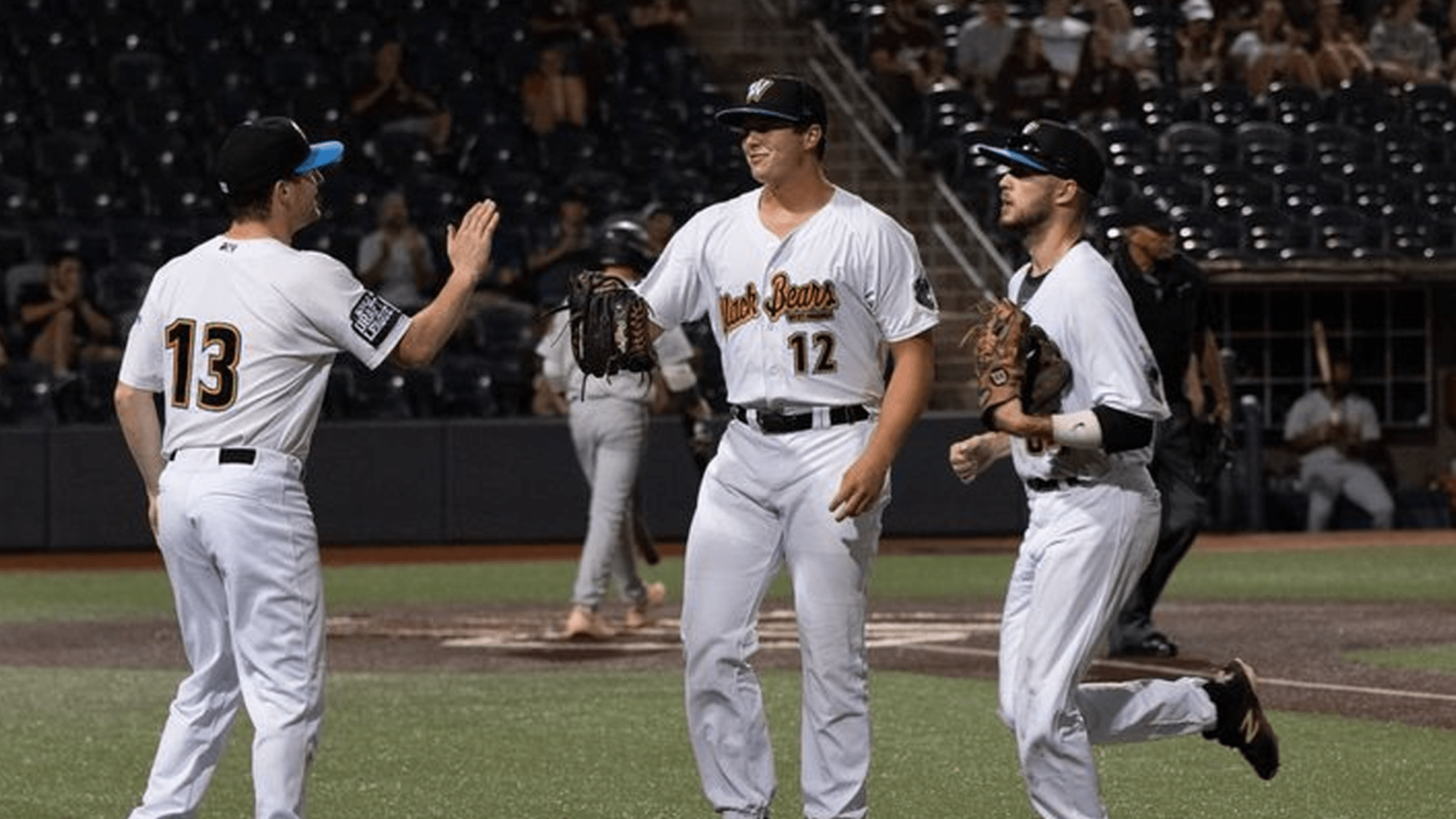 GRANVILLE, W.Va. - After a rain out ended the second game of the series prematurely, the West Virginia Black Bears battled back from a five-run deficit Thursday night at Monongalia County Ballpark to tie the Frederick Keys, 6-6. With the tie, it is the second consecutive home series loss; though
GRANVILLE, W.Va. - After a rain out ended the second game of the series prematurely, the West Virginia Black Bears battled back from a five-run deficit Thursday night at Monongalia County Ballpark to tie the Frederick Keys, 6-6. With the tie, it is the second consecutive home series loss; though West Virginia takes sole possession of first place in the MLB Draft League after Trenton's loss to State College earlier today.
In his sixth start for the Bears, J.P. Massey allowed two walks and threw a wild pitch to give the Keys an early 4-0 lead in the top of the first inning. West Virginia earned a run in the bottom of the first off a RBI double to center field from 2B Christian Lucio that plated CF Breydon Daniel. However, the Keys managed two more runs off Massey and a Black Bears error in the second and third innings to bring the score to 6-1.
Things finally started heating up for the Black Bears in the bottom of the third inning. After LF Amari Bartee was hit by a pitch, Daniel mashed a two-run home run to the opposing bullpen to halve the Keys' lead. The home run was the second for Daniel and the Oklahoma native's 11th RBI of the season.
In the fifth inning, the Bears scored on a walk of DH Grant Hussey that allowed Lucio to steal home on the wild pitch. Lucio advanced home after stealing second and third on a wild pitch and a passed ball, respectively, and brought the score to 4-6 heading into the sixth inning.
After a scoreless inning for both teams, West Virginia tied the game on another two-run home run to right field from C Luis Navarro that plated 1B Andrew Miller in the bottom of the seventh. The home run was Navarro's third in 14 games with the Black Bears, and with it, he knotted the game at six runs with two innings left to play. Unfortunately, Navarro's pop fly to center field in the bottom of the ninth ended West Virginia's rally, and they finished the game with their sixth tie of the season.
With the tie and Trenton's loss to State College, West Virginia (30-18-6) is now one game up in the standings and in sole possession of first place in the MLB Draft League.
The West Virginia Black Bears will return for their final home series beginning tomorrow night against the Mahoning Valley Scrappers. First pitch is set for 7:05pm with the final fireworks show of the season, sponsored by WVU Medicine, concluding tomorrow night's contest.