Spikes drop tough tiebreaker loss to Scrappers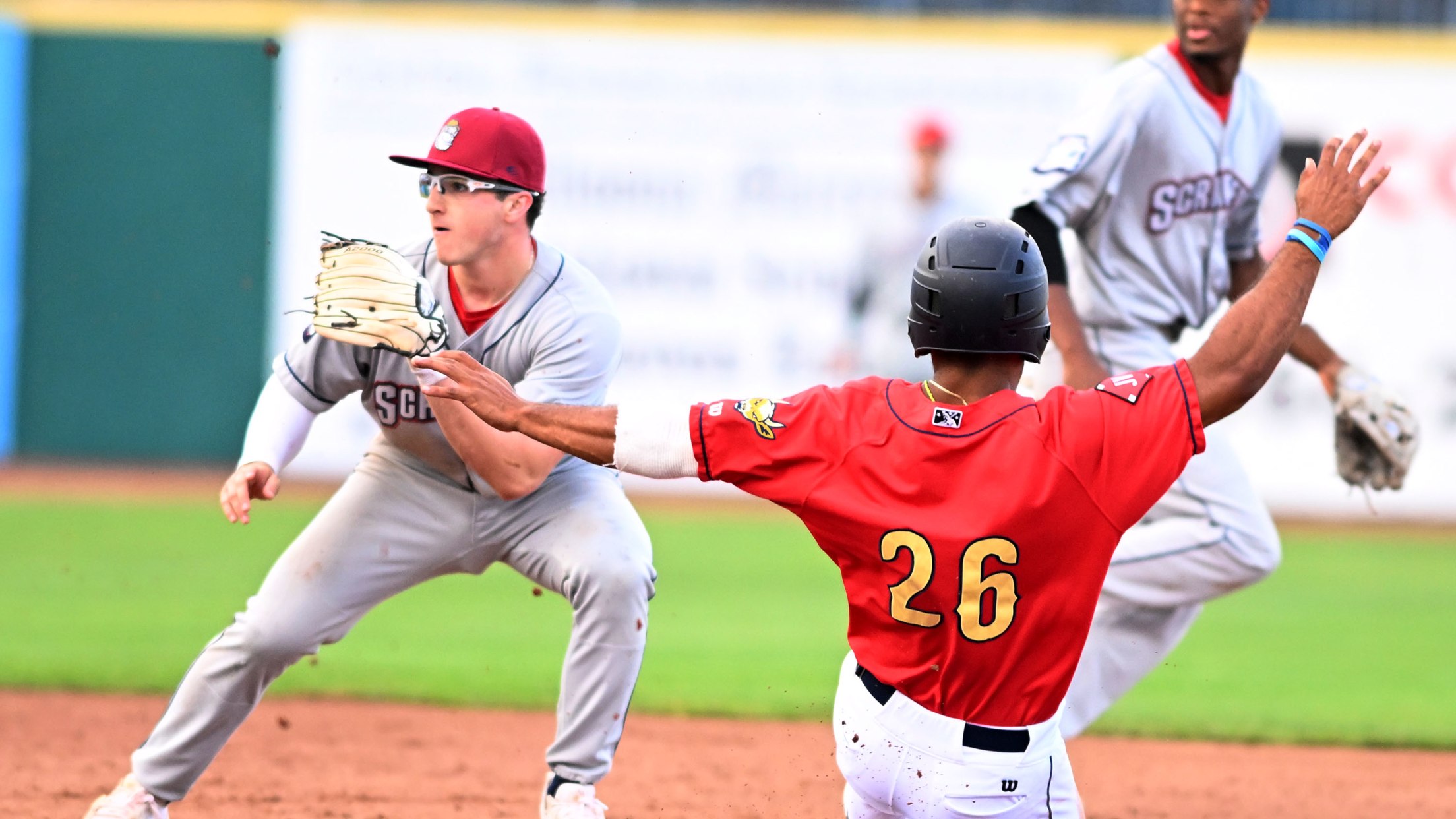 (Steve Manuel)
BOX SCORE PLAY-BY-PLAY (Records for the Sudden Death Tiebreaker are not currently included in official game records on the box score and play-by-play, pending further evaluation by the MLB Draft League) UNIVERSITY PARK, Pa. – The State College Spikes became the first team to play in two Major League Baseball
(Records for the Sudden Death Tiebreaker are not currently included in official game records on the box score and play-by-play, pending further evaluation by the MLB Draft League)
UNIVERSITY PARK, Pa. – The State College Spikes became the first team to play in two Major League Baseball Draft League Sudden Death Tiebreakers, but the result went against them as the Mahoning Valley Scrappers scored in the extra frame to take the win after the teams were tied, 5-5, after nine innings on Wednesday afternoon at Medlar Field at Lubrano Park.
Under MLB Draft League Sudden Death Tiebreaker rules, the home team decides whether to be on offense or defense prior to the game. The offensive team then places the runner that made the last out of their previous half-inning on first base with no outs.
The Spikes (1-5) debuted the MLB Draft League's new tiebreaker format this past Saturday against the Williamsport Crosscutters, falling in that one after being held without a run on offense during the half-inning.
State College elected to play defense on Tuesday, but after Mark Herron Jr. was placed on first base to start the frame, back-to-back bunt singles by Emilio Morales and Buck Anderson loaded the bases for Sean Tillmon's walk-off hit to left field.
The game began at 10:35 a.m. as the Spikes welcomed schoolchildren from across Happy Valley, including Bellefonte, Benner and Marion-Walker Elementary Schools, for their last field trip of the school year on Education Day.
Mahoning Valley (5-1) forced the Sudden Death Tiebreaker by rallying for three runs in the ninth inning, aided by two of the Spikes' six errors in the game.
Ryan Blackwell led the way for State College offensively with two hits, including a double, and an RBI. Owen Ayers also logged multiple hits while knocking in one run and scoring two more.
State College starter Mason Olson *tossed three innings and allowed just one unearned run while striking out three batters. *Josh Mollerus *retired the last five batters he faced, three of them by strikeout, in two scoreless innings on the hill.
Tillmon led all Scrappers with three hits, while *Sam Beers *produced a double.
Thursday, State College finishes its three-game series against Mahoning Valley with a 6:35 p.m. game at Medlar Field at Lubrano Park. The Spikes will send right-hander *Jared Kengott *(0-0), a returnee from the 2021 squad, to the mound for his first start of this season. Mahoning Valley is set to counter with right-hander *Alan Carter *(0-0).
June is National Pride Month *across the country, and the Spikes will join the LGBTQ+ community in celebrating it on Thursday with *Pride Night *at Medlar Field at Lubrano Park. The first 500 fans through the gates when they open at 5:30 p.m. will get a *Pride Night T-Shirt Giveaway, featuring a rainbow flag pattern inside the Spikes' "Ribbon-S" logo, presented by Chumley's Cocktail Bar.
It's also the first *Thirsty Thursday *of the 2022 season, featuring $2 16-oz. select drafts and $4 16-oz. craft drafts from 5:30 to 7:30 p.m.
There's also more big promotions on Saturday night when a fantastic post-game FIREWORKS *display lights up the skies, and the schedule features an appearance by *Sean Clifford *as Happy Valley's QB1 signs autographs, throws out the first pitch and participates in even more fun on *Super Saturday, presented by the PA Lottery *and *B94.5.
Tickets for Thursday and Saturday, as well as every game on the Spikes' biggest regular season home schedule in franchise history, are available now. Tickets can be purchased by calling (814) 272-1711 or by visiting the Spikes Ticket Office in person from 9 a.m. to 5 p.m. Monday through Friday.
Fans can also buy and download single-game tickets, and view the full 2022 promotional schedule, by visiting StateCollegeSpikes.com.
More ticket packages, including Flex Books and an array of group and hospitality options for the 2022 season, are currently on sale by calling the Spikes at (814) 272-1711. Additional information on all club ticketing options, as well as team news and schedule info, can be viewed at StateCollegeSpikes.com.
Catch all of the action on Thursday via the Spikes Radio Network, presented by
Penn State Sports Medicine, Official Healthcare Provider of Penn State Athletics, with Steve Jones and Joe Putnam on the call. The broadcast starts with Spikes Live, presented by Mount Nittany Health, on the air from Medlar Field at Lubrano Park at 6:10 p.m. The game can be viewed worldwide on the *MLB Draft League *streaming platform at MLBDraftLeague.com/streaming, along with the "Listen Live" link on StateCollegeSpikes.com and the *TuneIn Radio *app.