Generals start slow, burn Tennessee with five-run fifth inning
Young withstands two homers; Lopez, Flores contribute late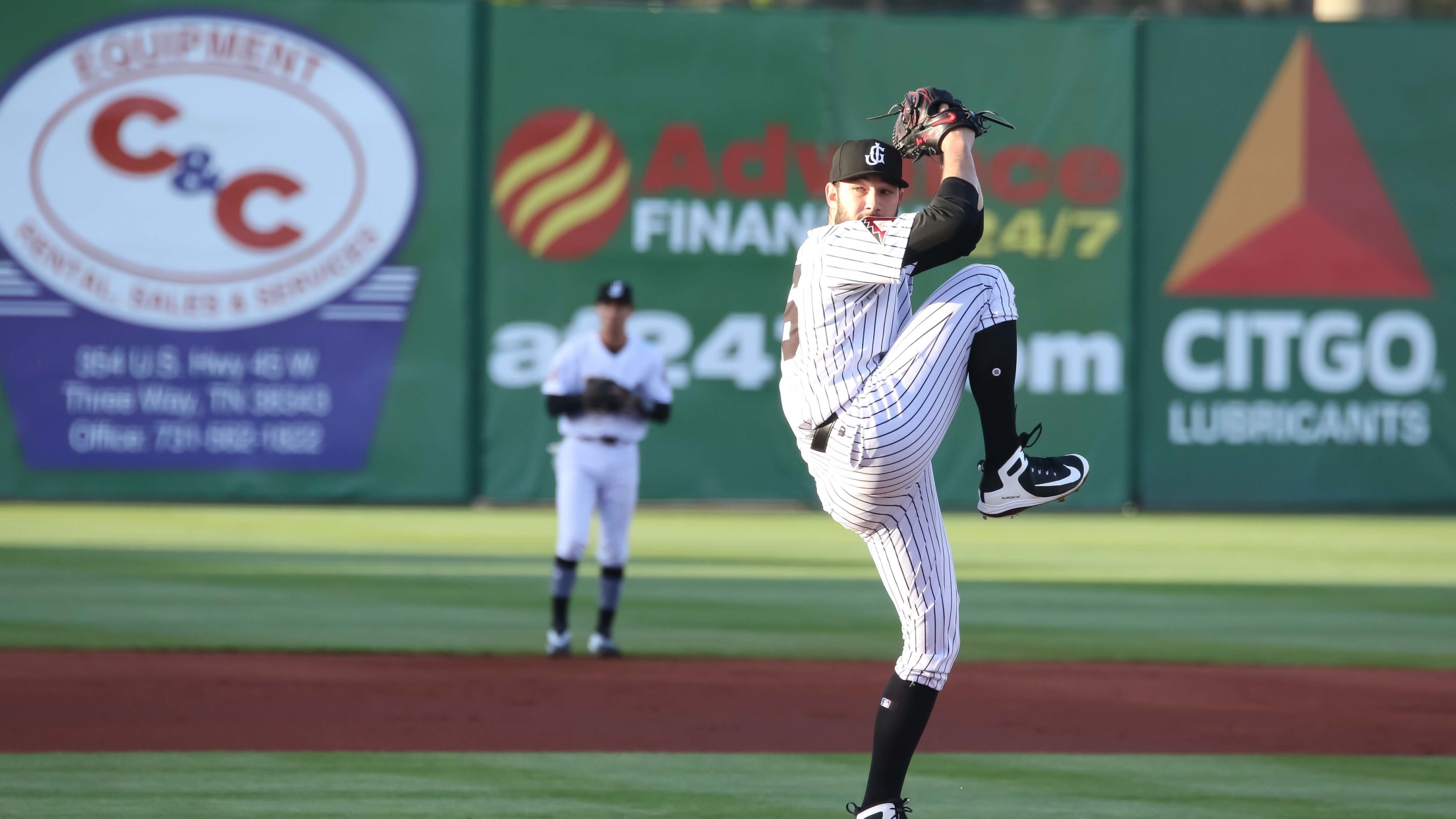 (Cody Cunningham)
Timing is everything, and the Jackson Generals timed the alarm clocks on their bat rack with precision on Wednesday, springing a five-run fifth inning on Tennessee en route to a 6-4 ruining of the home opener at Smokies Stadium. Alex Young (2-0, 3.60 ERA) conducted his second five-inning start of
Timing is everything, and the Jackson Generals timed the alarm clocks on their bat rack with precision on Wednesday, springing a five-run fifth inning on Tennessee en route to a 6-4 ruining of the home opener at Smokies Stadium. Alex Young (2-0, 3.60 ERA) conducted his second five-inning start of the year, striking out six and walking none while handing off a two-run lead to the bullpen. Joel Payamps, Kirby Bellow, and Michael Dimock each earned holds for their work in relief, and Yoan López (S, 1) earned his first Double-A save by striking out the side in the ninth.
Offensively, the Generals got things going against Tennessee (2-4) in the fifth, as run-producing singles by Juniel Querecuto, Galli Cribbs Jr., Kevin Medrano, and Jamie Westbrook helped light up the scoreboard against Trevor Clifton (0-2, 7.20 ERA). Rudy Flores' first and only at-bat came in the top of the ninth, and his opposite-field jack cushioned the Generals' lead to set the table for Lopez's brilliant save. The West Tennessee bunch finished 4-for-8 with runners in scoring position, improving to 5-1.


Top Performers - GENERALS
LHP Alex Young - 5.0 IP, 7 H, 3 R, 0 BB, 6 K
RHP Yoan López - 1.0 IP, 0 H, 0 R, 0 BB, 3 K
INF Juniel Querecuto - 2-4, R, RBI, SB

Top Performers - TENNESSEE
RHP Daury Torrez - 2.0 IP
INF Zack Short - 3-5, R, RBI, HR, 2B
INF Jason Vosler - 2-4, R, 2 RBI, HR

MOMENTS THAT MATTERED
TOP 5: After a Jason Vosler home run puts Tennessee up 1-0 in the fourth, the Generals return fire with a parade of 10 batters to the plate. After being held without a hit through their first 12 at-bats-a period roughly an hour in length-Jackson comes alive with run-scoring singles from Juniel Querecuto, Galli Cribbs, Kevin Medrano, and Jamie Westbrook, batting around and chasing Tennessee starter Trevor Clifton from the game.
>>SCORE: JXN 5, TNS 1
BOTTOM 5: Not to be outdone, Smokies shortstop Zack Short takes Young deep for his third hit of the day, and Vosler scores Characer Burks two batters later to pull Tennessee within 5-3. Young finishes the inning, earning the chance to win his second straight decision.
>>SCORE: JXN 5, TNS 3
BOTTOM 7: A Carlos Penalver home run off Joel Payamps narrows the lead to one at 5-4 Generals. Shelley Duncan and Doug Drabek tap Kirby Bellow for a two-out, lefty-vs.-lefty showdown with Vosler, and with calculated risk, they ask third baseman Juniel Querecuto to drop back into left field as a fourth outfielder, shifting Jamie Westbrook over to left-center. Bellow plays it just right, inducing an inning-ending flyout from Vosler to Westbrook.
>>SCORE: JXN 5, TNS 4
BOTTOM 8: Michael Dimock allows a single, a sacrifice bunt, and a walk to put both the tying run and the winning run on the basepaths for Tennessee with one out, but he knuckles down and forces fly-ball outs from Jesse Hodges and Trey Martin to silence the Smokies' threat.
SCORE: JXN 5, TNS 4
TOP 9: Late-game substitute Rudy Flores doesn't mess around, cranking a first-pitch home run to the opposite field off Tennessee reliever Scott Effross. The dinger, Flores' first of the season, gives the Generals a little breathing room.
SCORE: JXN 6, TNS 4
BOTTOM 9: Continuing his strong start in 2018, right-hander Yoan Lopez burns through a trio of Tennessee batters with three straight strikeouts, notching his first save at Double-A and giving the Generals the win.
FINAL: JXN 6, TNS 4
NEXT GAME:
10:30 am CT Thursday (4/12) at Smokies Stadium (Sevierville, TN)
RHP Taylor Widener vs. RHP Trevor Clifton (Tennessee Smokies)

NEXT GENERALS HOMESTAND:
April 16-25 (vs. Birmingham Barons & Chattanooga Lookouts)
Dial 731-988-5299 for tickets to see Jackson Generals Baseball!