Aces clinch PCL West Division, split four-game series against River Cats
Reno secured its fifth divisional title in franchise history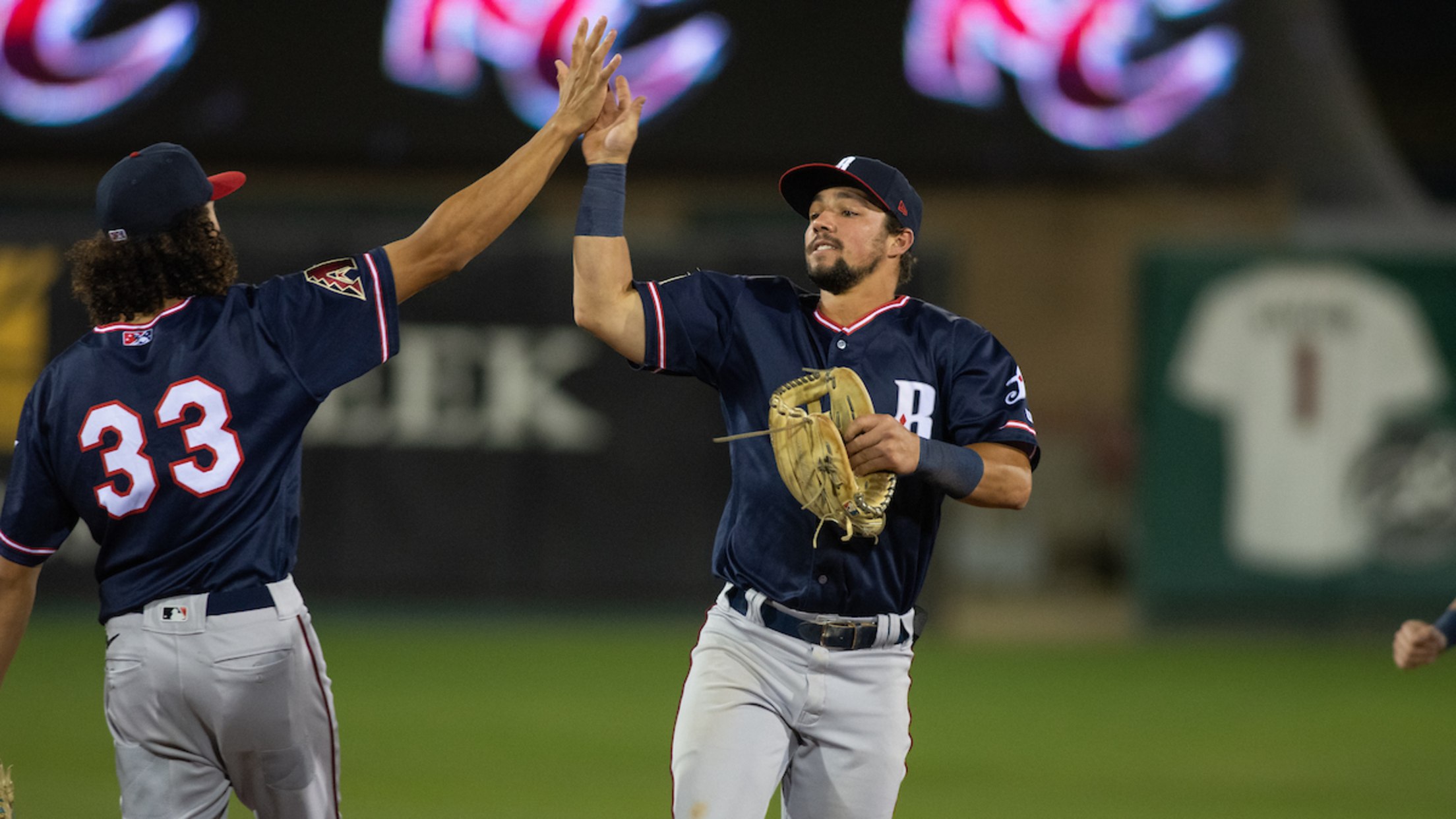 The Aces secured their fifth divisional title in franchise history following a four-game shortened series due to poor air quality that forced the Reno Aces and Sacramento River Cats to play games in both cities. Reno managed to split the series with Sacramento, with two wins apiece. Due to smoke
The Aces secured their fifth divisional title in franchise history following a four-game shortened series due to poor air quality that forced the Reno Aces and Sacramento River Cats to play games in both cities. Reno managed to split the series with Sacramento, with two wins apiece.
Due to smoke around Greater Nevada Field, the Aces traveled to Sacramento for the series' first three games. Leandro Cedeno's four-RBI night led Reno's 9-2 rout over Sacramento Friday afternoon. Leading 5-2 in the eighth, Cedeno cemented the Aces' win with a bases-clearing double for an 8-2 advantage. Deyni Olivero earned his first Triple-A win with 5.2 innings of two-run ball on five hits, two walks and no strikeouts.
In their final game at Sutter Health Park, the Aces left Sacramento Saturday afternoon with an 8-4 win. Trailing 4-0 in the third frame, the Aces' bats went to work and scored eight unanswered runs powered by a homer and two-RBI performance by Cedeno. Jake Hager chipped in a pair of RBI at the leadoff spot against the River Cats. The win was awarded to Tyler Holton after the southpaw spun three scoreless innings of relief, allowed one hit, no walks and fanned four batters.
Despite their 7-4 Sunday loss, the Aces clinched a division title after a 19-9 Las Vegas Aviators loss to the Tacoma Rainiers. The Aces will face the winner of the PCL East Division on Friday, September 30th, at Las Vegas Ballpark, with the first pitch set for 7:05 PM PST.
ACES HIGH
Leandro Cedeno: Hit .313 (5-for-16) with his first Triple-A home run, six RBI, four runs scored and a stolen base in four games.
Dominic Fletcher: Batted .357 (5-for-14) in four games with an extra-base hit, four runs scored and extended his hitting streak to eight games.
Camden Duzenack: Started three games against Sacramento and hit .300 (3-for-10) with two doubles, an RBI and a run scored. The utility man is hitting .318 in September with a homer and nine RBI in 12 games.
Deyni Olivero: (W, 1-0) 5.2 IP, 2 ER, 5 H, 2 BB, 0 K's in one start.
Brandon Pfaadt: (L, 4-1) 6.0 IP, 9 H, 2 ER, 1 BB, 6 K's. The right-hander has fanned 32 batters in 25.0 innings pitched this month.
Tyler Holton: (W, 1-0), 3.0 IP, 1 H, 0 ER, 0 BB, 4 K's in one relief appearance.